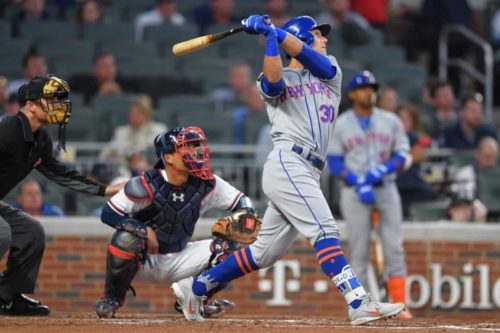 Shoulder Injuries & Misleading Inconsistencies
*This was written prior to the Mets signing Wilson Ramos to be their starting catcher. Any suggestion that they should trade for Realmuto was done in knowing that they were still in the running to acquire his services*
When the Mets made an early-winter splash in acquiring 8-time All-Star Robinson Cano and stud reliever Edwin Diaz, it was a statement that countered any preconceived notion that they were rebuilding. With Winter Meetings having ramped up trade talks among MLB teams, there's a lot of speculation on just what the Mets have planned next. However, they've made it pretty clear: they're all in.
There are plenty of rumors swirling about whether ace Noah Syndergaard is on his way out of town. Is catcher JT Realmuto on his way into town? One of the bigger questions is just who the Mets should be willing to part with in any potential deal for the 2018 Silver Slugger award-winning catcher. Having just unloaded two of their top prospects in the Cano/Diaz deal, it seems as if there is a divide amongst people NOT in the Mets Front Office (the people that have no say of course) in terms of whether or not they should be looking to ship off one of Michael Conforto, Brandon Nimmo, or Amed Rosario. As someone who follows the Mets regularly, I can tell you there's a pretty obvious choice of who not to trade away.
Conforto burst onto the scene in 2015 after putting up gaudy numbers through AA in the minors. His wRC+ sat between 141 and 160 during his first two years of affiliated ball and his wOBA got up to .406 during his stint in AA. This led him to skip AAA and get a call up in the midst of a Mets' postseason run. And boy, did he meet expectations. In a small sample size of 56 games and nearly 200 plate appearances, Conforto produced an excelled wOBA of .359, a wRC+ of 133, an OPS of .841 (All-Star level in each category), all with a BABIP of about .90 points less than what he had in the minors. He was instrumental in New York winning the 2015 NL Pennant, and it appeared they had a star in the making.
Conforto followed up his rookie year with an otherworldly March/April. With an obviously unsustainable 1.118 OPS and 198 wRC+, Conforto kept expectations sky high. However May came, and with it, a pretty significant dip in production. Over the course of the rest of the season his wRC+ would drop to 97 (very slightly below average) and his wOBA down to .312. At this point, while it may have seemed like his rookie year was a fluke, it was also incredibly unfair to ignore the possibility of "growing pains" for a 22 year-old who skipped AAA all together. Conforto bounced back and forth between AAA and the bigs for the remainder of 2016 until staying up with the Mets for September/October. Even though his statistics fell substantially, there were several reasons for optimism. 1) His final month and a half of 2016 produced a wOBA of .364 and wRC+ of 132 with a BABIP more in line with his rookie year at .308. 2) Until that final of month and a half of 2016, his BABIP was at .267. Looking at his minor league numbers and his early sample size in the majors, regression was bound to happen and it did. 3) While his K% increased, his BB% jumped up almost 2% from 2015. His plate discipline was improving and that in itself was a positive indicator for his development. At 23 years old and having already spent half of his professional career in the MLB, there needed to be a bit more patience with Conforto's development than the average prospect.
In 2017, it didn't take long to show that 2016 was in fact just a young player still adjusting to the Major Leagues. That BB% that showed an improvement in plate discipline took an even bigger step up to 13%. With a wOBA of .392 and wRC+ of 147, Conforto had developed into an extremely valuable 4.5-win player for the Amazin's. Unfortunately a serious shoulder injury in September sidelined him for the majority of the offseason into Spring Training and the regular season. The injury was expected to take 8 months for a full recovery. He returned to game action in 7 months. For a 24 year old, who had not yet eclipsed 1,000 career plate appearances (about 2 full seasons worth), the expectation that he would be the same player from 2017 right out of the gates was very misguided. Conforto struggled mightily trying to adjust to his newly reconstructed shoulder. He hadn't lost his ability. He simply needed time. While his overall numbers were down, yet again there were plenty of reasons for optimism. His excellent 13% BB-rate had actually taken another leap to 15%. His K% stayed the same. His BABIP was below his career averages (regression to the mean, here we come). The All-Star break came in July and shortly after, the patience would pay off. Conforto's 2018 second half was eerily similar to his 2017 season. His wRC+ jumped up to 142 and his wOBA rose to .377. This all was fantastic for the Mets, but it also shouldn't have been a surprise. Sure, if Michael Conforto went 1000+ PA's with a full season in AAA and no injury setbacks while producing these hills and valleys then I would understand slight cause for concern. But the kid is 25 years old, skipped one of the most important levels of minor league ball, hasn't even played 3 full season's worth of games, and has dealt with one of the most serious shoulder injuries for a hitter. Since 2015 when he was called up, even with the injury, Conforto's percentage of hard hit balls (38.9%) is 16th out of 146 qualified outfielders. His wRC+ of 124 over that time frame sits 17th of the 146 qualified outfielders. There were going to be some bumps in the road. Barring any unforeseen injuries, there is no reason Conforto's numbers in 2019 should be far of from his 2017 and 2018 second half. With three more years under team control, there is no reason to move one of the best young outfielders in the game. In fact, given these misguided inconsistencies, now might be the perfect time to discuss a team friendly extension. If he stays healthy, the numbers will only get better. Extending him now is a reasonable investment with the knowledge that those hills and valleys will most likely level out. Plain and simple: he's a guy you build your team around.
As far as these trade talks going on in the present, Conforto can't be the one to go. He has proven his ceiling is too high and that any perceived "inconsistencies" are misleading and overly exaggerated. His second half of the 2018 season was a big part in why the Mets were one of the MLB's top-10 run scoring offenses following the All-Star break. In comparison to the other Mets players' names floating around in trade rumors, if you ask me, Conforto's trajectory of value trumps that of both Nimmo and Rosario. I think it would open too big of a hole to give up Conforto in a Realmuto deal. Rosario has one full season under his belt at the big league level, so it would be unfair to write him off completely. However, through 200 games and nearly 800 PA's, a wRC+ of 83 is not promising — not to mention his sub-5% BB rate, which was never very high to begin with even in the minors. Of 53 shortstops in 2018 with 100+ PA's, Rosario's percentage of hard contact was 43rd. I understand there is a learning curve when making the jump from the minor's to the bigs, but there isn't a lot to hang your hat on through Rosario's fairly decent sample size of 800 PA's. Now could be a perfect time to see if you can swap him for arguably the best catcher in baseball, depending on how far away the Mets believe top prospect Andres Gimenez is. If Gimenez projects to be ready by 2020 then flipping Rosario for Realmuto makes a lot of sense. The Mets can find a one year defensive minded short stop to fill in for a season. Contrarily speaking, having a 22 year old, former top prospect shortstop under team control for the next five seasons is a nice luxury to have. I think how the Mets view Gimenez will impact how long Rosario remains a Met.
Nimmo on the other hand is a conundrum. He's under team control until 2023, which nobody is complaining about. Since 2015, his wRC+ of 135 sits 8th out of 146 qualified outfielders (albeit on half the PA's as Conforto). He's shown improvement in nearly every area since he was called up full time at the end of 2017. Again, another extremely small sample size, but unlike Rosario, there is undeniable progress. The thing that puts a damper on a "Nimmo over Conforto" argument stems from Baseball Prospectus' new metric DRC+ (Deserved Runs Created), which according to the Baseball Prospectus website, analyzes a player's offensive performance using a model that includes multiple circumstantial variables in order to measure a player's total contributions at the plate as opposed to just averaging outcomes. Nimmo's 2018 season was great. In fact, he was the best hitter on the Mets from start to finish. A closer look at the numbers, DRC+ in particular, tells us that he was the beneficiary of serious luck when it came to his production. According to an article by BP, he had a combined 36 non-home run extra base hits. That rate was 8.3% where as league average was 5.4%. His batted ball profile shows that he hit an average to slightly above average number of balls into the outfield while facing pitchers with above average ground ball rates. Extra base hits don't usually happen like that, and the fact that his 2018 BABIP was .351 (oddly high) just backs the idea that, while he had a great year none the less, a good portion was fueled by some good luck. He's always had a good BB rate and a high OBP, but his slugging took a leap due to an unsustainable extra base hit rate based on the way those extra base hits were hit. Nimmo will still be a productive part of the Mets lineup if he sticks around. I just don't believe he has the ceiling that Conforto has. In fact, I think we saw his ceiling in 2018.
Obtaining an elite catcher in Realmuto is worth giving up significant pieces for if you're the Mets. However, Conforto can't be one of those pieces. I would even go as far as to say Syndergaard should be considered before all three of Conforto, Nimmo, and Rosario. With the depth of starting pitchers in this free agent class and the growing trend of "bullpening", starting pitchers are replaceable. Right now the Mets would be going into 2019 with Travis D'Arnaud and Kevin Plawecki behind the dish. If upgrading to Realmuto means losing Syndergaard and replacing him with someone like Trevor Cahill or Dallas Kuechel, while loading up your bullpen, then I'm on board. The Rays have transitioned to turning starters into "openers." We even saw the Braves and A's do it in the 2018 Playoffs. With pitchers throwing harder, it's becoming increasingly difficult for pitchers to make it through 6–7 innings on a consistent basis without fading. Not to mention the data that backs allowing your starter to go through the opposing team's lineup only twice. If you gave me the option of Realmuto, Cahill and a combination of Edwin Diaz, Jeurys Familia, and Adam Ottavino vs. D'Arnaud, Syndergaard, Diaz, and Familia, I'm taking the former in a heartbeat.
A 4.8-win catcher is hard to come by. So are young, talented shortstops with 5 years of team control and outfielders who, regardless of unsustainable good fortune, continue to improve every season. 97–99 mph pitchers are comically becoming more common (deserves an article in itself). I would do a lot to acquire Realmuto considering he still has 2 more years of team control. Just don't give up the 25 year old, 2-time 4-win OF in the process.