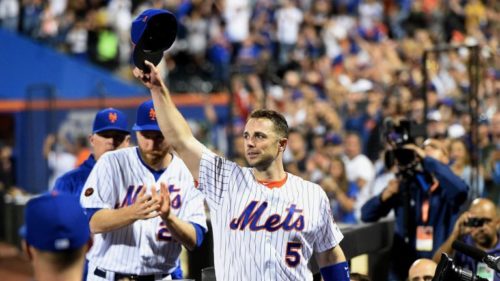 Hall of Fame Voting, WAR as a Rate Stat, and Where David Wright Fits In
It may seem ridiculous, but David Wright's career was a lot better than one might think. Arguably the most beloved member of the organization's history, the Captain of Queens gave the city 11 years of excitement before battling back and neck injuries over his final three seasons. However, given his recent retirement, it is time for what every long-time All-Star caliber player goes through following their "hanging 'em up" — and that is the inevitable "case for the Hall of Fame" discussion.
Before we jump into his actual production, I think it's important to note how Hall of Fame voting *should* take place. Player X should be evaluated in comparison to the others at his position when it comes to his hitting or pitching production. Comparing Larry Walker (right field) and Mike Piazza (catcher) would be less than ideal because the two played vastly different positions that included varying positional adjustments, as well as different expected positional run production — it is a lot more difficult to sustain a high level of run creation as a catcher, shortstop, centerfielder than say a corner outfielder or first basemen because of the toll playing those positions have on one's body over the course of a season/career. Each position has its own variables that need to be taken into account and we are doing players a disservice while making a comparison if we note those variables for one player, while not even having the option of doing so for the other. Now, player value based on WAR is a bit different in that it is already weighted to balance out the positional scale, so to speak. So it's easier to compare a catcher and a shortstop through WAR. I prefer comparing players to others at their position because it is a more seamless comparison. While WAR does a good job of balancing out those different variables, we still get a better picture of how good a player was at his particular position if we compare him to the entirety of that position.
In addition to focusing on the position group, I think it's important to not get too caught up in the longevity of a player's career, to an extent. Sure, if a player plays five years in the bigs and dominates each year before a career ending injury, then he probably shouldn't be enshrined in the Hall of Fame. However, if someone plays 11 seasons and is dominant at his position for the majority of his career, a player who plays 20 seasons and is dominant for the same amount of years before significantly dropping off at the tail end of his career shouldn't gain more merit simply because they played nine more years of below average to average baseball. Looking at WAR on a per season, per game, or per X amount of plate appearances basis would allow very worthy and underrated players to shine more than usual because they didn't play excessive sub-replacement level years. In addition, it would allow us to see how some "legends" may have underperformed more than we were lead to believe.
Which leads us back to Wright…in terms of production over the course of one's career, Wright is right there with the best of them. Among all third basemen with at least 6000 plate appearances since 1900, Wright sits tenth in wRC+ at 133, 16th in wOBA at .373, and ninth in OPS. Of the 34 third basemen with at least 350 career doubles, only one has less plate appearances than Wright, who sits 24th on the all time doubles list with 390. He is one of four third basemen in baseball history to hit more than 200 home runs and steal more than 190 bases in his career. Wright was the 12th most valuable third basemen at the plate in terms of offensive runs above average ("Off" on Fangraphs).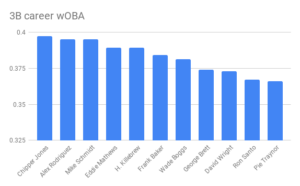 With offensive studs like Wade Boggs and George Brett closest to Wright in batting value, it's fair to wonder why Wright doesn't get more Hall of Fame love outside of Mets fandom. Of the top 30 third basemen in career WAR, Wright's 52.3 sits a solid, yet probably unworthy of the Hall of Fame, 26th. What changes his outlook and makes that more impressive is that only two of those 30 played less games than Wright. Having found it difficult to find WAR data turned into rate stats rather than counting stats, I took the top 30 third basemen in career WAR and turned their total WAR into a WAR per 150 games played (WAR/150). It was very interesting to see certain guys already in the Hall of Fame drop, like Brooks Robinson, as well as seeing guys currently campaigning to get in rise, like Scott Rolen and Edgar Martinez (yeah, he was a 3B for a while before switching to DH). But for the purpose of the article, let's stay focused on Wright.
*Note: I used 150 games instead of a full slate of 162 because it is incredibly uncommon for a player to play in all 162 games. There will be rest days, minor tweaks and bruises, etc.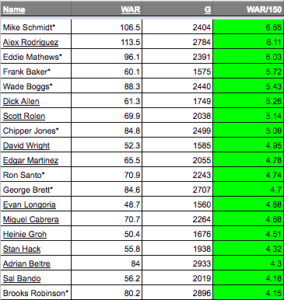 While current members of the Hall like Brett, Santo, and Robinson did it longer, Wright was better than them on a per season basis. Don't get it wrong, there is a lot to be said about someone who played at the highest level for a longer period of time, but if someone's career ends after 11 seasons worth of games compared to 19 for another, we have to take into account what those players did on a per season basis. Career longevity should not be the ultimate deciding factor. Eleven full seasons in addition to three part time seasons, like Wright's, is a lengthy career, yet it gets lost in translation when put up against certain Hall of Fame members who played an absurd 18+ seasons. For some reason the voting committee is infatuated with players who played well past their prime — when majority of those guys were borderline worthless in the twilight of their careers — like it's some skill to take the field and produce at a sub-replacement level.