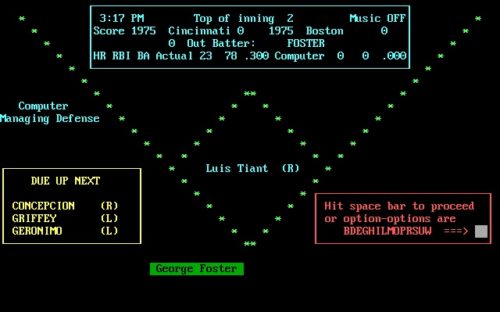 Retro Computer Baseball Game Review – Avalon Hill Pro Manager
This is the fourth entry in a series focusing on computer baseball simulations to supplement the chapter "Play Retro Baseball Video Games In Your Browser" from my Hardball Retroactive book along with the corresponding post at Baseball Analytics. The series focuses on baseball simulations – games in which the primary emphasis is on managerial strategy and the ability to replay entire seasons with a degree of realism. Baseball video games that are strictly arcade representations of baseball (based solely on reflex and hand-eye coordination) are excluded.
– Avalon Hill Pro Manager –
– Major League Manager –

Publisher – Avalon Hill (1984), Spinnaker Software (1986)
Release Year – 1984 (Pro Manager), 1986 (Major League Manager)
Platforms – IBM PC
Credits
| | |
| --- | --- |
| Design: | Bob Gardner |
| Rules Editor and Layout: | William E. Peschel |
| Production Coordinator: | Phyllis Suddeth |
Review
Avalon Hill Pro Manager is a bares-bones text-based hardball simulation released solely for the IBM PC in 1984. I stumbled across this title while searching for baseball articles in the Computer Gaming World Museum archive. I did not acquire a PC clone until 1992 so I totally missed the boat on this one as it was never ported to other systems. Major League Manager, a revised version of Pro Manager, was published by Spinnaker Software in 1986. The in-game options remain intact, fielder names are now displayed and the text descriptions acquire a bit more flavor.
I randomly selected an exhibition game between the Indians and the Blue Jays once I got the game to function properly in the DosBox emulator. After reviewing the manual, I discovered that it was necessary to download DOS 2.11 versions of COMMAND.COM and MODE.COM. Then I opened a DosBox session, typed MODE 80 (for 80-column text) followed by DRIVER.EXE. The main menu appeared and I chose to play against the computer manager. I had the option to select teams from the 1984 season or a handful of all-time great teams. After careful consideration I settled on a replay of the 1975 World Series where I assumed the role of Sparky Anderson. While configuring the lineups, I was presented with the option to restrict the availability of certain pitchers. I relegated Bill F. Lee and Rick Wise to the Boston bench as they were lined up to pitch in Games 2 and 3, respectively.
Don Gullett (15-4, 2.42) faced Luis Tiant (18-14, 4.02) in the opener. Pete Rose aka "Charlie Hustle" kicked off the contest with a long double but Tiant retired future HOF'ers Joe L. Morgan, Johnny Bench and Tony Perez to hold the Big Red Machine scoreless in the top of the first inning. The Reds threatened again in the second frame after Dave Concepcion ripped a two-base hit but again "El Tiante" thwarted the rally. Gullett started the top of the third with a bloop double and Rose followed with a base on balls. "Little" Joe Morgan swatted a big fly to right as the Reds took a 3-0 lead. The Crimson Hose responded with 2 runs in the bottom of the frame. Rick "Rooster" Burleson reached on an error by his counterpart Concepcion. Cecil Cooper launched a moon-shot into the right-field stands to cut the Cincinnati lead to 3-2. Rose laced a two-bagger to begin the fifth inning and Morgan drove him in with a single to extend the Reds' advantage to 4-2. The "Little General" swiped second but advanced no further as Tiant wiggled out of further trouble. Although injured and unable to play in the actual 1975 Series due to a broken hand, Jim Rice was included on the Boston roster and therefore eligible to come off the bench during this replay. He batted for Tiant in the bottom of the fifth following an infield single by Burleson and a fielder's choice by Cooper. Gullett issued an intentional walk to Rice, bringing Dwight Evans to the dish with one out and runners on first and second. Evans hit a slow roller to short, allowing the lead runners to advance one base while Concepcion threw him out. Denny Doyle delivered a two-out single to right-center, plating Burleson and Rice and knotting the score at 4-4. Jim Willoughby entered the contest for the BoSox and only yielded a single to Ken Griffey in the sixth. He plunked pinch-hitter Terry Crowley leading off the seventh. Bench lofted a short fly to right with 2 outs that dropped in for a double as Cooper, Doyle and Evans converged. Perez lashed a single to right-center to score Crowley and Bench with the go-ahead runs as Cincy forged ahead, 6-4. Willoughby whiffed George Foster to end the inning, but the damage was done. Clay "Hawk" Carroll relieved Gullett and promptly twirled a clean inning. The Red Sox countered with Dick Drago, and he held the Reds at bay. Doyle clubbed a long double with one out in the eighth inning off Carroll. Will McEnaney came on to face veteran left fielder Carl Yastrzemski . "Yaz" slashed a liner towards short. Concepcion speared it then stepped on second to double Doyle off the bag. I called on Rawly Eastwick to close out the contest. After retiring Carlton Fisk and Fred Lynn on grounders, Rico Petrocelli coaxed a two-out walk. Eastwick bounced back to strike out Burleson to end the game.
Jack Billingham (15-10, 4.11) squared off against the "Spaceman", Bill F. Lee (17-9, 3.95) in Game 2. In the bottom half of the initial frame, Cecil Cooper led off with a double to straightaway center field over Cesar Geronimo's outstretched glove. Denny Doyle legged out an infield hit, moving "Coop" to third. Carl Yastrzemski drove in Cooper with a sharp single to left field. Billingham induced a grounder to short which erased "Yaz" but Carlton Fisk beat the relay to first, leaving the Sox with runners on the corners and one out. Fred Lynn lofted a long fly ball towards the left field corner. George Foster caught it and fired a bullet to home plate, but Doyle eluded Bench's tag to pad Boston's lead. Consecutive singles by Rico Petrocelli, Dwight Evans and Rick Burleson increased Boston's advantage to 4-0. One batter away from an early exit, Billingham induced Lee to slap a weak grounder towards second to mercifully end the inning. Geronimo lashed a line drive up the right-center gap that rattled around near the bullpen, evading Lynn's grasp long enough to end up as a three-base hit. After a Billingham ground-out failed to bring home the run, Pete Rose hustled for an infield single to plate the Reds' first run. A bloop double by Lynn and a ringing single by Petrocelli chased Billingham in the bottom of the third as the Crimson Hose reestablished their four-run margin. Pat Darcy whiffed Evans and got an inning-ending double play on a Burleson worm-killer. Cincinnati showed some life in the fourth inning when Dave Concepcion's two-base hit knocked home Tony Perez, who had walked and advanced to second on a slow tapper by Foster. Darcy deposited an offering from the "Spaceman" over the Green Monster leading off the fifth as the Redlegs closed the gap to 5-3. A quick peek at his actual career batting statistics reveals one extra-base hit (a double) in 61 at-bats along with a lifetime batting average of .115. In addition to his hitting prowess, Darcy induced 4 double plays to keep the BoSox offense at bay. Lee escaped a first-and- third jam in the top of the sixth when Griffey rolled into a 6-4-3 double play. Merv Rettenmund delivered a pinch-hit single when he batted for Darcy in the top of the seventh, but the Reds failed to capitalize. Cooper greeted reliever Pedro Borbon with a double off the Monster and "Yaz" ripped a one-out single to knock in the sixth run for the Sox. Fisk put an exclamation point on the frame when he crushed Borbon's offering over the left field wall for a 2-run blast. Borbon hit the showers as Clay Kirby jogged in from the pen. The Big Red Machine battled back against Lee. Perez drew a walk with one out followed by safeties from Foster and Griffey, cutting the Red Sox advantage to 8-4. "Spaceman" allowed a two-out walk to Joe L. Morgan in the ninth but got Bench on a dribbler to Petrocelli as the Bostonians knotted the series at one game apiece.
The series shifted to Cincinnati where the matchup in Game 3 featured Rick Wise (19-12, 3.95) against Gary Nolan (15-9, 3.16). The game remained scoreless game until the top of the third frame, when Denny Doyle ripped a clean single and swiped second base. Carl Yastrzemski legged out an infield hit, placing runners on the corners. Carlton Fisk belted a long fly ball over the center field fence to silence the Reds' faithful. Dwight Evans tripled into the gap, plating Fred Lynn as the Red Sox put a 4-spot on the board. George Foster crushed a solo blast in the bottom of the fifth, reducing the Redlegs' deficit to 4-1. Joe L. Morgan hit into a fielder's choice following successive singles by Pete Rose and Ken Griffey to start the sixth inning, leaving runners at the corners with one out. Tony "Big Dog" Perez came through in the clutch, launching a moon-shot into the left field stands to knot the score at 4-4. Johnny Bench lashed a deep single to left, but Wise escaped when Foster hit a tapper back to the mound and Dave Concepcion popped out to first-sacker Cecil Cooper in foul territory. Portsider Will McEnaney entered to face three left-handed batsmen at the top of the Boston batting order (Cooper, Doyle and "Yaz"). Doyle put a charge into one, but Foster flagged it down deep in the left field corner. Cesar Geronimo led off the bottom of the seventh with a safety but he was quickly erased from the base paths when Dan Driessen (batting for McEnaney) drilled a hard grounder towards Rick Burleson for a 6-4-3 double play. Cincy elected to bring their closer Rawly Eastwick into the contest to do battle against the heart of the Red Sox lineup. "Pudge" led off with a base hit to center but he was stranded on first when Eastwick whiffed the next 3 batters in succession. With one down in the eighth and Wise still on the bump for the Sox, Morgan singled and promptly pilfered second base. Perez and Bench lifted harmless fly balls to left and the score remained tied at 4. Burleson drilled a base knock to the opposite field off Eastwick to start the ninth frame. Jim Rice struck out as a pinch-hitter for Wise, and then Cooper bunted Burleson into scoring position. Doyle coaxed a base on balls but Yastrzemski grounded out to Perez to end the inning. Jim Willoughby strode to the mound, where Foster greeted him with a solid single to left. Concepcion slashed a long single into the right-center field gap, sending Foster to third base. Cesar Geronimo grounded into a double play, but Foster made a delayed dash for home plate to register the winning run as Cincinnati took a 2-1 lead in the Series.
"El Tiante" received his second starting assignment for Boston while Fred Norman (12-4, 3.73) accepted the nod for Cincinnati. After Norman retired the side in the top of the first, Ken Griffey scampered to third base on a single and a two-base error by Dwight Evans. Joe L. Morgan drew a walk, but Tiant squirmed out of trouble when Tony Perez lifted a pop fly to shallow center and Bench grounded out to second. George Foster lined a single to begin the second frame and Dave Concepcion hammered a double down the left field line. Again, Tiant wiggled out of harm's way and escaped with no runs allowed. Griffey opened the bottom of the third with a single to right. Perez blooped a base hit towards right-center, placing runners on first and third with one out. Bench popped up to Denny Doyle and then Foster walked to load the bases. Concepcion rapped a two-hopper to his counterpart Rick Burleson as Tiant turned in a Houdini-esque performance. Norman spun a perfect game into the fifth, when Carlton Fisk led off with a base on balls. After Fred Lynn took a called strike three, Rico Petrocelli blasted a round-tripper to put the Sox ahead, 2-0. Boston tacked on a pair of runs in the seventh when Fisk laced a triple, Lynn whacked a base hit to right and Petrocelli hammered a long double to left-center. Norman was replaced on the mound with right-hander Clay Carroll. Evans walked and Burleson reached when Rose booted his slow dribbler to third. Tiant hit a soft grounder to second which allowed Petrocelli to score. Left fielder Juan Beniquez broke the game wide open with a 2-run single. Will McEnaney relieved Carroll and got Denny Doyle on a hard grounder to Pete Rose. The pitcher's duel had quickly turned into a laugher as Boston now held a 7-0 advantage with the ace on the hill. The Reds responded immediately as Rose walked, followed by consecutive singles off the bats of Griffey and Morgan to plate Rose with the Reds first tally of the game. Perez dialed long-distance and the Big Red Machine was within striking distance, 7-4. Tiant lingered on the bump as Bench coaxed a walk, Foster whiffed and Concepcion reached on an error by Beniquez. Cesar Geronimo stepped into the batter's box as the tying run. He failed to score Bench from third as Doyle turned his one-hopper into a fielder's choice. Dan Driessen batted for McEnaney and worked a walk to load the bases. "Charlie Hustle" slashed a two-out, two-run single to cut the deficit to 7-6. Jim Willoughby sauntered to the mound, relieving an exhausted Tiant. Griffey struck out to extinguish the threat but the Redlegs were right back in the ball game. Pedro Borbon, working through the heart of the Red Sox lineup, whiffed "Yaz" and induced "Pudge" to ground out to Morgan. Lynn stepped to the dish and blasted a long fly ball into the right-field seats, giving Boston a 2-run cushion. Willoughby worked around a walk to Morgan in the eighth while Borbon and Pat Darcy held the Sox at bay in the top of the ninth to maintain the 8-6 score. Geronimo delivered a base hit with one out in the frame. Terry Crowley, pinch-hitting for Darcy, hit a potential double-play ball but he beat the relay to first to keep the Reds' slim hopes alive. Burleson scooped up Rose's weak grounder and fired to first base to retire the side. Once again the Series was tied, ensuring a return to Boston.
Reggie Cleveland (13-9, 4.43) made his Series debut in Game 5 against Don Gullett. Pete Rose reached on a two-base error by right fielder Dwight Evans leading off the bottom of the first, but his teammates left him stranded at second base. The contest remained a pitcher's duel into the sixth inning when Reds' second-sacker Joe L. Morgan drilled a shot towards first base that deflected off Carl Yastrzemski's glove and into right field for a two-base error. Tony Perez slapped a soft liner to center field for a base hit, scoring Morgan with the first run of the ball game. Cleveland worked into a bit of trouble in the seventh when he allowed a single to Cesar Geronimo and walked Gullett, but he got Rose on a comebacker to retire the side. Bernie Carbo struck out as a pinch-hitter for Cleveland in the top of the eighth, so Boston's skipper brought Dick Drago in to face the heart of the Reds' order. Ken Griffey started the frame with an infield single. After Morgan whiffed, Griffey was caught stealing on a hit-and-run attempt with Perez at the dish. "Big Dog" belted a double to deep center field on the next pitch and Drago pitched around Bench, setting up a force play as George Foster ambled up to the plate. Foster smashed a hard grounder to shortstop which Rick Burleson corralled as Cincinnati wasted a golden opportunity to pad their miniscule lead. Gullett started the ninth by yielding a long single to Denny Doyle. "Yaz" laced a single to right-center and Doyle raced to third. Rawly Eastwick relieved Gullett and the infield played in, attempting to cut off the tying run. Carlton Fisk mashed a worm-killer towards Concepcion who flipped to Morgan for the force at second while Doyle hesitated and retrieved to third. Fred Lynn walked to load the bases with one out. The tension mounted… Eastwick buckled down to strike out Rico Petrocelli. Boston tied the game when Morgan booted Evans' potential game-ending two-hopper. Burleson delivered a base knock to center, driving home Fisk and Lynn as the Crimson Hose assumed a 3-1 lead! Adding insult to injury, a bloop single off the bat of Dick Drago increased the Sox advantage to 4-1. The Reds gave Eastwick the hook and brought Clay Kirby in to pitch to Juan Beniquez. A pop-fly to medium right field ended the inning with the Big Red Machine trailing by 3 runs. Geronimo drew a one-out walk. Dan Driessen batted for Kirby and bounced into a fielder's choice. Drago got Rose on a short fly to center field and the Bostonians met at the pitcher's mound to celebrate their third victory of the Series.
Back at Fenway Park, the Sox enlisted Luis Tiant for the third time in the Series against a well-rested Gary Nolan. Carlton Fisk walloped Nolan's offering over the Green Monster for a solo shot in the second inning. Both pitchers sailed through the fifth inning as the score remained 1-0. In the home half of the sixth, Denny Doyle swatted a big fly just inside the "Pesky Pole" to increase the Red Sox lead to 2-0. Carl Yastrzemski followed with a moon-shot into the left field bleachers, ending Nolan's outing as the Boston faithful went nuts! Jack Billingham prevented further damage but the Big Red Machine faced a 3-run deficit with "El Tiante" in full command on the mound. George Foster parked one over the Monster with two down in the top of the seventh. Dwight Evans led off the bottom of the seventh frame with a solid double to left-center. Clay Carroll replaced Billingham and the Reds' defense picked up two outs as Evans was doubled off second when Dave Concepcion snared Rick Burleson's liner. Tiant plunked pinch-hitter Terry Crowley with one out in the eighth. Pete Rose dribbled a slow grounder to Cecil Cooper, who took the sure out at first as pinch-runner Doug Flynn advanced to second. Ken Griffey's patience was rewarded with a base on balls, placing the tying run on first with two outs. Tiant issued another walk to the "Little General", Joe Morgan, loading the bases. The "Big Dog", Tony Perez, ripped a single into the left-center field gap to knot the score at 3-3! Tiant struck out Johnny Bench to end the threat. Southpaw Will McEnaney came into the contest to oppose the three lefties at the top of the Red Sox batting order: Cooper, Doyle and "Yaz". Cooper parked McEnaney's initial delivery into the right field bleachers as the Sox quickly reclaimed the lead. Doyle slapped a single to center and Yastrzemski walked, so Cincinnati hooked their portsider in favor of Pedro Borbon. Fisk whiffed then Fred Lynn grounded into a fielder's choice. Rico Petrocelli supplied a base knock to plate Doyle with the fifth Red Sox run. Evans walked to load the bases, so the Reds made another call to the bullpen. Rawly Eastwick induced Burleson to pop out to Bench in foul territory for the third out. Three outs away from victory, the Boston fans cheered as "El Tiante" took his warm-up tosses in the top of the ninth. The crowd erupted as Foster went down on strikes for the first out. Concepcion kept the Reds' flame alive with a base hit to right field. Doyle doused those hopes when he turned Cesar Geronimo's three-hopper into a Series-ending double play. The Sox won the virtual 1975 World Series, 4 games to 2!
Ratings
Graphics – [1] An all-text display contains several distinct areas with a splash of color to distinguish the various on-screen information. A light-blue rectangle at the top center denotes the time, inning, visitor and home team's score and number of outs along with the current batter's actual and virtual statistics. The outstanding real estate depicts a baseball diamond using asterisks for the base paths and foul lines. The pitcher's name is denoted in the center of the diamond, the batter's name is posted at home plate and any base runners are listed at their respective bases. A yellow box on the left side of the screen (third base dugout) shows the 3 on-deck batters (aka "Due Up Next"). A right box on the right side (first base dugout) provides a list of single-key options for the offense or defense. Several keys are not very intuitive (O – Pitch Around, U – Hit and Run), requiring a quick glance at the manual. Once an option is selected, the play result appears in the red box and additional information shows up directly above that box. To be clear, the results are restricted to small phrases such as "Medium Single", "Long Double", "Short Flyout Left Field" and "Pop-Up to First Base".
Sound – [2] After selecting lineups and starting pitchers, I was pleasantly surprised to hear complete renditions of the "Star-Spangled Banner" and "O Canada" played prior to the start of an exhibition game between Cleveland and Toronto's 1984 ball clubs. A high-pitched beep rings out when a successful stolen base occurs. Solo home runs merit a sweeping round of musical notes, while round-trippers with men on base spawn an accelerated version of "When the Saints Go Marching In". Two beeps emanated from the speaker for every run scored. The organist played "Charge!" when two runners reached base in the sixth inning, bringing the tying run to the plate. A rousing edition of "Take Me Out To The Ball Game" oozed from the loudspeaker during the Seventh-Inning Stretch.
Strategy – [1] Compared to prior or contemporary computer baseball games, Pro Manager comes up a bit short in the strategy department. Managers do not possess the ability to call a pitch-out or coach base runner(s) aggression. The other standard options are incorporated. When relieving a pitcher, I was offered the opportunity to insert the replacement into a different slot in the batting order. During lineup selection I had the ability to prevent certain pitchers from appearing in a game, which is beneficial since the program fails to track fatigue or injury status. The user does not have the ability to warm-up a pitcher, so you can call the bullpen for a replacement at any time without consequence. An interesting feature is the "Executive Pause" which allows the user to temporarily blank the screen when their boss is nearby. By default, if no option is selected within 7 seconds, the batter will swing away. The user can fine-tune the delay timer between 2 to 30 seconds or disable it entirely by executing the Delay program from the DOS prompt.
Artificial Intelligence – [2] Through a six-game series, the computer did a decent job of pinch-hitting and relieving at appropriate intervals. I did not notice any changes based on handedness or defensive ability.
Box Score – [3] The post-game box score encompasses 5 pages: batting and pitching outcomes for both teams, as well as the line score and miscellaneous details (hit by pitches, GW-RBI, time of game). The user has the ability to print the box score or compile statistics. Choosing 'L' from the main menu allows you to view the league leaders, standings or individual statistics.
Rosters – [1] – Each team consists of a 25-man roster (15 batters and 10 pitchers).
Statistics – [2] – Users may draft or trade players between existing teams and create new teams. I played the 1985 Edition of Pro Manager which included 26 teams from the 1984 season as well as 16 Old-Time Teams. Supplementing the standard statistics, pitchers are rated between A (best) and E (worst) in fielding and hitting, while offensive players can be assigned defensive ratings at each of six positions: catcher, first base, second base, shortstop, third base and outfield. Each team disk can accommodate up to 52 teams.
Usage/Injuries/Ejections – [1] – Injuries, ejections and fatigue do not occur in the game. Pitcher usage can be mitigated during lineup selection (you can designate one or more pitchers that the computer manager is unable to use in a particular game).
Ballparks / Park Factors – [1] – The simulation does not appear to account for any park factors and you do not have the ability to select different ballparks.
Commentary – [1] – Play result text appears in the red box near the first base dugout after the play is initiated. The variations are extremely limited… the only differentiation between hit types is the distance: "Short", "Medium" or "Long".
Scale: Ratings from 1 (worst) to 5 (best)
Total Score: 15 out of 50
Observations
Beyond the introduction of "O Canada" and several enhancements in stat compilation and reporting, Avalon Hill Pro Manager fails to improve upon the majority of options available in its predecessors. Regrettably the play descriptions fall flat and the dearth of strategic options detracts from the overall gameplay. Unless your objective is to try every baseball simulation, I can't offer a valid reason to play Pro Manager over any of the other games available during that timeframe.
Please add a comment below if you spent a significant amount of time and/or have any recollections of Avalon Hill Pro Manager.
Screenshots
Articles in the Series
| | |
| --- | --- |
| | Retro Computer Baseball Game Review – SSI Computer Baseball |
| | Retro Computer Baseball Game Review –Computer Statis Pro Baseball |
| | Retro Computer Baseball Game Review – MicroLeague Baseball |
| | Retro Computer Baseball Game Review – Avalon Hill Pro Manager / Major League Manager |
| | Retro Computer Baseball Game Review – Pure-Stat Baseball |
| | Retro Computer Baseball Game Review – Monday Morning Manager |
| | Retro Computer Baseball Game Review – Radio Baseball |
| | Retro Computer Baseball Game Review – Earl Weaver Baseball |
| | Retro Computer Baseball Game Review – Full Count Baseball |
| | Retro Computer Baseball Game Review – MicroLeague Baseball II – III – IV |
| | Retro Computer Baseball Game Review – Tony La Russa's Ultimate Baseball |
| | Retro Computer Baseball Game Review – Earl Weaver Baseball II |
| | Retro Computer Baseball Game Review – APBA Baseball |
Additional Links
Play Major League Manager in your browser! –
Archive.org – Major League Manager (IBM PC)
Oxner, Bill. "Play Ball!" Computer Gaming World. Volume 5.3, June-July 1985, p24-27.
http://www.cgwmuseum.org/galleries/issues/cgw_5.3.pdf
Wilson, Johnny. "Baseball Game Survey." Computer Gaming World. Volume 36, April 1987, p6-9, 42-44.
http://www.cgwmuseum.org/galleries/issues/cgw_36.pdf
https://www.mobygames.com/game/dos/major-league-manager
https://www.old-games.com/download/4841/pro-manager
PDF version of the manual – http://home.ptd.net/~dbain/tuatara_misc/promanager-manual.pdf
About the Author
I am a New Jersey native with a passion for baseball, statistics, computers and video games who enjoys spending quality time with his family.
"Hardball Retroactive", published in June 2018, is available in paperback and digital (Kindle) format at Amazon.com.
"Hardball Retrospective" is available in paperback and digital (Kindle) format at Amazon.com. Supplemental Statistics, Charts and Graphs along with a discussion forum are offered at TuataraSoftware.com.
Don Daglow (Intellivision World Series Major League Baseball, Earl Weaver Baseball, Tony LaRussa Baseball) contributed the foreword for Hardball Retrospective. The foreword and preview of my book are accessible here.
"Hardball Retrospective – Addendum 2014 to 2016" supplements my research for Hardball Retrospective, providing retroactive standings based on Wins Above Replacement (WAR) and Win Shares (WS) for each "original" team over the past three seasons (2014-2016). Team totals from 2010 – 2013 are included for reference purposes. "Addendum" is available in paperback and digital (Kindle) format at Amazon.com.