The 1984 Fleer Baseball Card Set
Derek's (Re)collections
My baseball card addiction began in 1984. I picked up a few packs of 1984 Fleer cards at a Little League game, and I was hooked. Each pack contained 15 cards, along with a team logo sticker. I'd just started to appreciate the game of baseball, and the cards brought me closer to the game. The photography was excellent, but the numbers on the back of each card really captured my imagination. I needed to find out the meaning behind those numbers, along with all of the acronyms! I purchased a carrying case and sorted my cards by team. Eventually, I learned about the value (or potential value) of certain cards, and placed them in albums with protective pages, or hard plastic cases. I collected baseball cards extensively between 1984-1991, and purchased older packs (1981-83) whenever I earned some extra cash.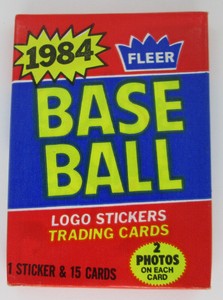 Corby Corner
The 1984 Fleer set was the first one I attempted to complete the old fashioned way; through buying packs, looking for commons and trading. I bought my first set box and filled it in numerical order, not realizing yet the condition of the cards needed to be watched over as well. I had begun years earlier with an NFL sticker book and this gave me the same rush when you would get just the card you needed to complete a team. I did eventually complete that set and I would love to tell you it's still in my possession but it is not. This experience fueled my yearly adventure to complete sets, and when I saw people buying full sets already packaged, I wondered where was the fun in that? I guess a kid's innocent mind didn't yet understand that this was a business, and sadly that is what would eventually pry me from this hobby.
Features
The standard Fleer baseball card set from 1981-1990 consisted of 660 cards. The '84 set is organized by teams, based on their position in the standings from the previous season. This method presents a great advantage for building complete sets of Fleer cards, when compared to the random ordering of their competitors' sets.
Fleer also produced their first "Update" set (similar to the "Topps Traded" sets) in '84, which proved to be a huge hit, due to the inclusion of the rookie cards for Roger Clemens and Kirby Puckett. The Dwight Gooden and Bret Saberhagen rookie cards also contributed to the initial success of the update set. For the fourth consecutive year, Fleer issued a set of 126 "Star Stickers" with dimensions of 1 15/16" by 2 ½". The complete set lists for $12 in the 1997 edition of the Beckett Almanac of Baseball Cards and Collectibles.
One-and-Dones
All of the players in the 1984 Fleer set appeared on at least one other regular-issue baseball card.
Oddballs and Oddities
Glenn Hubbard (# 182) may have been auditioning for a future coaching job with the Diamondbacks. The card depicts Hubbard carrying a python on his shoulders.
Jay Johnstone (# 495) dons a Budweiser "umbrella" hat.
Did You Know?
Fleer included interesting facts about some of the players on the bottom section of the card backs.
Storm Davis (#5) – "Nicknamed 'Storm' after a character in a book, a Dr. Storm, whom mother admired."
Randy Moffitt (#163) – "Sister is tennis star, Billie Jean King."
Claudell Washington (#192) – "Has 3-homer games in both leagues, only others to do this were Babe Ruth and Johnny Mize."
Lee Mazzilli (#255) – "Was ambidextrous in amateur baseball, but has thrown only right-handed since signing professionally in 1974."
Doug Flynn (#274) – "Is a Country and Western singer and has appeared professionally with the Coal Miners, the backup band for Loretta Lynn."
Steve Rogers (#284) – "Collects coins and Indian arrowheads and is a connoisseur of crossword puzzles."
Dave LaPoint (#328) – "Is a collector of baseball cards."
Chili Davis (#370) – "Nicknamed 'Chili' when a young boy because neighborhood friends thought hair looked like it had been cut with a chili bowl on his head."
Errors
There are no significant "error" cards in the 1984 Fleer baseball set.
Rookie Cards
Don Mattingly, Darryl Strawberry, Juan Samuel, Kevin McReynolds, and Tony Fernandez highlight the list of players making their cardboard debuts in the '84 Fleer set.
Price Guide (Then and Now)
In the inaugural volume of the "Beckett Baseball Card Monthly Price Guide" (November 1984), the 1984 Fleer Baseball complete set listed for $14. Individual cards listing for at least one dollar included Don Mattingly (# 131, $2), Juan Samuel (# 47, $2), Darryl Strawberry (# 599, $1.75), and Kevin McReynolds (# 307, $1.50). The Mattingly card currently sells in the $20 range.
Please add a comment below if you would like to share any memories from collecting the 1984 Fleer baseball card set or your experiences with card collecting in general!
Articles in the Series
References and Resources
Beckett, Dr. James, Rich Klein and Grant Sandground. Beckett Almanac of Baseball Cards and Collectibles. Dallas, TX: Beckett Publications, 1997. Print.
Beckett.com (requires subscription to view prices):
https://www.beckett.com/search/?term=1984+fleer&year_start=1984
http://www.tuffstuff.com/priceguides
Trading Card Database – Photo Gallery https://www.tcdb.com/Gallery.cfm/sid/96/1984-Fleer
About the Authors
Derek Bain – I am a New Jersey native with a passion for baseball, statistics, computers and video games who enjoys spending quality time with his family.
Tom Corby – Cousins with Derek, I am a history teacher at New Egypt High School. I have three kids, Addison, Jaclyn, and Mason and I'm happy that I get to coach them in their sports as well. In my spare time I enjoy reading, anything beach related, and fishing when time allows.
"Hardball Architects – Volume 1 (American League Teams)", published in July 2020, is available in paperback and digital (Kindle) format at Amazon.com.
"Hardball Architects – Volume 2 (National League Teams)", published in April 2022, is available in paperback and digital (Kindle) format at Amazon.com.
Hardball Architects examines the trades, free agent acquisitions, draft picks and other transactions for the 30 Major League Baseball franchises, divided into a 2-volume set (American League and National League). All key moves are scrutinized for every team and Sabermetric principles are applied to the roster construction throughout the lifetime of the organization to encapsulate the hits and misses by front office executives.
"Hardball Retroactive", published in June 2018, is available in paperback and digital (Kindle) format at Amazon.com along with digital eBook format at GooglePlay.com.
"Hardball Retrospective" is available in digital format on Amazon, Barnes and Noble, GooglePlay, iTunes and KoboBooks. The paperback edition is available on Amazon, Barnes and Noble and CreateSpace. Supplemental Statistics, Charts and Graphs along with a discussion forum are offered at TuataraSoftware.com.
Don Daglow (Intellivision World Series Major League Baseball, Earl Weaver Baseball, Tony LaRussa Baseball) contributed the foreword for Hardball Retrospective. The foreword and preview of my book are accessible here.
"Hardball Retrospective – Addendum 2014 to 2016" supplements my research for Hardball Retrospective, providing retroactive standings based on Wins Above Replacement (WAR) and Win Shares (WS) for each "original" team over the past three seasons (2014-2016). Team totals from 2010 – 2013 are included for reference purposes. "Addendum" is available in paperback and digital formats through Amazon, Barnes and Noble and CreateSpace.
Note: article originally posted on Seamheads.com, January 28, 2012. http://seamheads.com/blog/2012/01/28/the-1984-fleer-baseball-card-set/
The current article on Baseball Analytics reflects revisions posted in February 2021.