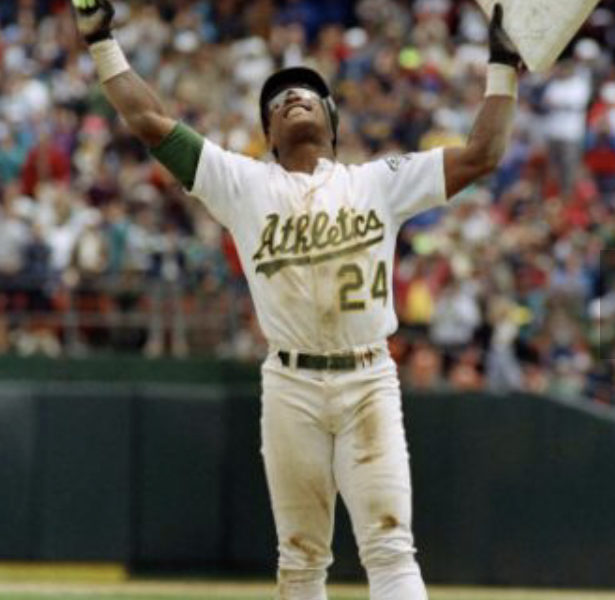 How would Rickey Henderson do on the 2019 FA Market?
Conceivably, the greatest leadoff man of all-time, Rickey Henderson's most glaring attribute was his knack for disrupting a game with a stolen base.  Maury Wills was the first player to reach the century mark (104) in 1962 for the Dodgers.  It took another 12 years before Lou Brock, of the Cardinals, was able to eclipse the feat with 118 thefts.  The 80's saw the likes of Rickey Henderson swipe 100 bags in a season three times, including a record 130 in 1982.  Vince Coleman ran wild from '85-'87 totaling 326 thefts and three straight 100 steal seasons.  
As the 80's closed out, Henderson snagged 93 bags for the Yankees and Coleman 81 for St. Louis in 1988.  Since then nobody has reached 80!  Only four men have ever reached the century mark, a total of eight times between them … and no-one has joined the club in 30 years.  Among the "sabermetricians" and "traditionalists" that make up the two political parties of baseball, the effect of the stolen base has often been debated.  The "Moneyball" approach does not implore a team to give away outs on the bases or on sacrifice situations.  It can be more station to station relying on the home run and walks.  While numerical charts in this article will support the more modern day approach, it's hard to ignore the former World Series Champs, Kansas City Royals, and their small ball approach to the game.  The questions remains, with the tilt favoring the numbers game of going station to station, would a player like Henderson, create an inefficiency in the market place to the point where base stealers' values would be purchased for pennies on the dollar and exploited for large value once proven statistically relevant again?
Using win and run expectancy models, the value of a person going from first to second base with no outs increases the chance of a team scoring by 19%, but going from a runner on first with no outs, to nobody on base with one out decreases the chance of a team scoring by 26%.  Another popular time to steal is with a runner on first and two outs.  The chances of a team scoring when a player goes from first to second base increases from 12.7% to 21.6% … an increase just shy of 9%.  However, remember, if the runner is thrown out the chances of scoring goes from 12.7% to 0%.  
So where are we going with this?  No statistic has a debate point of diminishing returns like the SB.  Experts have tried to place a single number on the point where a player is hurting his team if caught.  John Thorn estimates that a runner has to be successful 67% of the time to benefit his club.  I believe it varies based on the run scoring environment.  The higher the run scoring environment the less costly a "caught stealing" is.  If you're confused, let's look a basketball.  If two teams turn the ball over on average ten times a game, both are equally efficient, correct?  No.  It would depend on the number of possessions … or scoring environment.  A team with 100 possessions and 10 turnovers is theoretically hurt far less by the 10 turnovers than a team with 50 possessions.  Back out of the rabbit hole … Thorn was not far off.  In the next article I will explore this nuance in great detail, but for now trust me that a break even point lies somewhere between 67% and 73%.  So if Rickey Henderson is able to move from first to second at a clip greater than 73% and stealing 80 plus bases a season, his style of play would represent a huge inefficiency in the market place.
To place base stealing on an island by itself without "Baserunning Runs" metric would be irresponsible.  By themselves, they offer only a piece of the pie … but for now I am going to be irresponsible and capture the total base running picture in a following article.  To make my point, in the amazing 1982 season, where Rickey stole unfathomable 130 bases, he was caught 42 times (68%).  This season is considered less impressive in terms of base running metrics than his 1985 season in which he stole 80 bases and was caught 10 times (88,9%).  In the end stolen bases and baserunning are only a small part of the picture, but can certainly impact a win or a loss.  Stealing a base is still the most efficient way to advance, but being caught has an equally adverse effect. Guys like Beltran (86.4%), Raines (84.7), Coleman (80.9%), Lofton (79.5%), Brock (75.3%), Wills (73.8), and of course Henderson (76.2%) stole enough bases over their careers (300 or more) and had a success rate high enough to cause disruption in the physical/psychological world of baseball and in the analytic realm.  Their presence could cause a huge inefficiency in today's market.  Today a guy with 40 SB's will lead the league.  Who are 2019's version of these unicorns?  As we search, don't lose sight of the moral of the story … if you're going to go, you better make it.
Associate Scout- Sabrmetric Society (Science in Baseball Committee)- Former Head College Baseball Coach- Former Professional Player