Retro Computer Baseball Game Review – Pure-Stat Baseball
This is the fifth entry in a series focusing on computer baseball simulations to supplement the chapter "Play Retro Baseball Video Games In Your Browser" from my Hardball Retroactive book along with the corresponding post at Baseball Analytics. The series focuses on baseball simulations – games in which the primary emphasis is on managerial strategy and the ability to replay entire seasons with a degree of realism. Baseball video games that are strictly arcade representations of baseball (based solely on reflex and hand-eye coordination) are excluded.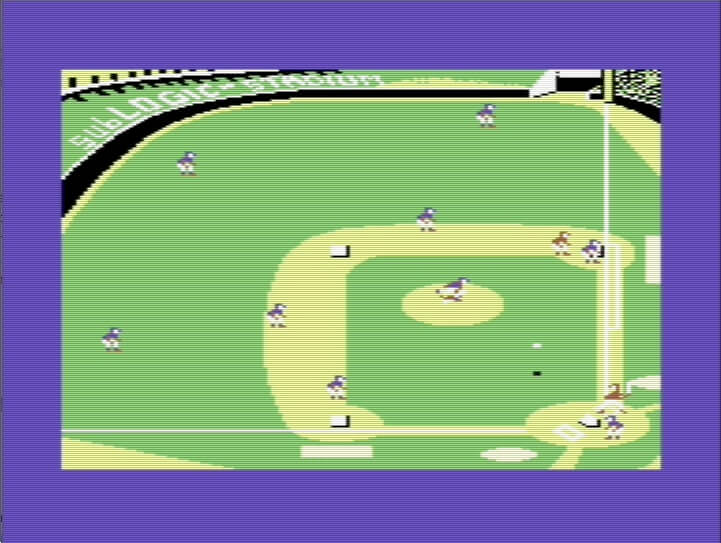 Publisher – subLOGIC
Release Year – 1986
Platforms – Apple ][, Commodore 64, IBM PC
Credits
| | |
| --- | --- |
| Design: | Ed Daniels |
| Assistant: | Joe Mallozzi |
| Graphics / Animation: | Noroth Vann |
Review
Pure-Stat Baseball contains a bit of style but not a whole lot of substance. Published by subLOGIC Corporation, best known for their Flight Simulator series, the advertising screenshots and reviews promoted the game's graphics and sound along with the myriad of strategic options and statistical accuracy. Regrettably I encountered numerous flaws in the game that detract from the overall experience and affect the realism that the software intended to portray.
Opting to play the Commodore 64 version of Pure-Stat, I launched the VICE emulator and attached the game disk. Selecting from the 1985 Team Disk, I decided to pit the losers of the Championship Series (Dodgers and Blue Jays) against each other in a virtual "what-if" World Series matchup. After choosing the teams and the stadium (using the generic "Sub Logic Stadium" for the games played in Toronto), the game commenced. Wait… I didn't have a chance to edit lineups or elect starting pitchers! Luckily I have the manual for situations like this. Before the first pitch of the game, you can modify lineups using the (C)hange option followed by the team: (H)ome or (V)isitor.
Fernando Valenzuela (17-10, 2.45) and Dave Stieb (14-13, 2.48) squared off in the opener. The Dodgers were firing on all cylinders in the first inning as Mariano Duncan walked, advanced to second on a single by Ken Landreaux and scored on a double to the right-center field gap by Bill Madlock. Stieb whiffed Pedro Guerrero, but Mike A. Marshall laced a two-bagger between George A. Bell and Lloyd Moseby to plate Landreaux and Madlock. Mike Scioscia lined out to Jesse Barfield for the second out, then Greg Brock kept the inning alive with a base knock between first and second. Steve Sax drew a walk to load the bases. Stieb struck out his counterpart to end the threat, but Los Angeles staked their ace to a 3-run lead. Toronto managed a pair of runs in the bottom of the second on base hits by Willie Upshaw, Ernie Whitt and Tony Fernandez followed by a sacrifice fly to center field by Stieb. The Toronto ace struck out the side (Marshall, Scioscia and Brock) in the top of the third. The Dodgers scratched across a run in the top of the fifth when Guerrero singled to left, swiped second and came home on a base hit to center by Marshall. Los Angeles threatened again in the seventh when Guerrero delivered a solid single to left-center and Marshall walked. Scioscia drilled an opposite-field hit to left, but Bell gunned down Guerrero at the plate for the final out. Gary Lavelle came on in relief of Stieb to start the top of the eighth inning. Steve Sax ripped a base hit to left and promptly pilfered second base, but Lavelle retired pinch-hitter Dave Anderson and the light-hitting Duncan on harmless fly balls to Bell. I encountered a lineup glitch entering the bottom of the eighth. Anderson batted for Valenzuela in the previous inning, yet "El Toro" returned to the mound. Damaso Garcia coaxed a base on balls leading off the frame and motored into second with a stolen base on the next offering to Moseby. "Shaker" belted the subsequent screwball into medium right-center, just beyond Landreaux's outstretched glove for a two-base hit as Toronto pulled within one run. Bell smacked a wicked two-hopper to Madlock, who was guarding the line and made a brilliant stop for the first out. Moseby advanced to third when Barfield grounded out to Sax. Upshaw struck out to conclude the inning. Lavelle got Landreaux on a slow roller to Garcia, and then Acker came in to face Madlock and Guerrero. "Mad Dog" greeted Acker with a ringing double to left-center field. Fernandez ranged deep into the hole to take away a potential base hit from Guerrero. Marshall's worm-killer was fielded cleanly by Garcia, who calmly threw over to Upshaw to quell the rally. So Valenzuela took the hill to commence the bottom of the ninth with a one-run lead. Garth Iorg lashed a two-hopper to Madlock for the first out. Landreaux raced into medium left-center to flag down pinch-hitter Cliff Johnson's line drive for out #2. "El Toro" emerged with a complete-game, 4-3 victory when Fernandez grounded out to Sax.
Orel Hershiser (19-3, 2.03) took the mound against Jimmy Key (14-6, 3.00) in Game 2. Willie Upshaw stroked a double up the gap in right-center and scored on a two-out line drive up the middle by Jesse Barfield to grab a 1-0 advantage in the bottom of the second inning. Damaso Garcia led off the third with a safety and advanced to second on a straight steal. Lloyd Moseby hammered a high fly ball towards the center field bleachers, but Candy Maldonado robbed him with a tremendous catch against the wall. Enos Cabell corralled Rance Mulliniks' hot grounder to first to quash the threat. Toronto struck again in the fourth when Ernie Whitt drew a two-out walk and raced around the bases as Barfield's smash down the left field line rattled around in the corner for a three-base hit. Mariano Duncan sparked the Dodgers' offense when he singled with one out in the top of the fifth, stole second and raced home on Cabell's base hit to left-center. Subsequent singles by Bill Madlock and Mike A. Marshall tied the score later that inning. The Jays threatened in the bottom of the seventh when singles by Barfield and pinch-hitter Al Oliver placed runners at the corners with only one out. Garcia scalded a hot grounder to Madlock, who fired across the diamond to nip the speedy second-sacker by a step. Oliver advanced to second on the fielder's choice. However, when the program flipped to the play selection screen, I noticed Oliver listed as the baserunner on first base instead of second. Moseby slapped a line drive to the opposite field to plate Barfield with the go-ahead run, but Toronto now had Oliver standing on second instead of third base. Mulliniks' grounder to Cabell concluded the frame with the Blue Jays ahead by a run, 3-2. Bill Caudill relieved Dennis Lamp after Duncan reached on a single with two down in the top of the eighth. Consecutive hits by Cabell and Madlock knotted the contest again at 3-3. Pedro Guerrero ripped Caudill's next offering into left-center field and Cabell zipped home to notch LA's fourth tally. Marshall extended the lead to 5-3 with another solid base hit, sending Caudill to an early exit. Jim Acker induced an inning-ending two-hopper to shortstop by Mike Scioscia but the damage was done. Hershiser aka "Bulldog" scattered 9 hits through 8 innings thus far. Facing the bottom third of the Jays' batting order in the ninth, he got Barfield on a fly ball to Maldonado. Tony Fernandez whiffed, but Cliff Johnson smashed a pinch-hit single that dropped in front of the left fielder to bring the tying run to the dish. Alas, Hershiser confounded Toronto leadoff man Garcia with a straight change as the offering settled into Scioscia's glove for a called third strike. The Series shifted to Los Angeles with the Dodgers ahead, two games to none.
Veteran right-handers Doyle Alexander (17-10, 3.45) and Bob Welch (14-4, 2.31) sparred in Game 3. The Dodgers broke a scoreless tie in the third when Ken Landreaux drilled a two-bagger into left-center field and Greg Brock followed with a long single that landed several feet beyond George Bell's grasp. Welch and Alexander were locked in a pitcher's duel into the eighth inning. Jesse Barfield blistered a long double into the gap in left-center. Tom Niedenfuer relieved Welch and promptly yielded a base hit to right field by Tony Fernandez which brought Barfield home with the tying run. Al Oliver, batting for Alexander, lined out to Pedro Guerrero in left. Damaso Garcia hit a tailor-made double play ball to short, but Fernandez was running so Mariano Duncan had to settle for the out at first. Niedenfuer struck out Lloyd Moseby for the third out. Gary Lavelle replaced Alexander on the mound for Toronto and retired the side in order. Toronto went quietly in the top of the ninth. Steve Sax smashed a hard grounder that hugged the third-base line, but Rance Mulliniks gloved it and fired a laser across the diamond to peg the swift second baseman. Bill Caudill emerged from the bullpen to battle the middle of the Dodgers' order. Madlock and Guerrero whiffed in succession, sending the contest into extra innings. Los Angeles kept the faith in Niedenfuer and he answered with another spotless inning in the tenth. Caudill matched the Dodgers' stopper with a clean frame of his own. Len Matuszek, pinch-hitting to lead off the top of the eleventh, stroked a single to right field. Damaso Garcia sacrificed pinch-runner Lou Thornton to second, although the replay clearly showed Garcia beat the throw to first base. Ken Howell replaced Niedenfuer and immediately served up an opposite-field 2-run gopher ball to Moseby! Howell rebounded to strike out Mulliniks and Willie Upshaw, but the visiting Jays headed to the bottom of the eleventh with a 4-2 advantage. Dennis Lamp entered the match and set down the Dodgers in order to secure the victory.
Dave Stieb made his second start in the Series against the crafty veteran Jerry Reuss (14-10, 2.92). Consecutive singles by George A. Bell and Jesse Barfield to open the fourth frame placed runners on the corners with nobody out. Willie Upshaw slashed a liner to left in front of Pedro Guerrero, plating Bell with the first run of the contest. Garth Iorg ripped Reuss' next offering into the left-field corner for a two-run double. Reuss recovered to generate successive outs on ground balls to the shortstop Mariano Duncan, but Stieb drilled a hard grounder up the middle for a base hit, with Iorg advancing to third. Tommy LaSorda gave Reuss the early hook and called upon Tom Niedenfuer to stop the bleeding. Damaso Garcia complied, lifting a shallow fly ball that was corralled by right fielder Mike A. Marshall. Toronto held a 3-0 advantage, but Los Angeles responded with successive singles by Bill Madlock and Guerrero. Stieb struck out Marshall and got Mike Scioscia to ground into a 3-6-3 double play. The Dodgers ruined Stieb's shutout bid in the sixth inning on base hits by Madlock, Marshall and Scioscia. Garcia laced a two-bagger down the line to commence the top of the seventh as Niedenfuer was running on fumes. LaSorda replaced him with Ken Howell, who promptly whiffed Lloyd Moseby. Bell hit a ringing single between Duncan and Madlock, scoring Garcia to give the Jays a 4-1 lead. Jim Acker relieved Stieb in the bottom of the eighth. Marshall launched a moon-shot deep into the center field bleachers after Guerrero whiffed. Acker yielded to Bill Caudill after Greg Brock delivered a base knock with 2 down in the frame. Steve Sax made solid contact but Bell drifted in a few steps to make the catch in left field. Howell retired the Blue Jays in order, so Los Angeles came to bat in the final inning behind by a pair. Duncan coaxed a one-out walk but Ernie Whitt cut him down with a perfect peg on an ill-conceived stolen base attempt. Ken Landreaux's bounding ball to short was easily fielded by Tony Fernandez, who threw a bullet to Upshaw for the last out of the game. The Series was tied at 2-all!
Southpaws Jimmy Key and Fernando Valenzuela clashed in Game 5. "El Toro" retired the Jays in the opening frame, then the Dodgers lashed 3 successive singles with one out in the bottom of the inning to take a 1-0 lead. Ernie Whitt caught Pedro Guerrero stealing for the second out. After Mike A. Marshall drew a walk, Key escaped further damage when Mike Scioscia grounded out to Damaso Garcia. Toronto loaded the bases with a pair of walks to Whitt and Key followed by a shallow single to center by Garcia. Valenzuela busted Moseby inside, resulting in a 4-6-3 double play to end the inning. Tony Fernandez tied the score with a ringing two-bagger to center in the top of the fifth after Valenzuela yielded base hits to Garth Iorg and Whitt leading off the inning. Key was retired on a high chopper to third which plated Whitt with the go-ahead run as Fernandez scooted down to second base. Garcia smacked a worm-killer through the hole between short and third. Fernandez beat Guerrero's throw to the plate and Garcia scurried into second base. The Jays had Valenzuela on the ropes but Moseby grounded out to second and Bell struck out. Toronto extended their advantage to 5-1 when Willie Upshaw blasted an opposite-field homer after Barfield singled to start the sixth. A Whitt single sandwiched between bases on balls to Iorg and Fernandez created another bases-full situation. Going for the jugular, Cliff Johnson pinch-hit for Key. "Heathcliff" delivered a sacrifice fly as Iorg tagged up and tallied the Jays' sixth run. Valenzuela was lifted in favor of Tom Niedenfuer. Garcia slapped the ball towards second where Steve Sax initiated the twin-killing. Jim Clancy took the mound with a 6-1 lead and worked a clean inning. In the seventh, a pair of singles and stolen bases by Moseby and Barfield placed runners on second and third with one out. Upshaw scalded a hot smash under Sax's glove with the infield playing in and Moseby jogged home. Rance Mulliniks hit into a fielder's choice as Sax cut down Upshaw at second, allowing Barfield to cross the dish with the Jays' 8th run. Clancy retired six Dodgers in a row then yielded the mound work to Dennis Lamp. Tommy LaSorda countered with Rick Honeycutt in the ninth inning as he proceeded to empty his bench. Dave Anderson led off with a single to right. Terry Whitfield belted a 2-run pinch-hit home run into the right field bleachers. After Bill Madlock singled, Jim Acker entered the contest. Barfield's diving grab in right-center on Guerrero's sinking line drive prevented another run from scoring. Marshall pounced on Acker's next delivery, sending a hot shot towards the right-center gap that Barfield barely cut off on one hop. Gary Lavelle came in to face Mike Scioscia but LaSorda answered with pinch-hitter Steve Yeager. Bell raced over to the left field foul line to snare Yeager's drive for the second out. A walk by Candy Maldonado loaded the bases for Sax. Lavelle's offering tailed back across the plate and Sax ripped it between short and third for a 2-run base hit. Still alive and kicking with 4 runs tallied in the home half of the ninth, the Dodgers forced the Toronto skipper to call upon Bill Caudill with runners on first and third. The tying run stepped into the batter's box as Caudill stared down at pinch-hitter Greg Brock. Caudill rocked and fired a fastball on the inside corner. Brock swung and made solid contact, sending a fly ball in Barfield's direction. The right fielder settled under it and squeezed his glove for the final out. The visiting squad was victorious for the fifth time in the Series. With the teams heading back to Canada, would the "Bulldog" and the Dodgers be able to take the Jays to a seventh game?
Back in Toronto for Game 6, Orel Hershiser answered the bell against Doyle Alexander. Mariano Duncan laced a single to right field to lead off the contest. Ken Landreaux launched a deep drive to center which glanced off Lloyd Moseby's glove for an error. Duncan only reached second in a bit of a baserunning blunder as he held up in case Moseby caught the ball. Pedro Guerrero walked to load the bases with no outs. The Dodgers took a 2-0 lead when Bill Madlock's liner to center field landed in front of Moseby. Tony Fernandez initiated a 6-4-3 double play on Mike A. Marshall's grounder but Guerrero crossed home plate to extend LA's advantage to 3-zip. Mike Scioscia whiffed, granting Alexander a temporary reprieve. "Bulldog" got into some trouble in the bottom of the third when he walked Damaso Garcia and Moseby after Duncan booted Alexander's three-hopper. However he wiggled out of danger when Greg Brock started a 3-6-3 double play on a hot grounder by Rance Mulliniks. Hershiser drew a base on balls leading off the sixth. Duncan slashed a line drive down the left field line, which took a sharp turn in the corner and bounded away from George A. Bell. Moseby chased down the ball and rifled a throw home, but Hershiser slid safely under the tag on Duncan's three-base hit. Landreaux followed with a base knock to right and Duncan skipped across the dish with the Dodgers' fifth run. Jim Clancy jogged in from the bullpen, taking the mound in Alexander's stead. Guerrero greeted Clancy with a single to left. Madlock grounded into a 4-6-3 double play, moving Landreaux to third base with two down. Marshall flew out to left field to conclude the frame with Los Angeles ahead, 5-0. Toronto loaded the bases in the bottom of the inning when Duncan booted pinch-hitter Al Oliver's ground ball after consecutive singles by Jesse Barfield and Fernandez. Damaso Garcia delivered a 2-run single to left, cutting the Dodgers' advantage to 5-2. Mulliniks lashed a safety to right-center, edging the Jays closer as Oliver scored. Guerrero made a fine running catch to rob Bell and bail Hershiser out of the jam. Scioscia launched Jim Acker's fastball over the right-center field fence to commence the top of the sixth. After the Dodgers loaded the bases, Guerrero drilled Dennis Lamp's change-up into left to increase LA's lead to 7-3. "Mad Dog" hammered the next delivery towards Bell for a 2-run single. Marshall put the game out of reach when he belted Lamp's curve ball deep into the stands in left for a 3-run shot. Batting for the second time in the inning, Scioscia clubbed a long double over Barfield's outstretched glove. At long last, Lamp whiffed Brock to quash the uprising. Both clubs brought in their reserves as Hershiser held a commanding 12-3 lead. Gary Lavelle pitched a scoreless seventh inning then gave way to Doyle Alexander. Carlos Diaz likewise delivered a spotless frame subsequent to 6 solid innings from Hershiser. Los Angeles tacked on a run in the eighth when R.J. Reynolds plated Landreaux on a blooper to left. Garth Iorg returned the favor, launching a long ball into the left-field seats off left-hander Rick Honeycutt. Jerry Reuss retired the side in order to close out the ball game as the Dodgers tied the Series at 3 games apiece with a resounding 13-4 victory, setting the stage for Game 7.
Bob Welch opposed Dave Stieb in the winner-take-all matchup at Toronto's Exhibition Stadium. In the bottom of the second, George A. Bell opened the frame with a base hit up the middle. Ernie Whitt slapped a bounding ball that skipped under Bill Madlock's glove for an error. Welch settled down, striking out Jesse Barfield then coaxing a pair of fly outs to retire the side. Stieb encountered some trouble in the third. Steve Sax and Welch supplied singles, then Mariano Duncan drove a fastball to the wall in right-center. Lloyd Moseby timed his leap perfectly, robbing Duncan of an unlikely round-tripper. Ken Landreaux lifted an easy pop fly to Bell and Damaso Garcia made a nifty play on Pedro Guerrero's grounder to end the threat. Singles by Garcia and Willie Upshaw placed runners at the corners with 2 outs in the bottom of the third, but Welch got Bell to offer on a curve ball in the dirt to preserve the scoreless tie. Toronto broke through in the fourth when Tony Fernandez ripped a base hit to left after Barfield singled and swiped second. The Jays repeated the feat in the fifth as Moseby rapped a base hit, stole second and came around on a Rance Mulliniks' opposite-field safety. Welch scattered 10 hits through 7 innings. Terry Whitfield batted for the pitcher in the top of the seventh, so Ken Howell entered the contest in the bottom of the frame. Barfield blistered a single to center field with one out. Fernandez followed with a line drive over Mike A. Marshall's head in right. The ball caromed off fence towards center field as Barfield and Fernandez were off to the races. When the dust settled, Fernandez had a three-bagger and the Jays extended their lead to 3-0. Stieb lofted a sacrifice fly to right for the fourth Toronto tally. Carlos Diaz jogged in from the bullpen to relieve Howell. Garcia belted the next pitch over the left-field fence to give the Jays a five-run cushion. In the ninth, Stieb issued a one-out walk to Landreaux but he was promptly gunned down on an ill-advised stolen base attempt. Guerrero grounded out to Mulliniks for the final out and the Blue Jays flocked to the mound to celebrate. Stieb fashioned a four-hit shutout to clinch the Series.
Ratings
Graphics – [2] The game alternates between two play selection screens (all text with several colors to differentiate the menu options) and an animated display when the ball is put into play, the batter draws a walk or strikes out. The camera angle depends on the current batter – if a right-handed batter is up, the field view is shown from the perspective of a camera behind the first base dugout, while lefties are depicted using the view from behind the third base dugout. Upon the conclusion of each play, a concise text result is presented before the user determines the ensuing strategic choices. During games in which the computer manages both teams, you may toggle the display on/off and choose the run the program in Quick Mode, which eliminates any breaks in the action and processes a series of contests in a matter of minutes.
The animation is not very fluid – the ball veers off at odd angles at times and is often snared by a fielder after it's clearly beyond their reach. Furthermore the plays are scripted and limited to a handful of pre-programmed outcomes, so the user will be able to determine the result before the fielder reaches the ball. I have never seen a pop-up to the infield or catcher or a line drive caught by an infielder. No wild pitches, passed balls, hit batsmen, pickoffs or balks occurred in a seven-game series.
Sound – [2] The Commodore 64 version features sound effects when the batter makes contact and the fielder gloves the ball. There was no fanfare following a home run, no anthems or music played during or between innings.
Strategy – [2] On offense, play selection screen #1 features the current line score, current batter's statistics vs. right or left-handed pitchers, base runners with their stolen base totals and base-running ratings, current pitcher vs. right or left-handed batters, along with 8 batting options: swing normal, aggressive or cautious, hit-and-run, bunt for a hit, sacrifice bunt, squeeze bunt, hit behind the runners. Screen #2 delivers the same data but lists 8 running options: normal running, steal second, third or home, and run aggressively on hits to any or a specific outfielder. The manager can place a call to the bullpen and ask a pitcher to warm-up by pressing the F5 key, selecting one of the available pitchers and tapping the ENTER key. Only one reliever may warm up at a time (denoted with a "B") and they are considered to be warm ("W") after one at-bat is completed. Unable to insert a generic "pitcher" into my American League team's lineup during interleague play, I had to resort to using Manuel Lee in the pitcher's slot to simulate an ineffective hitter.
Artificial Intelligence – [1] Substitutions were problematic for the computer manager. Despite having an ample bench, he failed to bat for the pitcher in numerous situations that would have normally dictated such a move. The computer manager neglected to pinch-run or replace any substandard fielders on defense during the late innings of close games. Moreover the usage pattern for relievers was entirely predictable. The best reliever was always called upon as the first pitcher out of the bullpen, regardless of whether the score dictated the move. The game allows you to override the computer manager's decisions with regards to player substitution. I took advantage of this option in the contests where my opponent was behind or ahead by 8 or more runs to allow some of the bench players to make an appearance.
Box Score – [1] You need to press "B" at the end of the game in order to view or print the box score, otherwise the program returns to the main menu. The box score is sure to disappoint most baseball aficionados in several respects. The entire roster is displayed instead of limiting the list to the players who actually appeared in the game. In addition, players are not listed in their actual lineup order and their defensive positions are omitted! A line score appears on the fifth box score screen but no other details (such as stolen bases, wild pitches, etc.) are incorporated. Thirds of an inning are not computed. In Game 4, Jim Acker pitched two-thirds of an inning, striking out 2 Dodgers. Yet the box score indicates 0 IP for Acker while Bill Caudill (one and one-third innings) is credited with 2 IP.
Rosters – [1] – Each team consists of a 25-man roster (17 batters and 8 pitchers). The program includes an option to trade players between rosters. You can create new teams and trade existing players to the new team. However you cannot edit existing information or create new players.
Statistics – [2] – Pure-Stat Baseball came with 26 teams from the 1985 season as well as 8 Old-Time Teams. Data disks for the 1986 and 1987 seasons were available for purchase. Along with the traditional statistics, each player has custom ratings to distinguish their ability to bunt for a hit, execute a sacrifice bunt, hit for power and run the bases. Fielding range and throwing arm strength factors affect their defensive outcomes. All ratings utilize a scale from 1 (poor) to 4 (excellent). Every pitcher has a "tiring factor" which decrements by 1 for every inning that they remain warming up in the pen. The tiring factor incurs an adverse influence on the hurler's effectiveness.
Usage/Injuries/Ejections – [1] – Injuries, ejections and fatigue do not occur in the game. It is not possible to prevent the computer manager from substituting a particular player or pitcher during a game or series.
Ballparks / Park Factors – [2] – The user has the choice of 3 ballparks: Dodger Stadium, Yankee Stadium and the generic subLOGIC Stadium. An optional stadium disk was available for purchase which included the 26 MLB stadiums from the 1985 season. The simulation does not appear to account for any park factors.
Commentary – [2] – A straightforward account of every play appears after the animation runs its course. I found several of the comments to contain inaccuracies, such as a fielder's choice at second base indicating a "4-2" result (second baseman with the assist, putout by the catcher) where the correct notation should have been "4-6" (second baseman assist, putout by the shortstop).
Scale: Ratings from 1 (worst) to 5 (best)
Total Score: 16 out of 50
Observations
While Pure-Stat offers a few improvements over its predecessors, the game feels half-baked and rushed to me. With another round of quality control, testing and further debugging, this one could have been a contender. I can state with confidence that I am not the only baseball sim enthusiast to be infuriated when MicroLeague repurposed the code from Pure-Stat Baseball in the MicroLeague Baseball sequel aka "MicroLeague II Enhanced"! Rick Teverbaugh's "Sports Scoreboard" column in the December 1986 issue of Computer Gaming World summed up Pure-Stat Baseball with a brutally honest one-line assessment: "a game too bad to even waste space with here." (Teverbaugh 52).
Please add a comment below if you spent a significant amount of time and/or have any recollections of Pure-Stat Baseball.
Screenshots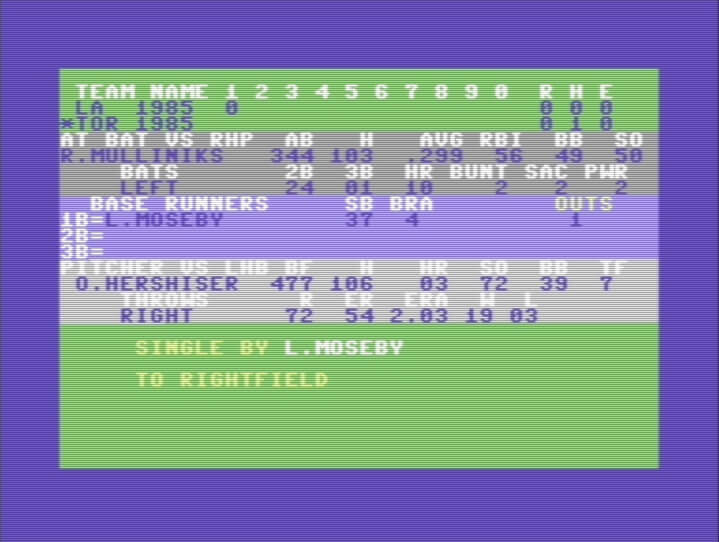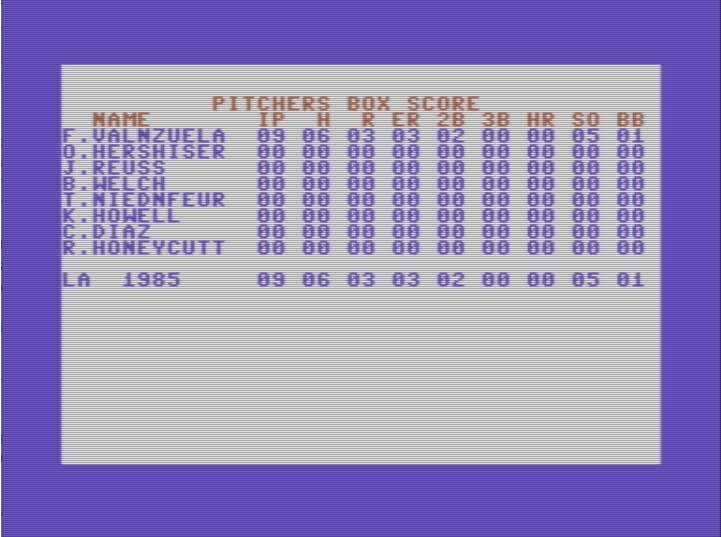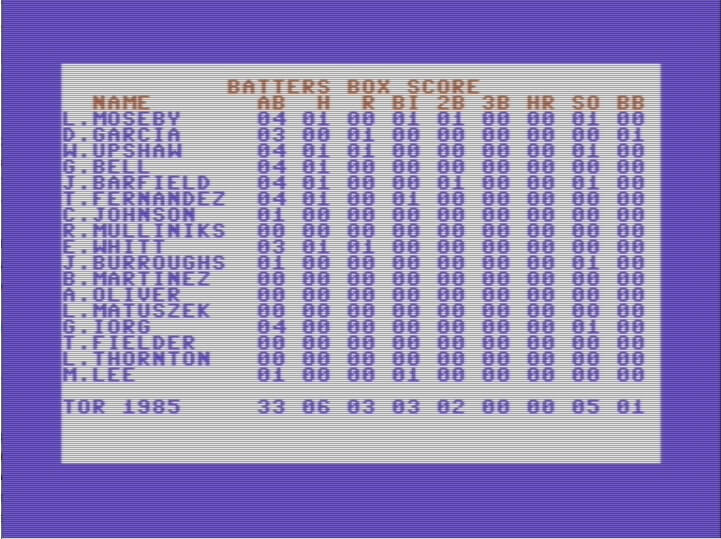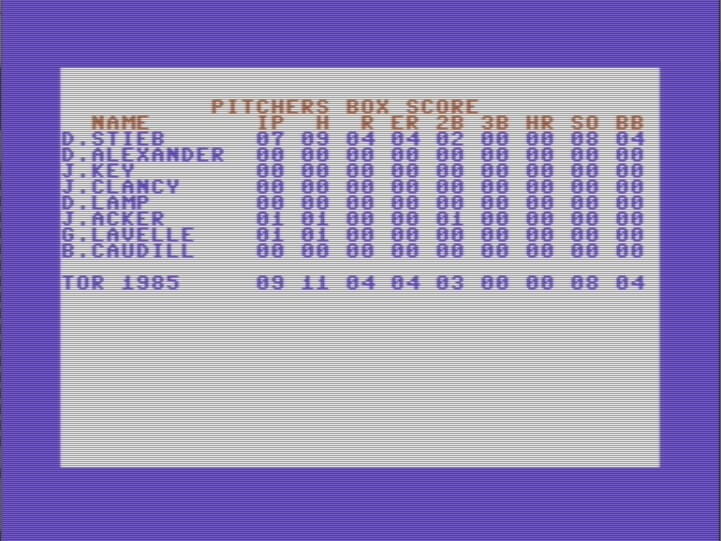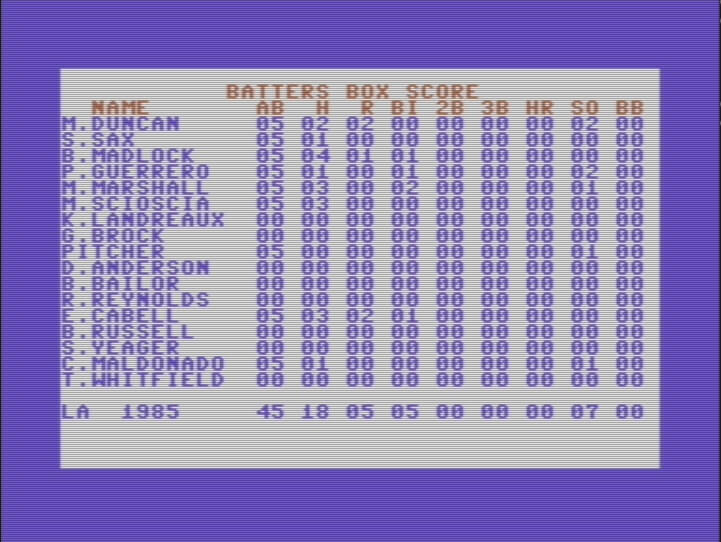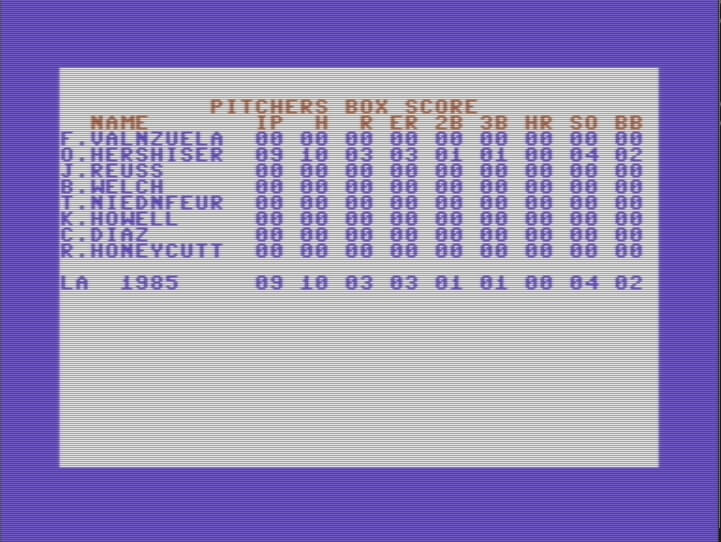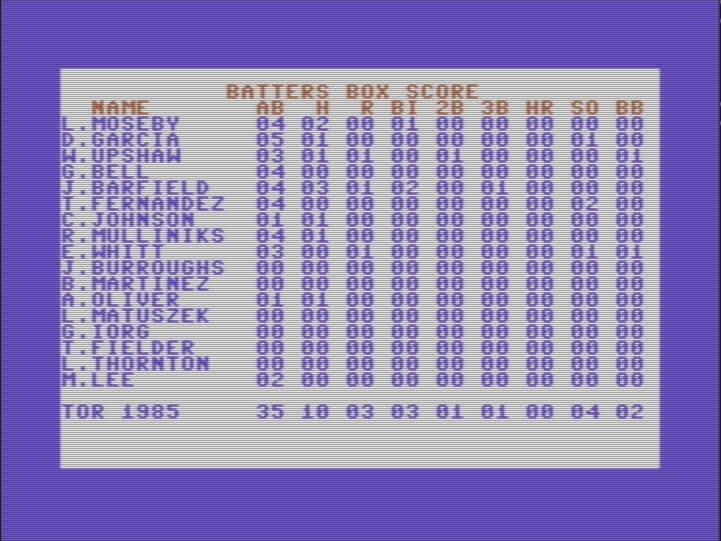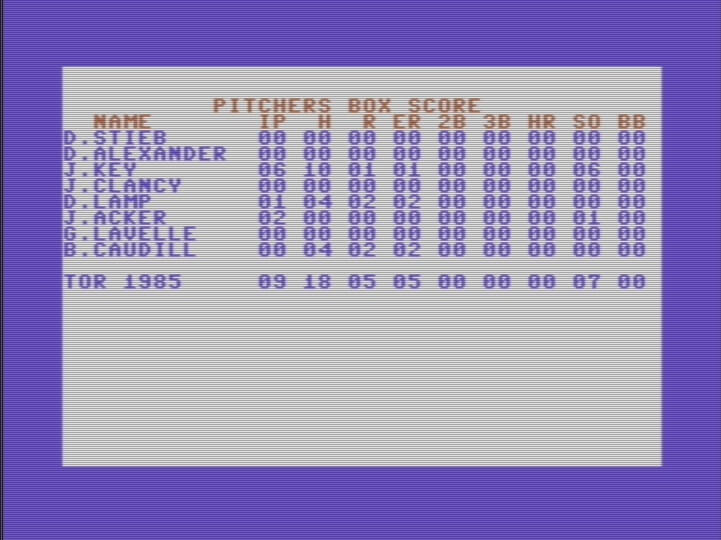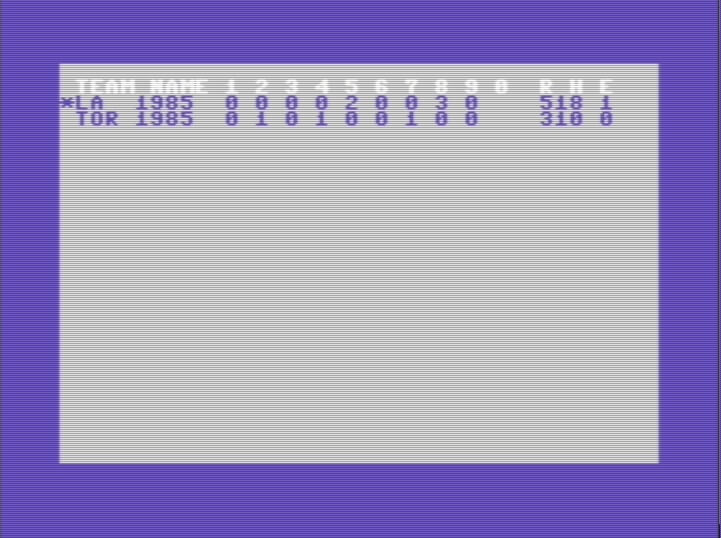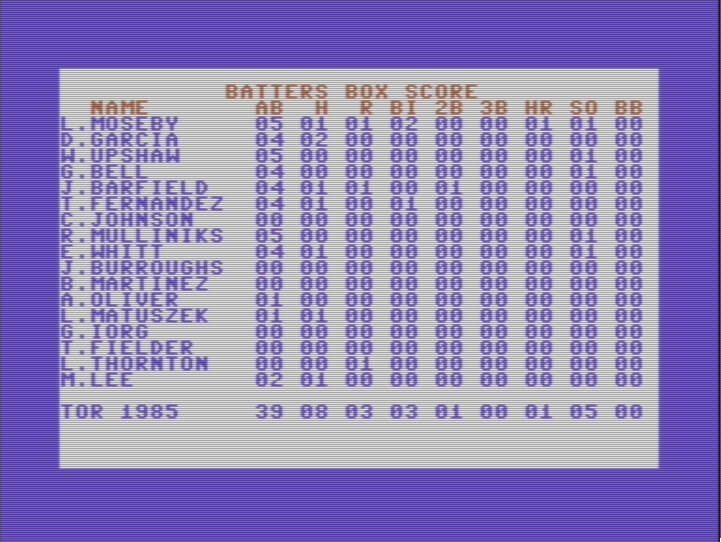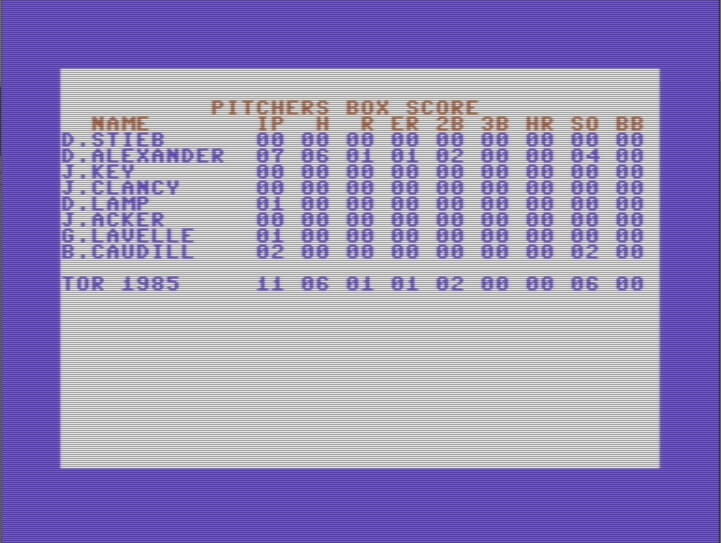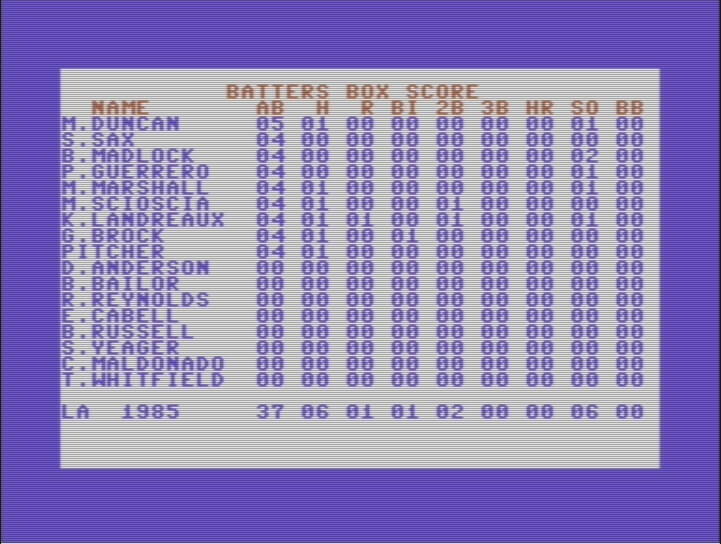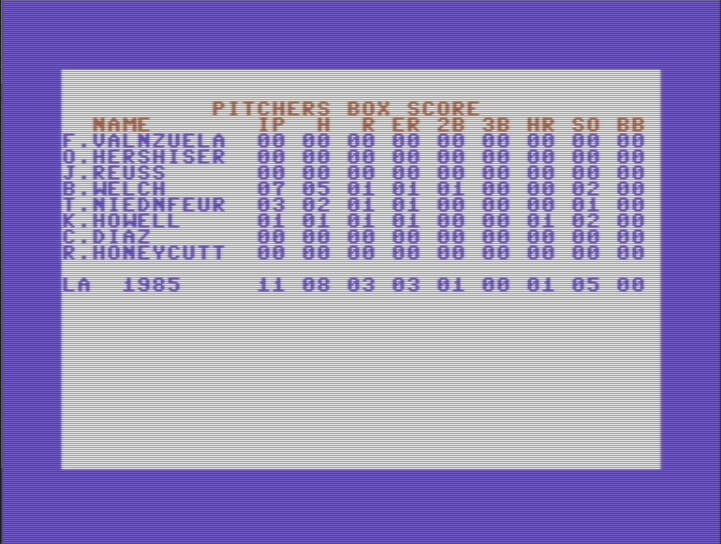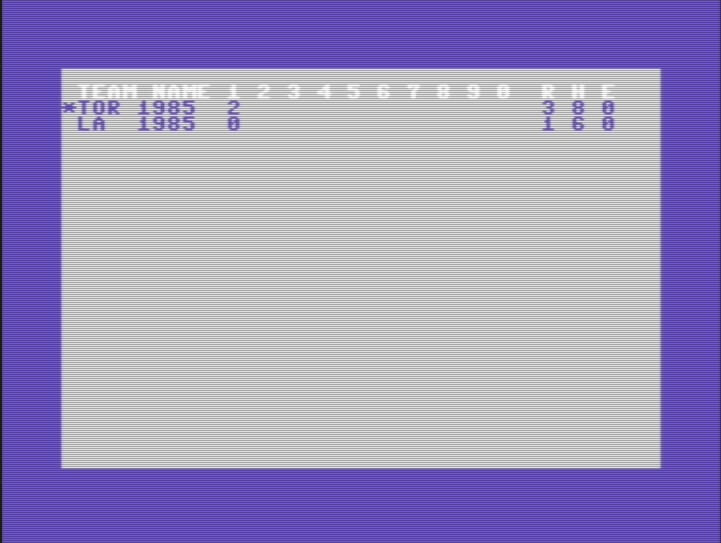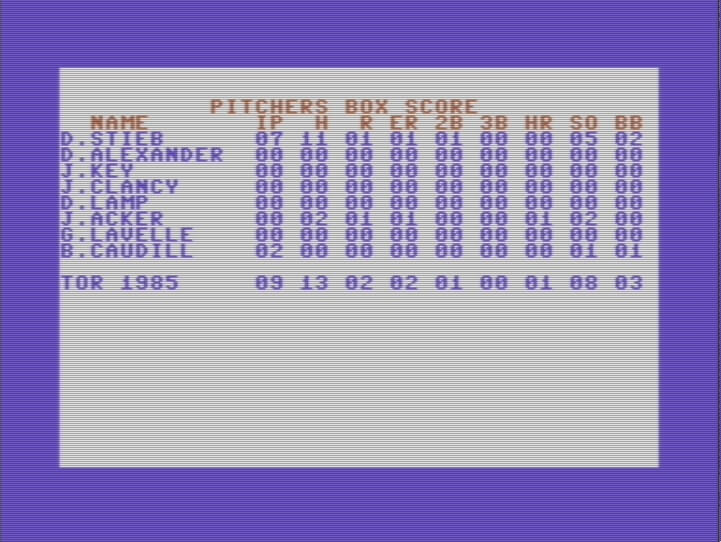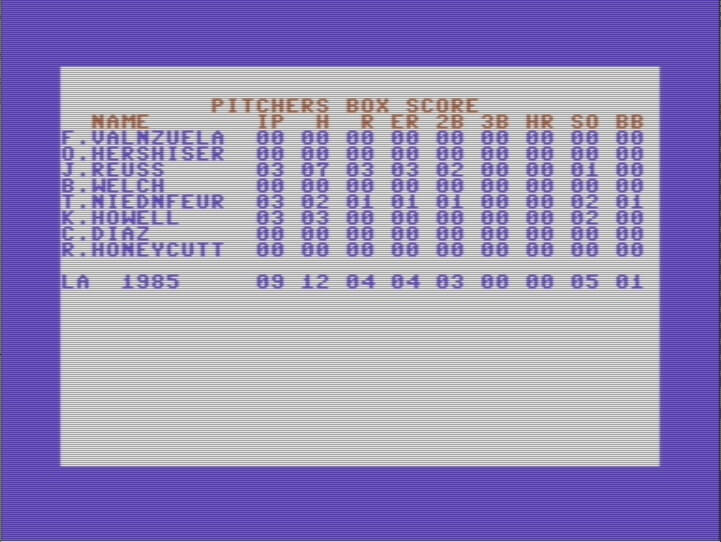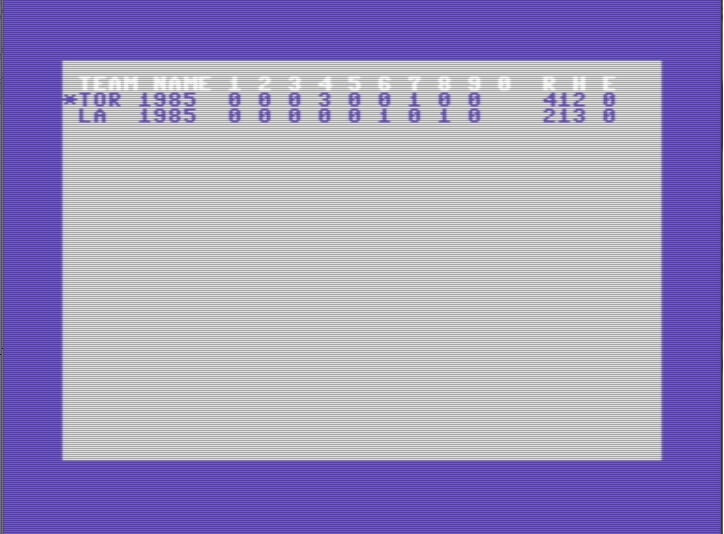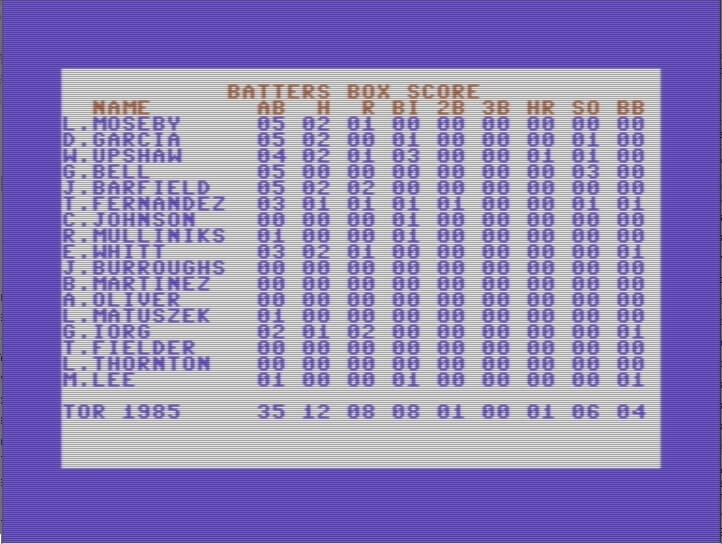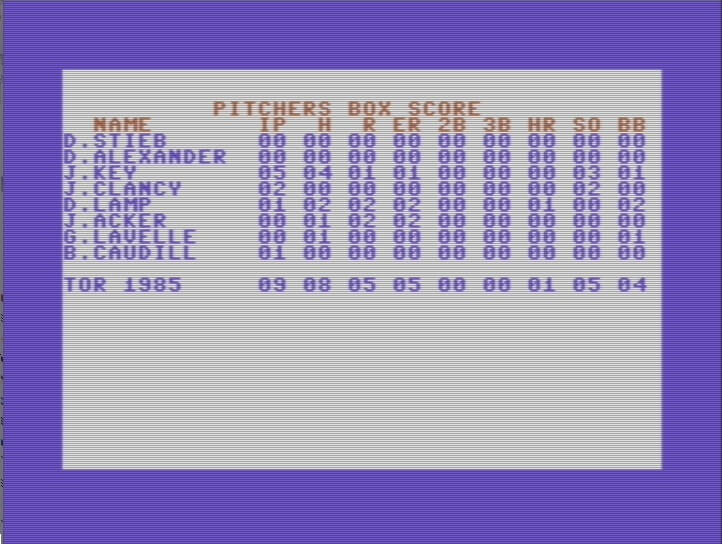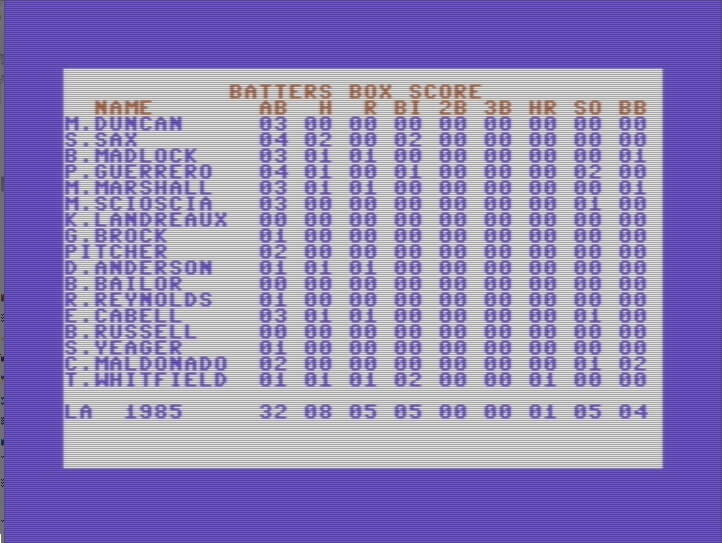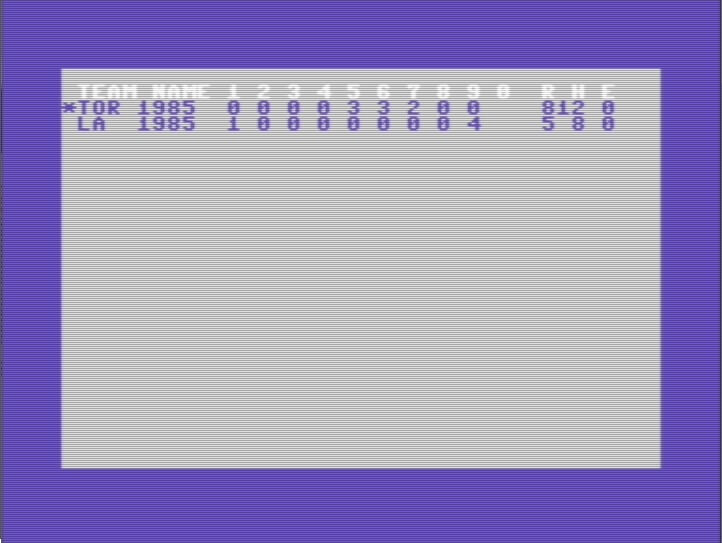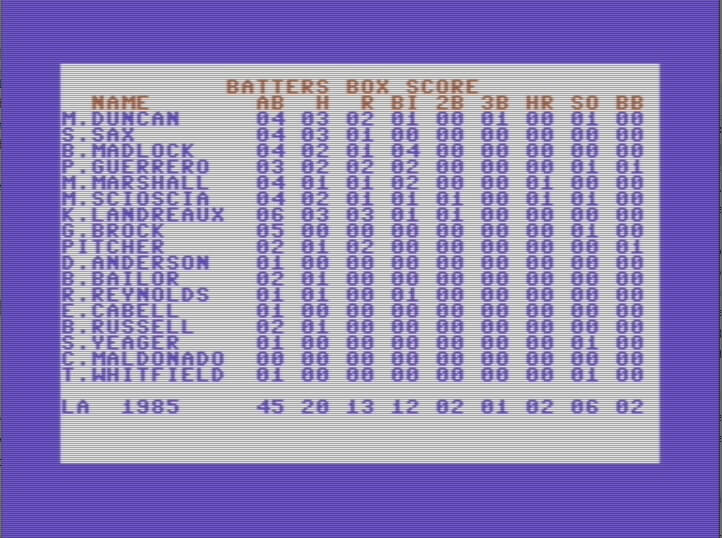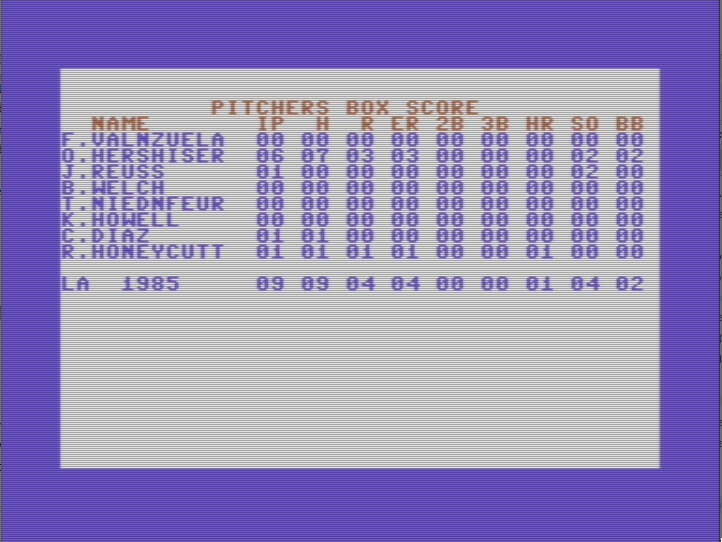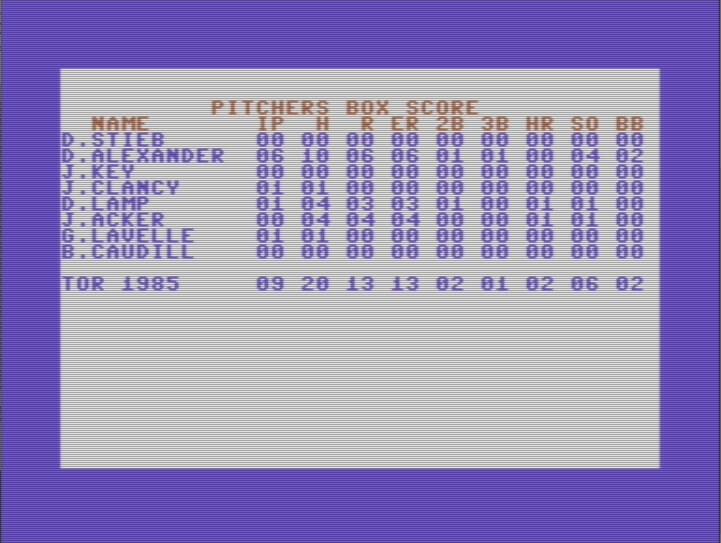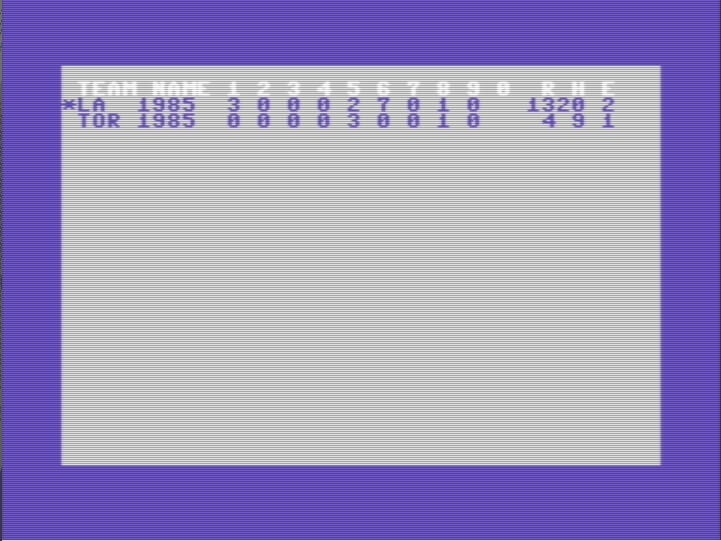 Articles in the Series
Additional Links
Play Pure-Stat Baseball in your browser! –
Archive.org – Pure-Stat Baseball (Commodore 64)
Note: You will need to follow the instructions in the following link to configure joystick settings within the Vice emulator, as the intro screen requires the user to press the FIRE button to start the game. scroll down to the section that begins with 'Press F12 to bring up the emulator settings menu'.
How to Play Commodore 64 Games Online for Free
Jala, Beth S. "Software Gallery: Pure-Stat Baseball." RUN Magazine. Issue 37, January 1987, p18, 24.
https://www.commodore.ca/wp-content/uploads/2016/01/run_issue_37_1987_jan-www.commodore.ca_.pdf
Teverbaugh, Rick. "Sports Scoreboard." Computer Gaming World. Volume 33, December 1986, p52.
http://www.cgwmuseum.org/galleries/issues/cgw_33.pdf
Wilson, Johnny. "Baseball Game Survey." Computer Gaming World. Volume 36, April 1987, p6-9, 42-44.
http://www.cgwmuseum.org/galleries/issues/cgw_36.pdf
https://www.atarimagazines.com/compute/issue76/statistical_baseball.html
https://www.mobygames.com/game/pure-stat-baseball
http://www.stadium64.com/gameinfos/purestatbaseball/purestatbaseball.htm
https://www.youtube.com/watch?v=4S6UlSnu1wc (Pure-Stat Baseball for the Apple II,
video by Highretrogamelord)
About the Author
I am a New Jersey native with a passion for baseball, statistics, computers and video games who enjoys spending quality time with his family.
"Hardball Retroactive", published in June 2018, is available in paperback and digital (Kindle) format at Amazon.com.
"Hardball Retrospective" is available in paperback and digital (Kindle) format at Amazon.com. Supplemental Statistics, Charts and Graphs along with a discussion forum are offered at TuataraSoftware.com.
Don Daglow (Intellivision World Series Major League Baseball, Earl Weaver Baseball, Tony LaRussa Baseball) contributed the foreword for Hardball Retrospective. The foreword and preview of my book are accessible here.
"Hardball Retrospective – Addendum 2014 to 2016" supplements my research for Hardball Retrospective, providing retroactive standings based on Wins Above Replacement (WAR) and Win Shares (WS) for each "original" team over the past three seasons (2014-2016). Team totals from 2010 – 2013 are included for reference purposes. "Addendum" is available in paperback and digital (Kindle) format at Amazon.com.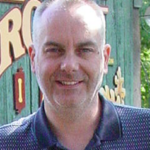 I am a New Jersey native with a passion for baseball, statistics, computers and video games who enjoys spending quality time with his family. Visit my Amazon author page to check out my books, promotional videos, and post a review if you're a Hardball Retro fan!
https://www.amazon.com/author/derekbain
My Books:

"Hardball Architects – Volume 1 (American League Teams)", published in July 2020, is available in paperback and digital (Kindle) format at Amazon.com.


"Hardball Architects – Volume 2 (National League Teams)", published in April 2022, is available in paperback and digital (Kindle) format at Amazon.com.

"Hardball Architects" examines the trades, free agent acquisitions, draft picks and other transactions for the 30 Major League Baseball franchises, divided into a 2-volume set (American League and National League). All key moves are scrutinized for every team and Sabermetric principles are applied to the roster construction throughout the lifetime of the organization to encapsulate the hits and misses by front office executives.


"Hardball Retroactive", published in June 2018, is available in paperback and digital (Kindle) format at Amazon.com. A cross-section of essays that I penned for Seamheads.com along with my Baseball Analytics blog spanning nearly a decade touching on subjects including "Taking the Extra Base", "General Manager Scorecard", "Worst Trades", "BABIP By Location" and "Baseball Birthplaces and the Retro World Baseball Classic". Rediscover your favorite hardball arcade and simulations in "Play Retro Baseball Video Games In Your Browser" or take a deep dive into every franchise's minor league successes and failures in relation to their major league operations in "Minors vs. Majors".


"Hardball Retrospective" is available in paperback and digital (Kindle) format at Amazon.com. Supplemental Statistics, Charts and Graphs along with a discussion forum are offered at TuataraSoftware.com. In Hardball Retrospective, I placed every ballplayer in the modern era (from 1901-present) on their original teams. Using a variety of advanced statistics and methods, I generated revised standings for each season based entirely on the performance of each team's "original" players. I discuss every team's "original" players and seasons at length along with organizational performance with respect to the Amateur Draft (or First-Year Player Draft), amateur free agent signings and other methods of player acquisition. Season standings, WAR and Win Shares totals for the "original" teams are compared against the real-time or "actual" team results to assess each franchise's scouting, development and general management skills.


Don Daglow (Intellivision World Series Major League Baseball, Earl Weaver Baseball, Tony LaRussa Baseball) contributed the foreword for Hardball Retrospective. The foreword and preview of my book are accessible here. 


"Hardball Retrospective - Addendum 2014 to 2016" supplements my research for Hardball Retrospective, providing retroactive standings based on Wins Above Replacement (WAR) and Win Shares (WS) for each "original" team over the past three seasons (2014-2016). Team totals from 2010 - 2013 are included for reference purposes. "Addendum" is available in paperback and digital (Kindle) format at Amazon.com.