The 1984 Donruss Baseball Card Set
Derek's (Re)collections
As a young baseball card collector in 1984, I didn't have a clue about the potential value of my purchases. I simply bought wax packs from the local shops and jumped head-first into my new hobby. I soon learned that the "Big 3" companies consisted of Topps, Fleer and Donruss. Only later did I discover that Topps held a monopoly over the card industry for nearly a quarter of a century. My initial focus was on the 1984 Topps and Fleer series as I found that the Donruss packs were a bit more difficult to come by. The Donruss wax packs contained 15 cards along with 3 puzzle pieces (the assembled puzzle depicted Dodgers great Duke Snider) to differentiate from the Topps (stick of gum) and Fleer (logo sticker) inserts.
I'd just started to appreciate the game of baseball and the cards brought me closer to the game. The photography was excellent but the numbers on the back of each card really captured my imagination. I needed to find out the meaning behind those numbers along with all of the acronyms! I purchased a carrying case and sorted my cards by team. Eventually, I learned about the value (or potential value) of certain cards and placed them in albums with protective pages, or hard plastic cases. I collected baseball cards extensively from 1984 to 1991 and purchased older packs (1981-83) whenever I earned some extra cash.
Corby Corner
I became interested in baseball cards at the same time I fell in love with the game itself. At the age of 10 life revolved around playing baseball, cards, and the fortunes of the California Angels. I would sit in front of the TV at 3 am to try and catch a West Coast score on the maritime channel scroll at the bottom. This same obsession, of course, trickled into card collecting. 1984 was the first year I started collecting and it couldn't have been a better year to start.
The market had different companies such as Donruss, Fleer and Topps, yet it was innocent, unsaturated with the levels seen in the early nineties. For me, THE card in 1984 Donruss was the Don Mattingly rookie. Growing up watching the Yankees on WPIX you had to root for the guy. He hit for average, homers, knocked in runs and played a stellar first base. That card, to me, was the ultimate prize and happily, I can tell you that I still own that card, tucked in a safe and never to be sold.
Features
The standard Donruss baseball card set from 1981-1990 consisted of 660 cards, numbered 1 through 658. Two "Living Legends" cards are denoted as "A" and "B" – Gaylord Perry and Rollie Fingers are depicted on the "A" card while Carl Yastrzemski and Johnny Bench are featured on "B". Twenty-six "Diamond Kings" lead off the set highlighting one star player per team, followed by twenty minor league prospects termed "Rated Rookies". Card # 648 displays the outcome of a completed Duke Snider puzzle. The "San Diego Chicken" makes an appearance (card # 651) and seven checklists round out the set. Standard player cards (47-647, 650-651) are not organized by teams or any particular method that I can discern. The front of each card includes a full-color photo with a white border. The bottom section includes the player name and primary position in yellow text against a solid color background. The Donruss logo with an "'84" is situated in the bottom right corner. The player's current team is listed above their name in yellow text against a backdrop of 4 slightly curved lines. The back of the cards are comprised of black text with player biographical information set along the top and bottom sections over green backgrounds. The lower segment includes contract status, how the player was acquired, and career highlights. The central portion conveys MLB statistics from the past 5 seasons against a white setting.
Donruss also produced "Action All-Stars", the second edition of a 3 ½" by 5" card series. The set contained a 63-piece Ted Williams puzzle along with 60 player cards such as George Brett, Nolan Ryan, Cal Ripken Jr. and Ryne Sandberg. Donruss delivered a new series using comparable size card stock entitled "Champions". Dick Perez of Perez-Steele Galleries supplied artwork for the subset of Grand Champions: Babe Ruth, Hank Aaron, Ted Williams, Rogers Hornsby, Ty Cobb, Cy Young, Walter Johnson, Frank Robinson, Mickey Mantle and Carl Hubbell. The remaining (current) players utilized standard photography on the card fronts.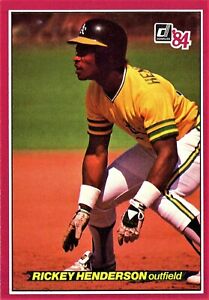 Oddballs and Oddities
It's a case of mistaken identity as a photograph of Indians' southpaw Neal Heaton was inadvertently assigned to Richard Barnes' (#608) lone MLB card.
The "Runnin' Reds" card (#625) actually depicts four speedsters who play for the "Redbirds", not the Reds: David Green, Willie McGee, Lonnie Smith and Ozzie Smith.
One-and-Dones
The players listed below made their lone appearance on a regular-issue baseball card in the 1984 Donruss set.
Mike Fuentes (#40) – Selected in the second round of the June 1981 Amateur Draft by the Expos, the slugging outfielder pummeled the opposition during his first full season (1982) when he tallied 37 long balls, 115 RBI and 104 runs scored as a member of the Memphis Chicks (AA). Fuentes proceeded to slash .299/.414/.565 with 30 big-flies for the Wichita Aeros (AAA) to merit a September call-up in 1983. The presence of Tim Raines and Andre Dawson aided in limiting his opportunities to 9 Major League plate appearances in 1983-84. Batting for Bill Gullickson in the fifth inning of a match against the Mets on September 10, 1983, Fuentes rapped a single to left field for his first MLB hit against Tom Gorman. He tallied his first run when Raines crushed a round-tripper to deep left field. Fuentes played 3 more seasons in the minor leagues before leaving pro ball after the '87 campaign.
Chris W. Smith (#46) – Originally a member of the Rangers' farm system as an eleventh round pick in the June 1978 Amateur Draft, Smith was traded with LaRue Washington to Montreal in return for Rusty Staub prior to the start of the 1980 season. He made his MLB debut in May 1981 and recorded nine hitless at-bats for the Expos over the next two campaigns. Flipped to the Giants for Jim Wohlford in February 1983, Smith logged his first MLB hit off Bruce Berenyi in a match on June 29, 1983. He was optioned to the minors after logging 2 hits in 13 at-bats but he went on a tear upon being recalled two months later. Slashing .370/.435/.574 over the final month of the '83 campaign as the Giants' primary first baseman, Smith launched his only big-league blast at Riverfront Stadium on September 29, 1983 off Ben Hayes. Apparently his September triumph along with a .379/.445/.610 slash line with Phoenix (AAA) earlier in the year failed to impress the San Francisco front office as Smith was released one month later. He latched on with the Yakult Swallows (Japan Central League) but hit only .202 in 68 games over the 1985 and 1986 seasons before departing from professional baseball.
Gorman Heimueller (#131) – A lefty reliever in the Giants' farm system for 3+ campaigns before earning his release at the close of Spring Training in 1981, Heimueller accepted a similar assignment across the bay with the Athletics. Prevailing in 9 out of 13 decisions while fashioning an ERA of 2.33 at West Haven (AA) in '81, the southpaw slumped in the subsequent season (8-10, 5.36) before rebounding with a record of 8-4 with a 3.54 ERA at Tacoma (AAA) to merit a recall in July 1983. Heimueller pitched well in his first outing for Oakland, a 3-1 loss at Baltimore in which he yielded 3 earned runs in 7 1/3 innings. With a similar effort on August 5, he notched his first big-league win, 3-2 at Minnesota. In 14 starts down the stretch along with a pair of relief outings, Heimueller compiled an ERA of 4.41 with a 1.458 WHIP. Six relief appearances in June 1984 with a composite 6.14 ERA punched his ticket back to the minors. Inking a minor league deal with the Twins after the '84 campaign, Heimueller logged 14 saves with a 2.88 ERA with Orlando (AA) but ultimately walked away from pro ball after furnishing a 6.15 ERA for the Toledo Mud Hens (AAA) one year later.
Rich Behenna (#346) – Atlanta's fourth round pick in the June 1978 Amateur Draft, Behenna edged closer to a big-league promotion when he recorded 13 victories in successive seasons (1981-82) for the Durham Bulls (A) and Savannah Braves (AA). The right-hander pitched five scoreless frames against Cincinnati to earn his first MLB victory on April 12, 1983 and held a 3-0 record with a 1.66 ERA after defeating Montreal and Houston in early May. Six weeks later Behenna was demoted to Richmond (AAA) where he racked up 61 walks against only 50 strikeouts. Sent to the Indians in September 1983 as the "player to be named later" in the Len Barker deal, Behenna somehow managed to make 12 appearances (11 starts) for Cleveland from 1983 to 1985 despite compiling an 0-7 record with a 7.12 ERA!
Richard Barnes (#608) – As mentioned in the "Oddballs and Oddities" section, Barnes is not depicted on his only standard-issue Major League baseball card (that's a photo of Indians' left-hander Neal Heaton). Drafted by the White Sox in the second round of the June 1977 Amateur Draft, the southpaw jumped from the Gulf Coast White Sox (Rookie) to the Knoxville Sox (AA) as a 17-year-old after triumphing in 8 of 9 decisions while posting an ERA of 1.60. He fashioned a 3.11 ERA at Double-A in '78 but labored to a composite 4.92 ERA over the next 3+ campaigns at Iowa and Edmonton (AAA). Nevertheless Barnes received a promotion to the Pale Hose in July 1982 where he was promptly throttled by Harvey's Wallbangers, recording only 5 outs and allowing 6 ER in his MLB debut. He recovered in his next start against Toronto one week later, giving up 3 unearned runs in 6 2/3 innings. The White Sox were poised to rampage through the American League Western Division in 1983 so Barnes honed his craft at their new AAA affiliate, the Denver Bears, where he supplied a record of 11-6 with a 4.17 ERA. Barnes was traded to the Tribe in late August 1983 in exchange for fleet-footed outfielder Miguel Dilone. Relieving for Rick Sutcliffe in the third inning on September 10, 1983, Barnes twirled 6 1/3 innings and yielded only one run to pick up his first and only MLB victory against the Red Sox. Bouts of wildness for the Maine Guides (AAA) contributed to a poor ratio although the portsider finished up on a high note when he compiled an ERA of 3.16 along with a 1.270 WHIP for the Tucson Toros and Iowa Cubs (AAA) before calling it a career after the '85 season.
Did You Know?
Donruss card backs featured a Career Highlights section which contributed several interesting tidbits in addition to the standard references regarding awards along with the player's Minor and Major League exploits.
Tom Foley (#81) – "Was an ambidextrous athlete in high school, playing as a righthanded SS in baseball and a lefthanded QB in football."
Don Hill (#96) – "Switch hitter who also can throw with either arm."
Curt Wilkerson (#99) – "Is a substitute teacher in the off-season."
Tom Brennan (#102) – "Nicknamed 'The Gray Flamingo' because of his unorthodox hesitation delivery."
Mike Boddicker (#123) – "Works in a grain elevator in his native Norway, Iowa during the off-season."
Pete Ladd (#124) – "Nicknamed 'Big Foot' for his size 15 shoes."
Kevin Hickey (#135) – "Was signed by Sox right off the sandlots of Chicago where he gained local fame as a softball pitcher."
Tim Flannery (#202) – "Plays guitar professionally in the off-season."
Pascual Perez (#507) – "Achieved a measure of dubious fame in '82 when he got lost driving to the Braves' ballpark and ran out of gas."
Errors
In total, 14 uncorrected error cards were identified in the Beckett Almanac of Baseball Cards and Collectibles while the entire subset of Diamond Kings along with the Rated Rookie cards for Ron Darling and Mike Stenhouse exist in both error and corrected form.
Rookie Cards
Don Mattingly, Darryl Strawberry, Joe Carter, Tony Phillips, Andy Van Slyke, Kevin McReynolds and Tony Fernandez highlight the list of players making their cardboard debuts in the '84 Donruss set.
Price Guide (Then and Now)
In the inaugural volume of the "Beckett Baseball Card Monthly Price Guide" (November 1984), the 1984 Donruss Baseball complete set listed for $22. Individual cards listing for at least one dollar included Don Mattingly (# 248, $2), Darryl Strawberry (# 68, $1.75), Kevin McReynolds (# 34, $1.50), Ron Darling (#30B, $1.25) and Mike Stenhouse (#29B, $1). The Don Mattingly card currently sells in the $35-40 range (grade 8).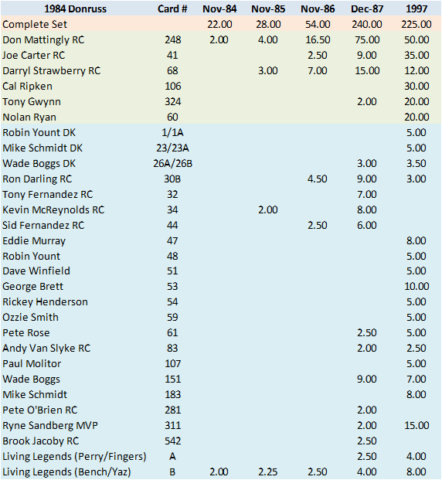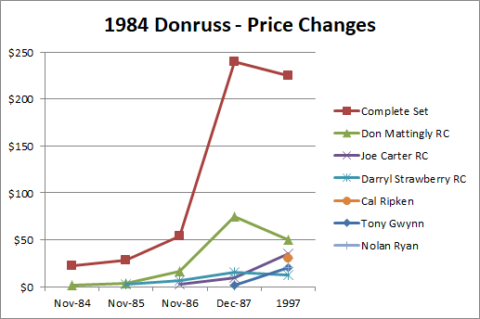 Please add a comment below if you would like to share any memories from collecting the 1984 Donruss baseball card set or your experiences with card collecting in general!
Articles in the Series
References and Resources
Beckett, Dr. James, Rich Klein and Grant Sandground. Beckett Almanac of Baseball Cards and Collectibles. Dallas, TX: Beckett Publications, 1997. Print.
Beckett.com (requires subscription to view prices):
https://www.beckett.com/search/?term=1984+donruss&year_start=1984
http://www.tuffstuff.com/priceguides
http://www.baseballerrors.com/sets.php?Set=37&go=Go
https://www.cardboardconnection.com/1984-donruss-baseball-cards
Trading Card Database – Photo Gallery
https://www.tcdb.com/Gallery.cfm/sid/95/1984-Donruss
About the Authors
Derek Bain is a New Jersey native with a passion for baseball, statistics, computers and video games who enjoys spending quality time with his family.
Tom Corby – Cousins with Derek, I am a history teacher at New Egypt High School. I have three kids, Addison, Jaclyn, and Mason and I'm happy that I get to coach them in their sports as well. In my spare time I enjoy reading, anything beach related, and fishing when time allows.
Derek's Books
"Hardball Architects – Volume 1 (American League Teams)", published in July 2020, is available in paperback and digital (Kindle) format at Amazon.com. 
"Hardball Architects – Volume 2 (National League Teams)", published in April 2022, is available in paperback and digital (Kindle) format at Amazon.com. 
Hardball Architects examines the trades, free agent acquisitions, draft picks and other transactions for the 30 Major League Baseball franchises, divided into a 2-volume set (American League and National League). All key moves are scrutinized for every team and Sabermetric principles are applied to the roster construction throughout the lifetime of the organization to encapsulate the hits and misses by front office executives.
"Hardball Retroactive", published in June 2018, is available in paperback and digital (Kindle) format at Amazon.com.  Hardball Retroactive is a modest collection of selected articles that I have written for Seamheads.com along with my Baseball Analytics blog since 2010. Exclusive content includes the chapter on "Minors vs. Majors" which assesses every franchise's minor league successes and failures in relation to their major league operations.
"Hardball Retrospective" is available in paperback and digital (Kindle) format at Amazon.com. Supplemental Statistics, Charts and Graphs along with a discussion forum are offered at TuataraSoftware.com. In Hardball Retrospective, I placed every ballplayer in the modern era (from 1901-present) on their original teams. Using a variety of advanced statistics and methods, I generated revised standings for each season based entirely on the performance of each team's "original" players. I discuss every team's "original" players and seasons at length along with organizational performance with respect to the Amateur Draft (or First-Year Player Draft), amateur free agent signings and other methods of player acquisition. Season standings, WAR and Win Shares totals for the "original" teams are compared against the real-time or "actual" team results to assess each franchise's scouting, development and general management skills.
Don Daglow (Intellivision World Series Major League Baseball, Earl Weaver Baseball, Tony LaRussa Baseball) contributed the foreword for Hardball Retrospective. The foreword and preview of my book are accessible here. 
"Hardball Retrospective – Addendum 2014 to 2016" supplements my research for Hardball Retrospective, providing retroactive standings based on Wins Above Replacement (WAR) and Win Shares (WS) for each "original" team over the past three seasons (2014-2016). Team totals from 2010 – 2013 are included for reference purposes. "Addendum" is available in paperback and digital (Kindle) format at Amazon.com.