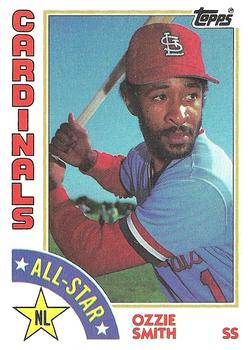 The 1984 Topps Baseball Card Set
Derek's (Re)collections
As I remember it, my collecting days began with the purchase of a few packs of bubble gum cards at the Little League snack shack. Although I focused a lot of my attention on the 1984 Fleer and Topps cards (as the '84 Donruss packs proved to be elusive), I also set aside some of my allowance towards the Sticker series. Topps had the advantage over their competition – they were able to include bubble gum while Fleer and Donruss had to offer alternatives (stickers and puzzles, respectively). Looking back, I remember tearing through a box of '84 Topps and ending up with nearly a dozen Kelly Paris rookie cards! I soon realized packs of cards were available at our local supermarket, delicatessen, pharmacy and other local establishments. Within a year I was subscribing to the Beckett Baseball Monthly magazine, a coin and stamp dealer in the downtown area quickly became known as the hot spot for collectors and I started asking my parents and relatives to drive me to baseball card shows throughout our state. I was captivated by the numbers on the backs of the cards and enhanced my math skills by calculating batting and earned run averages.
Corby Corner
The 1984 Topps set, to me, was the weakest of the 1984 lot. Now don't get me wrong, I still collected them like every other company that year, but there was something about them that did not hold up against the Fleer and Donruss cards that year. I obtained the Mattingly rookie so I had one of each, and we in the Northeast had Strawberry's rookie that year kids pined for, but I truly believe that Topps realized that they needed to step up their game after this year, and in 1985, I believe they did. In fact, I would argue that the 1985 Topps card was their sharpest of the decade.
Features
The standard Topps baseball card set from 1982-1992 consisted of 792 cards. The 1984 series kicks off with a half-dozen "1983 Highlight" cards consisting of Steve Carlton (300 career wins, All-Time strikeout king), Rickey Henderson (third time with 100+ stolen bases), Dan Quisenberry (sets the single-season record for saves), Nolan Ryan / Steve Carlton / Gaylord Perry (surpass Walter Johnson's strikeout record), Dave Righetti / Bob Forsch / Mike Warren (no-hitters) and Johnny Bench / Gaylord Perry / Carl Yastrzemski (retirements). The layout for the player cards encompasses the team name in large font down the left side, two player photos (a larger image on the right with a small, face-only inset picture in the bottom left corner). The player name and primary position is denoted in the bottom right corner and the Topps logo sits above the large photo in the upper right with a white border surrounding the card fronts. The backs include each player's biographical information and team logo across the upper third. The mid-section contains the season statistics and career totals in dark blue while the lower third features single-game highlights from the '83 campaign.
Team checklist cards depict the 1983 batting and earned run average leaders for each franchise on the front. Eight "League Leader cards" numbered 131 through 138 contain two or more images displaying the top-ranked batters and pitchers in the following categories: batting average, home runs, runs batted in, stolen bases, victories, strikeouts, earned run average and saves. The top 10 players in each league / category are enumerated on the flip side. The National and American League All-Stars are featured in a 22-card subset (#386 through #407). The All-Star card backs denote each player's marital status, interests along with miscellaneous personal information. The "Active Career Leaders" for the American and National Leagues in nine categories are depicted on card # 701 through 718. The cards have a vertical orientation with the leader centered in a slightly larger image while a headshot of those placing second and third appear on the left and right, respectively.
The 1984 Topps Traded set included Dwight Gooden but curiously omitted Roger Clemens and Kirby Puckett. The Glossy Send-Ins set of 40 cards returned after debuting in 1983. Collectors had to amass 25 bonus runs from game cards inserted into wax packs, and then mail them to Topps in order to receive 5 of the 40 Glossy cards. An alternate Glossy subset, All-Stars, received distribution through Rak-Paks and consisted of the starting nine for each squad along with the managers and team captains (Johnny Bench and Carl Yastrzemski). A 33-card set distributed in packs of 4 cards through Ralston Purina cereal boxes, Topps Cereal featured the superstar players from the '83 campaign.
Reappearing in the Topps' portfolio following a two-year absence, the Super cards (set of 30) measured 4 7/8″ x 6 7/8″ and utilized the identical photograph from the regular '84 Topps series. The Tiffany and Traded Tiffany series, offered from 1984 and 1991, mirrored the standard-issue set except that the cards were glossy and printed on white stock. Generally the individual prices are listed at 6 to 10 times the regular version for star players and 4 to 8 times for rookies. Miniature 12 card sets of bronze and silver cards made a brief appearance in 1984 and 1985 as the Gallery of Champions. Measuring 1 ¼" x 1 ¾" the GoC cards replicated the appearance of the standard issue cards and ranged from $10 for bronze edition of Rollie Fingers to $175 for Nolan Ryan with the silver versions worth an estimated 2 ½ times the value of their bronze counterparts.
Panini produced the Topps and O-Pee-Chee sticker sets which consisted of 386 stickers that were designed to be placed into a corresponding "Sticker Yearbook" album available through retail outlets and dealers. This series was in production from 1981 to 1990. The Rub Downs series allowed the collector to transfer images to other surfaces through the application of pressure over the back of the card. The 1984 Rub Downs set consisted of 32 cards depicting 3 or 4 players each.
The subset values according to the 1997 edition of the Beckett Almanac of Baseball Cards and Collectibles are as follows: Tiffany $200, Traded $50, Traded Tiffany $75, Glossy All-Stars $5, Glossy Send-Ins $12.50, Cereal $12.50, Gallery of Champions $450, Stickers $15, Sticker Boxes $6, Super $10, Rub Downs $8, Pewter Bonuses $800.
One-and-Dones
The players listed below made their lone appearance on a regular-issue baseball card in the 1984 Topps set.
Leo Hernandez (#71) – Hernandez honed his skills as a Dodgers' farmhand from 1978 to 1981 subsequent to signing with L.A. as an amateur free agent. He rapped 34 doubles, blasted 25 round-trippers and knocked in 91 runs for San Antonio (AA) in '81. Traded to the Orioles for Jose Morales in April 1982, Hernandez earned a September call-up following a campaign in which he batted .303 and slugged .570 with 34 big-flies, 119 ribbies and 20 stolen bases across three Minor League affiliates. Hitless in a pair of late-September '82 at-bats, the third baseman locked down the starting job for Baltimore in the following spring. He launched his first MLB home run of Ed Glynn off the Indians on April 9, 1983. Hernandez started every game in April and May until falling into a platoon with Aurelio Rodriguez. The O's purchased the contract of Todd Cruz from the Mariners on June 30, 1983 and Hernandez was demoted to the Rochester Red Wings (AAA). Setting the International League ablaze with a .343 BA and a .547 SLG, Hernandez was left behind as the O's marched to a World Series title in '83 and he remained a fixture on the Red Wings' roster until Baltimore recalled him in September 1985. Hernandez was dealt to the Yankees as the "player to be named later" in a December 1985 transaction which sent him along with outfielder Gary Roenicke to the Bronx Bombers in return for Rich Bordi and Rex "Wonder Dog" Hudler. Hernandez spent the 1986 campaign with the Columbus Clippers (AAA) where he drilled 35 two-baggers to merit his final call to the big leagues. The Yankees began the month in third place, 7.5 games behind the Red Sox. Joining his teammates on the West Coast for a game in Oakland on September 1, Manager Lou Piniella inserted Hernandez into the starting lineup, batting sixth and playing third base. Hernandez rewarded his skipper with a pair of knocks including a solo shot to left field off Bill Krueger. In his final MLB at-bat on October 2, 1986, Hernandez hammered a three-run double off Bruce Hurst at Fenway Park to break a 1-1 tie en route to a 6-1 victory. Following a brief stint in the Brewers' farm system with the El Paso Diablos (AA) in '87, Hernandez left the States and played in the Mexican League through 1991. Manning the hot corner for the Algodoneros de Union Laguna in '88, he slashed .345/.422/.624 with career-highs in batting average, slugging percentage, home runs (36) and RBI (123).
George Bjorkman (#116) – The Cardinals chose Bjorkman in the fourth round of the June 1978 Amateur Draft. San Francisco selected him off the St. Louis roster in the December 1980 Rule 5 Draft but returned him at the end of Spring Training in April 1981. Bjorkman responded with his best season to date, blasting 28 long balls for the Springfield Redbirds (AAA) and surpassing his home run output from the previous three campaigns by 5. The backstop repeated triple-A in '82 and regressed to a .208 BA with 14 dingers. St. Louis GM Joe McDonald shipped Bjorkman to the 'Stros in March 1983 for minor league hurler Geoff Meadows. He spent the majority of the first half of the campaign with the Columbus Astros (AA) where he swatted 21 two-base knocks and 12 big-flies. Recalled to the big leagues at the All-Star Break, the catcher made his MLB debut on July 10, 1983 and greeted reliever Jesse Orosco with a bases-loaded single to left field to break a 3-3 tie in the sixth inning for his first base hit in the Majors. Bjorkman remained on the Houston roster through the balance of the season, starting 25 games while sharing the catching chores with Alan Ashby, Luis Pujols and John Mizerock. In his third career game as a Major Leaguer, Bjorkman drove in 5 runs and launched his first four-bagger, a bomb to deep left off Bryn Smith. Eight days later he tagged another Expos' right-hander, Bill Gullickson, for his second career dinger. Facing the Reds' Jeff Russell on October 2, 1983 in his final big-league at-bat, Bjorkman delivered an RBI single to plate the deciding run in a 3-2 Houston victory. In March 1984, Houston and Montreal agreed upon an exchange of journeyman catchers with Bjorkman heading north of the border for Tom Wieghaus (0-11 in 8 career MLB contests). Over the next two years, Bjorkman hit .256 with 6 dingers with the Indianapolis Indians (AAA) and .242 with 5 wallops for the Rochester Red Wings (AAA) before wrapping up his professional baseball career after the '85 season.
Darryl Cias (#159) – A sixth round pick by Baltimore in the June 1975 Amateur Draft, Cias faced adversity early in his minor league career when the O's released him after a year and a half after hitting .207 for Bluefield (Rookie) and Miami (A). Boston picked him up in November 1976 but ended up dropping him at the end of Spring Training and he did not play pro ball at all in '77. Primarily a third baseman with the Orioles, Cias almost exclusively played behind the dish for the balance of his career. Cias signed with the independent Salem Senators (Northwest) in '78 and registered a .293 BA with 18 doubles. Oakland purchased his contract in February 1979 and Cias impressed his new employers with a .301 BA for Medford (A-) and Modesto (A). Gradually climbing the organizational ladder, Cias reached Tacoma (AAA) in '81 subsequent to posting a .314 BA at West Haven (AA). He batted at a .316 clip in only 117 at-bats during the 1982 campaign but remained at Triple-A until Mike Heath suffered an injury in the middle of April 1983 and missed the next month of the season. A's skipper Steve Boros inserted Cias into the starting lineup on April 27, 1983 and he squared off against his former club, the Orioles. He doubled in the bottom of the seventh inning off Sammy Stewart to collect his first MLB base hit but the Athletics lost 6-0. Cias played sporadically through mid-June when Oakland optioned him to Triple-A. He received a return trip to Oakland in spite of a .136 BA during his time with the Tacoma Tigers. His final MLB appearance on September 24, 1983 was a triumphant one. Entering the match as a defensive replacement in the top of the ninth, Cias led off the top of the tenth inning against starting pitcher Jim Clancy with the score knotted at 1-1 and promptly slapped a single to right field. He moved up to second on a sacrifice bunt by Tony Phillips and came around to score the winning run on a single to center off the bat of Rickey Henderson. Spending nearly three months with the A's, Cias compiled a .333 BA (6-for-18) and appeared in only 19 games. Oakland did not renew his contract and he found work with the Rangers, hitting .273 in 27 contests for the Tulsa Drillers (AA) in '84. After a year away from pro ball, Cias played his final season with more than a dozen former big leaguers on the independent San Jose Bees including Steve Howe, Steve McCatty and Mike Norris and the next man on our list, Lorenzo Gray.
Lorenzo Gray (#163) – Splitting his time between the corner infield and outfield positions, Gray averaged 25 stolen bases per year and scored at least 90 runs over three campaigns from 1978 to 1982. The White Sox selected Gray in the eighth round pick in the June 1976 draft. In the midst of slashing .358/.410/.547 for the Edmonton Trappers (AAA) in '82, Gray got the call to the big leagues and made his MLB debut on July 8, 1982. With the Pale Hose trailing the Motor City Kitties 2-1 in the bottom of the ninth, Tigers' starter Dan Petry issued a base on balls to Vance Law. Sox skipper Tony La Russa sent Gray into the contest as a pinch-runner and replaced Aurelio Rodriguez with pinch-hitter deluxe, Jerry Hairston. Petry's pitch was pummeled to deep right and Gray notched his first run as Hairston's homer whipped the home crowd into a frenzy. On the following day, facing Blue Jays' right-hander Luis Leal, Gray picked up his first hit when he led off the fifth inning with a single to left field. He was optioned to Triple-A later that week but played in 14 September games with the Sox and recorded a .286 BA in 28 at-bats. Vance Law scuffled at the dish during the first month of the '83 campaign and Gray received the majority of the playing time at the hot corner in May, starting 20 of 21 games from May 2 through May 26. He belted his lone Major League round-tripper off Doug Bird in the third frame of a 12-4 laugher against Boston on May 24, 1983. La Russa pulled the trigger and swapped Law back into the lineup three days later and benched Gray when his batting average slipped to .194. Strictly an afterthought at this point, he appeared in 14 contests over the next two months as a defensive replacement or pinch-hitter. Unable to scratch out any safeties in 6 at-bats during that timeframe, Gray found himself optioned to the Denver Bears (AAA). The Pale Hose coasted to victory in the American League Western Division while Gray headed home after salvaging his season in the Rocky Mountains with a .331 BA. Released by Chicago in January 1984, the third sacker pressed on with Cleveland's Triple-A squad, belting 16 long balls for the Maine Guides (AAA). Acquired by the Yankees prior to the '85 campaign, Gray faltered as a part-timer as he clubbed only one homer in 147 at-bats for the Columbus Clippers (AAA). In his final pro season (1986) he batted .274 with 17 two-base hits for the San Jose Bees.
Jamie Nelson (#166) – Taken in the eighth round of the 1978 MLB January Draft-Regular Phase by the New York Mets, Nelson reported to the Wausau Mets (A) where he batted .267 with 13 doubles in 202 at-bats as an 18-year-old. Playing for the unaffiliated Bakersfield Outlaws (A) in 1979, the backstop established career-bests with 20 doubles, 12 taters and 65 RBI. The Mets released Nelson in April 1981 after he was limited to a .231 BA in 65 at-bats at Lynchburg (A) in '80 but Seattle signed him a week later. He played exclusively for the Lynn Sailors (AA) in '81 and '82 hitting a composite .279 with 15 jacks. Promoted to the Salt Lake City Gulls (AAA) to begin the 1983 campaign, Nelson supplied a .247 BA with 6 dingers when he received a call to the big leagues in mid-July to replace Orlando Mercado. Manager Del Crandall penciled Nelson into the starting lineup on July 21, 1983 and he responded with a two-run homer in the bottom of the fifth inning off Red Sox lefty Bob Ojeda for his first MLB hit. He started 35 games in a time-share behind the plate with Rick Sweet down the stretch and ended the year with a .219 BA in 96 at-bats. The Brewers selected Nelson in the December 1983 Rule 5 Draft and he spent the next season with the Vancouver Canadians (AAA), batting .276 and drawing 60 walks while striking out only 33 times. The Cubs purchased his contract in December 1984 but returned him to the Brew Crew prior to the start of the '85 season "after elbow problems limited his play with the Cubs" (Flaherty 27). Nelson appeared in only 7 games for Vancouver and he missed the entire campaign in 1986. The Royals inked him to a minor league pact in November 1986 and he posted a .289 BA with 8 clouts for the Memphis Chicks (AA). Over the next three years Nelson bounced around the upper minors playing for the Double-A and Triple-A affiliates of the Yankees, Angels and Twins. He came out of retirement briefly in '94 to slash .387/.459/.504 in 119 at-bats for the Mobile Baysharks (Independent) of the Texas-Louisiana League.
Kevin Hagen (#337) – St. Louis nabbed Hagen in the 4th round of the January 1980 Amateur Draft (Regular Phase). In his first professional campaign he prevailed in 14 contests and furnished an ERA of 3.97 for Gastonia (A). Hagen pitched for the Arkansas Travelers (AA) in back-to-back seasons (1981-82), improving his ERA from 3.98 to 3.61 and lowering his WHIP from 1.503 to 1.323. A member of the Louisville Redbirds' (AAA) rotation through June 1983, Hagen was promoted to the Majors and made his debut on June 4, 1983 in Atlanta. Relieving Doug Bair to begin the bottom of the eighth with the Cardinals trailing 6-4, he induced a ground ball to shortstop Mike Ramsey off the bat of Bob Horner to record his first out. Chris Chambliss ripped a double to center field that was misplayed by Willie McGee, allowing the Braves' first-sacker to advance to third. Bruce Sutter entered the contest and held the Braves at bay when he retired Terry Harper (lineout) and Bruce Benedict (flyball to left). Hagen notched his first MLB victory with a scoreless inning of relief work on June 15, 1983 against Philadelphia. The Cards were behind 6-3 against Steve Carlton in the eighth. Hagen yielded a leadoff hit to Joe Lefebvre but escaped when Lefebvre was caught stealing, Ivan de Jesus hit a harmless fly ball to center and Carlton lined out to the his opposite number. The Redbirds battled back with 4 singles off "Lefty" to knot the score at 6-6. Al Holland poured gasoline on the fire with a walk to Ozzie Smith followed by David Green's tie-breaking base knock. "The Wizard" got caught in a run-down for the final out in the eighth but Sutter came on to notch the save. Hagen entered the rotation five days later and prevailed with seven strong innings of 1-run ball against the Mets which lowered his ERA to 2.38. Unfortunately he compiled a 7.38 ERA and failed to make it to the fifth inning in his next 3 starts. Manager Whitey Herzog and the Cardinals' front office had seen enough and optioned Hagen to Triple-A. He crafted 10-9 records with nearly identical ERA's pitching for Louisville over the next two years and made four relief appearances with St. Louis in September 1984. Hagen logged two scoreless innings on September 25, 1984 to pick up a win in relief of Dave LaPoint. Four days later in his final big-league outing, he whiffed Henry Cotto and allowed a double to Ryne Sandberg before yielding to Andy Hassler. Thad Bosley got the best of Hassler in a lefty-lefty matchup, lacing a single to drive in Sandberg. The run bumped Hagen's ERA to a respectable 2.45 for the season and closed the books on his MLB career totals: 3-2 with a 4.25 ERA and a 1.719 WHIP. He fashioned a career-best 3.28 ERA in '86 for Cleveland's Triple-A affiliate, the Maine Guides. Pitching primarily for the Tucson Toros (AAA) in '87 and '88, Hagen's WHIP rose to 1.567. He hung up his spikes after allowing 7 tallies in 4 1/3 innings for the Oklahoma City 89ers (AAA) in 1989.
Chris Nyman (#382) – The Nyman brothers, Nyls and Chris, were drafted by the White Sox in 1972 and 1973 respectively. Nyls ascended quickly to the Majors and played in parts of four seasons with the Pale Hose (1974-77), batting .226 in 106 games as Chicago's primary left fielder in '75. Chris elected not to sign with the Sox initially but he inked a deal as an amateur free agent four years later. He batted .300 with the Appleton Foxes (A) in the summer of '77. Slumping to .212 as a sophomore, Nyman rebounded to hit .278 with 25 doubles, 21 dingers and a .512 SLG in 1979 for the Knoxville Sox (AA) and the Iowa Oaks (AAA). The first baseman added stolen bases to his repertoire while repeating Triple-A over the next 3 seasons as he pilfered 29 bags and averaged .298 BA with 24 two-baggers and 83 runs. Dominating the Pacific Coast League while slashing .335/.416/.508 in '82, Nyman finally achieved big-league status when Chicago called him up at the end of July when Tom Paciorek landed on the injured list. ChiSox skipper Tony La Russa penciled Nyman into the starting lineup on July 28, 1982. Facing Orioles' left-hander Scott McGregor, he whiffed in his first at-bat and then singled to left field leading off the top of the fifth inning. Batting at a .143 clip (3-for-21), Nyman returned to Edmonton (AAA) when Paciorek was activated but he made it back to the Majors at the end of August and managed a pair of 2-hit games against the Twins in the final series to lift his batting average to .246. The White Sox shifted their Triple-A affiliate to Denver where Nyman produced personal-bests with 23 big-flies and a .573 SLG. In three stints with the Sox as a pinch-hitter and part-time first baseman, he hit .286 and tallied 12 runs in 21 games and only 28 at-bats. With Chicago trailing Kansas City 3-1 in the seventh inning on June 2, 1983, Nyman belted his first MLB home run off Larry Gura to tie the game. He clubbed a Tim Conroy offering to deep left in a September 28, 1983 match at Oakland for his final big-league hit. Nyman played overseas in 1984-85, launching 55 blasts in a 2 year period for the Nankai Hawks (Japan Pacific League). His pro career ended after appearing in 71 contests with the Buffalo Bison (AAA) and the Nashville Sounds (AAA) in '86.
Greg Bargar (#474) – Bargar logged a 6.34 ERA in 33 games for the Expos and Cardinals spanning parts of three seasons from 1983 to 1986, all but 4 in a relief capacity. A third-round selection by Montreal in the June 1980 Amateur Draft, he bypassed the lower rungs of the minor league ladder and made his professional debut with Memphis (AA). Bargar struggled with control issues, posting a composite 5.23 ERA with a WHIP of 1.612 while walking 5 batters per 9 innings from 1980 to 1982. His 8 starts at Double-A at the beginning of the '83 campaign signified progress as the right-hander crafted a 3.05 ERA with a WHIP of 1.339. Promoted to the Wichita Aeros (AAA) he exhibited further growth, lowering his BB/9 to 3.9 which was enough to warrant his first call to the Majors. Bargar enjoyed a stellar debut on July 17, 1983 in Atlanta where he pitched 7 shutout innings to notch his first MLB win. He scattered 5 hits and 3 walks as the Expos prevailed, 3-1. He got knocked around in his next start and then survived solo shots by Eddie Milner, Dann Bilardello and Cesar Cedeno to claim a 6-3 victory over the Reds on July 27, 1983. However this failed to prevent him from earning a return pass to Triple-A where he spent the month of August. Back with the 'Spos to finish the season, Bargar toiled through 5 1/3 innings in a mop-up role, yielding 8 runs to raise his ERA to 6.75 in 20 innings. Montreal kept Bargar on retainer with the Indianapolis Indians (AAA) in '84 and '85. He was lit up in 3 late-season appearances for the Expos in 1984 (7.88 ERA in 8 IP) after recording personal-bests with 29 starts and 180 1/3 innings in Triple-A. In the subsequent season Bargar slumped to 5-17 with an ERA of 4.65 and St. Louis purchased his contract in February 1986. Pitching solely in relief, Bargar managed to work in 22 contests for the Cardinals in '86 including 17 in the first half of the year where he compiled a record of 0-2 with a 5.60 ERA. In his final MLB appearance on October 2, 1986, Bargar pitched a scoreless ninth frame in a 5-1 loss to the Pirates and whiffed the last batter he faced, Benny Distefano. Over his final 3 minor league campaigns (1986-88) with the Louisville Redbirds (AAA), Bargar furnished a 17-13 mark with 4.84 ERA in 60 games (30 starts).
Dan Morogiello (#682) – Atlanta chose Morogiello in the third round of the June 1976 Amateur Draft. He maintained a 3.27 ERA covering 13 starts for Kingsport (Rookie) and Greenwood (A). Control problems played a role in the Braves' decision to have Morogiello repeat both levels in the upper minors over the next 4 years in spite of a composite 3.67 ERA during that timeframe. After starting 126 consecutive games since he inked his first pact with Atlanta, Morogiello was demoted to Savannah (AA) and converted to a reliever. The southpaw faltered badly working out of the pen in '81 and the Braves dealt him to the Cards for Donnie Moore in February 1982. He made a career-high 57 relief appearances for Louisville (AAA) but his peripherals did not improve considerably. Granted free agency in October 1982, Morogiello signed one month later with the Orioles. He spent a substantial amount of time on the Baltimore roster with the eventual 1983 World Champions, making his MLB debut in relief of Dennis Martinez on May 20, 1983. He retired the first 4 Blue Jays that he faced including back-to-back strikeouts of Ernie Whitt and Lloyd Moseby. The portsider notched his lone Major League save with two scoreless frames against the Athletics on July 11, 1983. In a game on September 18, 1983, the Brew Crew battered veteran right-hander Jim Palmer for 6 runs in 1 1/3 innings. Morogiello entered the contest and proceeded to hold "Harvey's Wallbangers" at bay, yielding 5 hits and no runs in 6 2/3 innings. Baltimore came back to win the match 10-9 aided by an Eddie Murray grand slam and a game-winning single by John Stefero. Four days later in his last big-league outing, Morogiello relieved Sammy Stewart in the bottom of the tenth inning. Detroit had runners on first and second with one out. He induced Lynn Jones to loft a harmless foul pop-up to Murray, but Lou Whitaker laced a single to center field to drive home Enos Cabell for a 5-4 Tigers' triumph. Overall the lefty fashioned a 2.39 ERA and his lowest WHIP in pro ball (1.301) spanning 37 2/3 innings for the O's in '83. Back in the minors, Morogiello crafted a 3.07 ERA in the face of more wildness (1.535 WHIP). He returned to his original franchise for his swan song in '85 and prevailed in all 6 decisions for Richmond (AAA).
Did You Know?
Topps included interesting facts about some of the players on the bottom section of the card backs. These are mostly in the form of highlights and/or "dateline" entries.
Don Sutton (#35) – "Recorded 3000th strikeout in complete game win, June 24, 1983."
Kirk Gibson (#65) – "June 14, 1983: Hit 540-ft. homer. It was 14th ball ever hit over rightfield roof at Tiger Stadium."
Bob Forsch (#75) – "Pitched the second no-hitter of his career with brilliant 3-0 gem vs. Expos, September 26, 1983."
Reggie Jackson (#100) – "Reggie smashed a 2-out, 2-strike, 9th-inning 3-run homer giving Angels a 7-6 come-from-behind victory at Toronto, June 18, 1983."
Rickey Henderson (#230) – "**Dateline** Sep. 13, 1983 – Became 1st player in history to achieve 100-or-more stolen bases in 3 seasons."
John Butcher (#299) – "**Dateline** Aug. 16, 1983 – Retired the final 19 batters he faced in brilliant one-hit shutout vs. Baltimore Orioles."
Chuck Rainey (#334) – "**Dateline** Aug. 24, 1983 – Lost no-hit bid with 2 outs in 9th inning finishing with brilliant one-hit shutout."
Charlie Hudson (#432) – "Pitched 8 ⅓ innings of no-hit ball in 10-3 complete game win vs. Astros, July 20, 1983."
George Brett (#500) – "George went 4-for-5 with 3 homers and 7 RBI's in Royals 8-7 decision at Detroit, April 20, 1983."
Dan Ford (#530) – "Belted 3 homers in 4-2 win at Seattle."
Milt Wilcox (#588) – "Lost his perfect-hit bid with 2 outs in 9th inning but finished with masterful one-hit shutout at Comiskey Park, April 15, 1983."
Dave Righetti (#635) – "Became 1st southpaw ever to pitch no-hitter at Yankee Stadium in gem vs. Red Sox, 7-4-83."
Fred Lynn (#680) – "Belted the 1st grand slammer in All-Star Game history and was selected game's MVP, 7-6-83."
Errors
There are no significant "error" cards in the 1984 Topps baseball set.
Rookie Cards
Don Mattingly, Darryl Strawberry, Andy Van Slyke, Tony Phillips and Marty Barrett highlight the list of players making their cardboard debuts in the '84 Topps set.
Price Guide (Then and Now)
In the inaugural volume of the "Beckett Baseball Card Monthly Price Guide" (November 1984), the 1984 Topps Baseball complete set listed for $14. Individual cards listing for at least one dollar included Don Mattingly (# 8, $3) and Darryl Strawberry (# 182, $1.75). The Mattingly card (graded at PSA 8) currently sells in the $30 range.
Please add a comment below if you would like to share any memories from collecting the 1984 Topps baseball card set or your experiences with card collecting in general!
Articles in the Series
References and Resources
Beckett, Dr. James, Rich Klein and Grant Sandground. Beckett Almanac of Baseball Cards and Collectibles. Dallas, TX: Beckett Publications, 1997. Print.
Beckett.com (requires subscription to view prices):
https://www.beckett.com/search/?term=1984+topps&year_start=1984
Flaherty, Tom. "Healthy Brewers Have High Hopes." The Sporting News. April 8, 1985. p27.
http://www.tuffstuff.com/priceguides
http://www.baseballerrors.com/
Trading Card Database – Photo Gallery
https://www.tcdb.com/Gallery.cfm/sid/98/1984-Topps
About the Authors
Derek Bain is a New Jersey native with a passion for baseball, statistics, computers and video games who enjoys spending quality time with his family.
Tom Corby – Cousins with Derek, I am a history teacher at New Egypt High School. I have three kids, Addison, Jaclyn, and Mason and I' m happy that I get to coach them in their sports as well. In my spare time I enjoy reading, anything beach related, and fishing when time allows.
Derek's Books
"Hardball Architects – Volume 1 (American League Teams)", published in July 2020, is available in paperback and digital (Kindle) format at Amazon.com.
"Hardball Architects – Volume 2 (National League Teams)", published in April 2022, is available in paperback and digital (Kindle) format at Amazon.com.
Hardball Architects examines the trades, free agent acquisitions, draft picks and other transactions for the 30 Major League Baseball franchises, divided into a 2-volume set (American League and National League). All key moves are scrutinized for every team and Sabermetric principles are applied to the roster construction throughout the lifetime of the organization to encapsulate the hits and misses by front office executives.
"Hardball Retroactive", published in June 2018, is available in paperback and digital (Kindle) format at Amazon.com. Hardball Retroactive is a modest collection of selected articles that I have written for Seamheads.com along with my Baseball Analytics blog since 2010. Exclusive content includes the chapter on "Minors vs. Majors" which assesses every franchise's minor league successes and failures in relation to their major league operations.
"Hardball Retrospective" is available in paperback and digital (Kindle) format at Amazon.com. Supplemental Statistics, Charts and Graphs along with a discussion forum are offered at TuataraSoftware.com. In Hardball Retrospective, I placed every ballplayer in the modern era (from 1901-present) on their original teams. Using a variety of advanced statistics and methods, I generated revised standings for each season based entirely on the performance of each team's "original" players. I discuss every team's "original" players and seasons at length along with organizational performance with respect to the Amateur Draft (or First-Year Player Draft), amateur free agent signings and other methods of player acquisition. Season standings, WAR and Win Shares totals for the "original" teams are compared against the real-time or "actual" team results to assess each franchise's scouting, development and general management skills.
Don Daglow (Intellivision World Series Major League Baseball, Earl Weaver Baseball, Tony LaRussa Baseball) contributed the foreword for Hardball Retrospective. The foreword and preview of my book are accessible here.
"Hardball Retrospective – Addendum 2014 to 2016" supplements my research for Hardball Retrospective, providing retroactive standings based on Wins Above Replacement (WAR) and Win Shares (WS) for each "original" team over the past three seasons (2014-2016). Team totals from 2010 – 2013 are included for reference purposes. "Addendum" is available in paperback and digital (Kindle) format at Amazon.com.