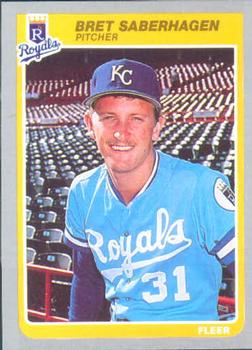 The 1985 Fleer Baseball Card Set
Derek's (Re)collections
I remember having great expectations for the 1985 Fleer baseball cards after their previous effort garnered my attention and fed my obsessive need for order. Not only did Fleer offer quality photography and a legible table of player statistics, the set checklist was sorted by team and alphabetically by the player's last names! I sifted through my cards slowly, placing each card into the appropriate slot in the container that I purchased specifically for this purpose. Partitioned into equal-sized sections for each team, I memorized the positions of each franchise within my card carrier based on the team nicknames from A to Z, which I can still recite with ease to this day: Angels, Astros, Athletics, Blue Jays, Braves, Brewers, Cardinals, Cubs, Dodgers, Expos, Giants, Indians, Mariners, Mets, Orioles, Padres, Phillies, Pirates, Rangers, Reds, Red Sox, Royals, Tigers, Twins, White Sox, Yankees. The Fleer wax packs aided further in this pursuit with the inclusion of team logo stickers which adorned my card carrier along with the covers of my baseball card albums. I absorbed all the information in the Beckett price guides that were now arriving in my mailbox on a monthly basis. With Rod Carew's pursuit of 3000 hits during the '85 campaign, I began a quest to collect all of his cards (ultimately falling a bit short).
Corby Corner
Like I stated in the Donruss article, 1985 was a great year for baseball and the cards themselves. In fact, Fleer was now being looked at as on par with Topps as one of the leaders of the industry. Fleer always did a solid job with keeping their cards simple but aesthetically pleasing. The cardboard they used allowed for less damage than both Topps and Donruss. I began to buy more Fleer cards as I felt they were undervalued at the time but I would be rewarded later.
That brings me to my biggest buy since I got into the game. With a $20 bill in pocket, I went down to the local card store. Having seen a young pitcher named Roger Clemens strike out 20 batters in his last game, my game plan was to buy as many rookie cards of this young fireballer as I could. When all was said and done, I had about a dozen mostly Fleer and Topps. Crazy to think they were going for only $1.25-1.50 a piece at that time. I still have most of them in a safe, but as the market imploded and the steroid scandal engulfed Roger, the value of those cards have reverted closer to the original price than any visions of dollar signs my 12-year-old mind conjured up that afternoon in '86.
Features
The standard Fleer baseball card set from 1981-1990 consisted of 660 cards. Maintaining the ordering scheme established in the '81 set, the checklist is organized by teams based on their position in the standings from the previous season. The method facilitates set building and organization for collectors of the Fleer brand as opposed to the haphazard order of competitors' products. Team logo stickers accompanied each wax pack. The bulk of the set features individual player cards numbered 1 through 625. A pair of "In Action" cards for Cal Ripken Jr. (#626) and Mike Schmidt (#627) include 4 photographs in a 2×2 orientation depicting the various stages of their swing path. "Giving the Signs" (#628) utilizes 3 horizontal shots of Tigers' skipper Sparky Anderson relaying a sequence of messages to his coaches or perhaps he's simply adjusting his cap. The next 6 cards highlight two or more ballplayers along with captions such as "A.L. Pitcher's Nightmare" (Rickey Henderson and Dave Winfield, #629), "N.L. Pitcher's Nightmare" (Mike Schmidt and Ryne Sandberg, #630) and "N.L. Rookie Phenoms" (Dwight Gooden and Juan Samuel, #634). Continuing in a tradition started with the 1983 Fleer set, the next subset omits the border from the left or right side of the card allowing the collector to place the two cards side-by-side to form a larger picture. "Toronto's Big Guns" (Willie Upshaw, #635 and Lloyd Moseby, #636) and "Holland Tunnel" (Al Holland, #637 and Lee Tunnell, #638) get the dual-card treatment in '85. Career milestones for Reggie Jackson (500 home runs) and Pete Rose (4,000 hits), a "Father/Son" card of Cal Ripken Sr. and Cal Ripken Jr., a Cubs team photo and a "Perfect Game and 2 no-hitters" (Mike Witt, David Palmer and Jack Morris) round out the 18-card subset. Twenty "Major League Prospects" containing two rookies apiece run from card #644 through #653 highlighted by the cardboard debuts of Danny Tartabull and Glenn Davis. The final seven cards are checklists.
Fleer followed up their smashing success Update set but it failed to live up to the hype of its predecessor due to a relatively weak rookie class. Star Stickers made their annual appearance and a 44-card boxed set entitled "Limited Edition" debuted in the first season of a 3 year run. The Update set lists for $20 in the 1997 edition of the Beckett Almanac of Baseball Cards and Collectibles. A complete set (126) of the Star Stickers was valued at $50 while the boxed set of Limited Edition cards held minimal interest in the hobby community with a $6 price tag.
Every card is printed with a silver border and the photo is surrounded by another border in the team's dominant color scheme. The team logo is situated in the upper left corner with the player's name and primary position denoted in white lettering across the top of the inner border. The backs of the cards are very similar to previous Fleer efforts with the exception of a red background in the top section where the card number, player's name, team and position are listed. The "Did You Know?" section and biographical information are printed in white text on a black background towards the lower third of each card. The mid-section delivers seasonal statistics and career totals in black text over columns shaded in light red or white.
One-and-Dones
All of the players in the 1985 Fleer set appeared on at least one other regular-issue baseball card.
Did You Know?
Fleer included interesting facts about some of the players on the bottom section of the card backs.
Ryne Sandberg (#65) – "In 1983, he became the first player in NL history to win a Gold Glove in his first season at a new position."
Kent Hrbek (#281) – "Broke into Majors in unique fashion by belting 12th inning home run to win a game in Yankee Stadium, Aug. 24, 1981."
Mike Witt (#316) – "Pitched 13th perfect game in Major League history on final day of '84 season, beating Texas 1-0."
Len Barker (#318) – "Pitched 3-0 perfect game victory against Toronto Blue Jays, May 15, 1981."
Fernando Valenzuela (#387) – "Became the first rookie to capture the Rookie of the Year Award and the Cy Young Award in the same season."
Andre Dawson (#394) – 'Enjoys deep-sea fishing."
Carney Lansford (#429) – "Direct descendant of Sir Francis Drake, the 16th century British admiral."
Jim Beattie (#484) – "Nicknamed 'Zelmo'."
Brad Wellman (#623) – "Earned $1,000 in August, 1983 by responding to a clubhouse dare and shaving his head."
Errors
The 1985 Fleer set does not contain any significant error variations.
Rookie Cards
Kirby Puckett, Roger Clemens, Dwight Gooden, Orel Hershiser, Eric Davis, Bret Saberhagen, Danny Tartabull and Glenn Davis highlight the roster of players making their cardboard debuts in the '85 Fleer set.
Price Guide (Then and Now)
The "Beckett Baseball Card Monthly Price Guide" (November 1985 edition) lists the 1985 Fleer Baseball complete set for $16.50. Dwight Gooden (#82, $3.50) was the lone individual card to fetch more than one dollar. Kirby Puckett's rookie card (#286, graded PSA 8) currently sells in the $25-$50 range.
Please add a comment below if you would like to share any memories from collecting the 1985 Fleer baseball card set or your experiences with card collecting in general!
Articles in the Series
References and Resources
Beckett, Dr. James, Rich Klein and Grant Sandground. Beckett Almanac of Baseball Cards and Collectibles. Dallas, TX: Beckett Publications, 1997. Print.
Beckett.com (requires subscription to view prices):
https://www.beckett.com/search/?term=1985+fleer&year_start=1985
http://www.tuffstuff.com/priceguides
http://www.baseballerrors.com/
Trading Card Database – Photo Gallery
https://www.tcdb.com/ViewSet.cfm/sid/101/1985-Fleer
About the Authors
Derek Bain is a New Jersey native with a passion for baseball, statistics, computers and video games who enjoys spending quality time with his family.
Tom Corby – Cousins with Derek, I am a history teacher at New Egypt High School. I have three kids, Addison, Jaclyn, and Mason and I'm happy that I get to coach them in their sports as well. In my spare time I enjoy reading, anything beach related, and fishing when time allows.
Derek's Books
"Hardball Architects – Volume 1 (American League Teams)", published in July 2020, is available in paperback and digital (Kindle) format at Amazon.com. 
"Hardball Architects – Volume 2 (National League Teams)", published in April 2022, is available in paperback and digital (Kindle) format at Amazon.com.
Hardball Architects examines the trades, free agent acquisitions, draft picks and other transactions for the 30 Major League Baseball franchises, divided into a 2-volume set (American League and National League). All key moves are scrutinized for every team and Sabermetric principles are applied to the roster construction throughout the lifetime of the organization to encapsulate the hits and misses by front office executives.
"Hardball Retroactive", published in June 2018, is available in paperback and digital (Kindle) format at Amazon.com. Hardball Retroactive is a modest collection of selected articles that I have written for Seamheads.com along with my Baseball Analytics blog since 2010. Exclusive content includes the chapter on "Minors vs. Majors" which assesses every franchise's minor league successes and failures in relation to their major league operations.
"Hardball Retrospective" is available in paperback and digital (Kindle) format at Amazon.com. Supplemental Statistics, Charts and Graphs along with a discussion forum are offered at TuataraSoftware.com. In Hardball Retrospective, I placed every ballplayer in the modern era (from 1901-present) on their original teams. Using a variety of advanced statistics and methods, I generated revised standings for each season based entirely on the performance of each team's "original" players. I discuss every team's "original" players and seasons at length along with organizational performance with respect to the Amateur Draft (or First-Year Player Draft), amateur free agent signings and other methods of player acquisition. Season standings, WAR and Win Shares totals for the "original" teams are compared against the real-time or "actual" team results to assess each franchise's scouting, development and general management skills.
Don Daglow (Intellivision World Series Major League Baseball, Earl Weaver Baseball, Tony LaRussa Baseball) contributed the foreword for Hardball Retrospective. The foreword and preview of my book are accessible here.
"Hardball Retrospective – Addendum 2014 to 2016" supplements my research for Hardball Retrospective, providing retroactive standings based on Wins Above Replacement (WAR) and Win Shares (WS) for each "original" team over the past three seasons (2014-2016). Team totals from 2010 – 2013 are included for reference purposes. "Addendum" is available in paperback and digital (Kindle) format at Amazon.com.