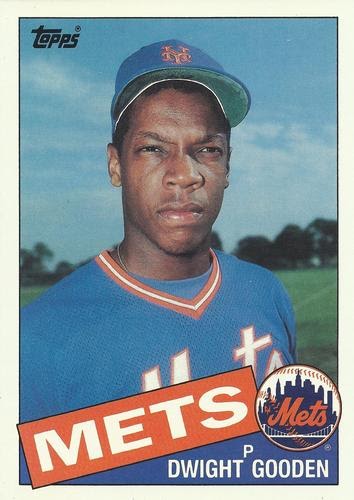 The 1985 Topps Baseball Card Set
Derek's (Re)collections
Topps came through again with another stellar effort in '85. Consistently delivering the largest checklist of the "Big 3" (Topps sets numbered 792 in those days), the inclusion of the 1984 Olympic baseball team along with a bumper crop of rookies took this set to the next level. My one slight criticism of this set is a recurring theme but particularly in the 1985 Topps series I was not a fan of the color scheme utilized on the card backs. The results were not crisp and easy to read (compare the card backs below for Kiko Garcia (1985 Topps) and Paul Mirabella (1983 Topps). I admired the layout on the front of the 1985 Topps series – the full player photo, the skewed team name and logo were appealing to the eye and allowed the collector to easily sort by team name (my preferred method at the time). Opening the packs I would first remove the stick of bubble gum and set it aside in a pile to be chewed later. While it would have resulted in a higher price per pack, I wished that the gum had been individually wrapped to prevent the inevitable staining of the cards that it was wedged between. Alternatively the gum could have been placed at the top of the pack and separated by one of the insert / giveaway cards that you were encouraged to collect in order to send away for the Glossy subsets.
Corby Corner
I'm not sure why but the 1985 Topps set was my favorite of all-time. Aside from being the most well-known company, I really believe Topps saw the competition coming from within the industry and knew they needed to up their game. The previous series ('83 and '84) introduced the head shot in the bottom left corner as a new angle but it didn't really add much. In '85 Topps selected the bold, in-your-face pictures of the players as well as the team name stamped across the bottom. Doc Gooden's card comes to mind.
In addition, as Donruss implemented the rated rookies, Topps countered with the 1984 Olympic team which, of course, included the 1987 shock to the baseball world, Mark McGwire. Along with Doc and McGwire's rookies, Clemens, Puckett, Hershiser and Eric Davis graced the set for the first time. I found "Eric the Red" to be the one with the most potential and stocked up on his cards, though sadly the cardboard of his card might have been stronger than his body. Overall, Topps maintained it's stance as the industry leader in 1985, but on the horizon was what I believe to be the worst card of my early collecting – the 1986 Topps card.
Features
The standard Topps baseball card set from 1982-1992 consisted of 792 cards. The 1985 series commences with a 10-card Record Breaker subset with Dwight Gooden (#3, "Most Rookie Strikeouts") and Nolan Ryan (#7, "Most Career Strikeouts") topping the list. A 13-card subset (#131-143) highlights fathers and sons who played in the Major Leagues. Former #1 draft picks including Darryl Strawberry, Harold Baines and Bob Horner are featured in a 12-card series (#271-282). One of the most popular subsets (#389-404) depicted 15 members of the 1984 Olympic baseball squad along with head coach Rod Dedeaux. American and National League All-Stars from the previous campaign are featured on cards 701 through 722. Topps reverted to a single player photo on the card front with the bottom section containing the team name, team logo, player name and primary position. The back of the cards are similar to prior efforts with the player name and biographical data spanning the top, single season and career totals covering the mid-section while the bottom is devoted to notes and/or trivia. The color scheme on the card backs (red on gray with a green border) makes the information difficult to read.
Vince "Vincent Van-Go" Coleman and Mickey "Froot Loops" Tettleton along with Chris Brown, Mariano Duncan and Ozzie Guillen debuted in the 1985 Topps Traded Set. The mail-in offer for Glossy Send-Ins allowed collectors to send away for portions of a 40 card subset with the superstars of the mid-1980's including Cal Ripken Jr., Don Mattingly, Tony Gwynn and Dwight Gooden. Glossy All-Stars commemorated the 1984 Mid-Summer Classic with a 22 card set. Topps came out with a set of 30 3-D cards that were oversized (4 ¼" x 5 ⅞").
The 1985 Topps Stickers set numbered 376 in size and measured 2 ⅛" x 3". The silver and bronze "Gallery of Champions" offered 12 replicas from the standard 1985 Topps set with dimensions of 1 ¼" x 1 ¾" highlighted by Dwight Gooden, Tony Gwynn, Don Mattingly and Ryne Sandberg. Topps again issued the Tiffany and Tiffany Traded sets exclusively through hobby dealers. The Tiffany cards typically fetch four to six times the amount of the standard sets. The Rub Downs returned in '85 encompassing 112 ballplayers on 32 transfer sheets. The oversized (4 ⅞" x 6 ⅞") Topps Super cards expanded from 30 to 60 cards in '85. Identical to the standard series cards in appearance, this set includes the usual suspects.
The subset values according to the 1997 edition of the Beckett Almanac of Baseball Cards and Collectibles are as follows: Tiffany $225, Traded $15, Traded Tiffany $50, Glossy All-Stars $5, Glossy Send-Ins $10, 3-D $15, Gallery of Champions $350, Stickers $15, Minis $2000, Super $10, Rub Downs $10.
One-and-Dones
The players listed below made their lone appearance on a regular-issue baseball card in the 1985 Topps set.
Keefe Cato (#367) – Selected by the Reds in the second round of the June 1979 Amateur Draft, Cato reported to the Billings Mustangs (Rookie) squad where he overmatched the opposition. Starting 11 contests for the squad he fashioned a record of 9-1 with a 1.33 ERA, 0.716 WHIP and 10.3 SO/9. Cato posted similar statistics (6-3, 1.70) for the Tampa Tarpons (A) in the first half of the 1980 campaign to merit a promotion to Double-A ball. He struggled over the next season and a half at Waterbury (AA) with a composite 4.29 ERA and a WHIP of 1.449. The right-hander bounced back in '82, supplying an 8-4 mark with an ERA of 3.19 in the high minors. Cincinnati promoted Cato to the big leagues and he made his MLB debut against the Dodgers on June 13, 1983. Trailing 5-1 to Fernando Valenzuela and the Los Angeles crew, manager Russ Nixon signaled to the 'pen and Cato twirled a scoreless frame in the top of the ninth. He whiffed Valenzuela for his first MLB strikeout. He received credit for a victory the following evening when he pitched 2 ⅓ innings of hitless ball in relief of Bruce Berenyi. Dann Bilardello drove in the go-ahead run in the top of the ninth inning against Padres left-hander Gary Lucas. Cato whiffed Sixto Lezcano and Luis Salazar before Nixon summoned southpaw Bill Scherrer to face Ruppert Jones. Scherrer struck out Jones to seal the win for the Redlegs. Cato's stint with the big club was short-lived and he delivered a composite ERA of 3.45 between Waterbury (AA) and Indianapolis (AAA) in 25 games (13 starts). Demoted to the Wichita Aeros (AA) to begin the '84 campaign, Cato worked primarily as a reliever where he compiled a record of 8-9 with an ERA of 4.19. He was recalled twice by the parent club and dazzled the Reds' faithful during his first outing of the season. In a 12-1 laugher against San Diego on June 7, 1984, Cato rapped a pair of singles off Friars' reliever Floyd Chiffer to register his first MLB hits. He singled to load the bases in the eighth and came around to score on Brad Gulden's three-run triple. In the ninth inning he added an RBI to his stat sheet when his single to center field knocked in Dave "Cobra" Parker. Capping the effort, Cato hurled 3 ⅔ scoreless innings allowing only one hit (a single by Tim Flannery with two outs in the ninth) to notch his first career save. Graig Nettles launched a round-tripper against him in his next appearance but he rebounded with two innings of two-hit, no run ball versus Houston on June 12, 1984. Nevertheless the Reds sent him back to the minors but recalled him a month later. Cato's ERA sat at 1.35 when he warmed up in the bullpen on July 13, 1984. He entered the contest against the Expos in the seventh inning and immediately yielded a double to Derrel Thomas and a walk to Doug Flynn. After whiffing opposing pitcher Bob James, Cato escaped the threat when Eric Davis caught a fly ball off the bat of Tim Raines and doubled Thomas off second base in a play that was scored CF-2B-P! Montreal led 3-2 in the eighth when Pete Rose singled and Andre Dawson homered. A walk to Gary Carter and subsequent two-base hit by Tim Wallach sent Cato to the showers. Suffering from a case of gopheritis, Cato yielded long balls in 4 consecutive appearances and his overall numbers for July 1984 are dreadful: 9 IP, 17 H, 4 BB, 13 ER. His final MLB outing came against San Diego on July 26, 1984 where he gave up 3 runs in ⅔ of an inning. Tony Gwynn ripped a double to right field and skipper Vern Rapp jogged to the mound and signaled for John Franco. Cincinnati shipped Cato to the Padres for southpaw Darren Burroughs in October 1984. He spent the '85 campaign with the Las Vegas Stars where he compiled a 7-10 record with an ERA of 5.28 in 44 appearances (10 starts). Cato posted similar numbers (7-10, 5.06) while splitting his final professional season between the Memphis Chicks (AA) and Omaha Royals (AAA).
Jeff Cornell (#514) – Kansas City chose Cornell in the eighth round of the June 1978 Amateur Draft. After appearing in 7 contests as a reliever for the Royals' Rookie League affiliate, he was promoted to the Jacksonville Suns (AA) where he spent the next 4 campaigns. Cornell worked chiefly out of the bullpen until 1981 when he started 26 games. He compiled a record of 22-29 with a 3.52 ERA and a WHIP of 1.431 for the Suns. Traded to the Giants for Dennis Littlejohn in February 1982, Cornell split the season between the Shreveport Captains (AA) and the Phoenix Giants (AAA) where he fashioned a composite 3.38 ERA with 16 saves. Back in his element as a reliever, Cornell excelled in '83 as he notched 18 saves with a 3.30 ERA against Pacific Coast League competition. Waiting patiently to be recalled to the Majors, he returned to Phoenix to begin the '84 season. San Francisco brought Cornell up to the big leagues two months later and he pitched a scoreless inning in his debut on June 2, 1984. Entering the contest in the sixth inning with the Giants behind by two runs, he relieved Jeff D. Robinson and struck out the first batter he faced (Garry Templeton). The Padres exacted revenge on the following day, stringing 5 singles and intentional walk together with two outs in the seventh inning to tag Cornell with the loss in the first game of a doubleheader. Toiling in relief of Scott Garrelts against the Dodgers on June 13, 1984, he was credited with the victory when San Francisco rallied for 7 runs in the fifth frame. Six days later Cornell lowered his ERA to 4.70 but took the loss when third baseman Joel Youngblood's fielding error led to 4 unearned runs resulting from a Brad Komminsk grand slam. The second game of a double-dip versus the Pirates on July 13, 1984 lasted 18 innings and Cornell figured in the outcome. He took the mound in the bottom of the eighteenth after Frank Williams shut down the Buccos with 6 scoreless frames. Lee Mazzilli led off with a single and moved to second base on a balk. Lee Lacy's sacrifice bunt advanced "Maz" to third. Giants' skipper Frank Robinson ordered intentional walks for Bill Madlock and Tony Pena, loading the bases for Jason Thompson. Pittsburgh's first-sacker delivered a walk-off single. In his final five outings for San Fran, Cornell was battered for 11 earned runs in 9 ⅓ innings to raise his ERA from 4.66 to 6.10. Overall he posted a 1.904 WHIP through 38.1 innings to warrant a return trip to Phoenix. The Giants released him at the end of April 1985 and the Cubs picked him up on a minor league deal. Cornell composed a 3.46 ERA while winning 8 games and saving 5 for the Pittsfield Cubs (AA). He walked away from professional ball after spending the '86 campaign in Iowa where he furnished an ERA of 5.69 and a WHIP of 1.682.
All of the remaining players in the 1985 Topps set appeared on at least one other regular-issue baseball card with the exception of four amateur athletes depicted in the USA Olympic subset:
Sid Akins – (#3, Texas Rangers, June 1984) – Akins compiled a 3.14 ERA working mainly as a relief pitcher in the minor leagues for the Rangers, Braves and Cardinals' organizations. He played pro ball for five seasons (1985-89) and reached Triple-A as a member of the Richmond Braves in 1988.
Flavio Alfaro – (#4, Atlanta Braves, June 1984) – Alfaro pilfered 29 bags but hit only .193 for the Durham Bulls (A) during his lone season in professional ball (1985).
Bob Caffrey – (#1, Montreal Expos, June 1984) – Caffrey recorded a .234 BA through five campaigns in the Expos' farm system. The catcher / first base prospect established personal bests with 29 two-base hits, 20 big-flies and 72 ribbies while splitting the '87 season between Burlington (A) and West Palm Beach (A).
John Hoover – (#1, Baltimore Orioles, June 1984) – Hoover's professional debut consisted of five appearances (4 starts) with the Rochester Red Wings (AAA) at the tail end of the 1984 season. Assigned to the Charlotte O's (AA) for the following campaign, he started 37 contests and compiled a 10-20 record with a 5.23 ERA before Baltimore demoted him to class-A ball in the spring of '86. Hoover crafted a 9-8 mark with an ERA of 4.56 for Charlotte in 1987 and then received a change of scenery when the Orioles shipped him to the Expos with two other prospects in exchange for Jay Tibbs in February 1988. He achieved a single-season high 10 victories in 28 starts for the Jacksonville Expos (AA). Montreal released Hoover at the end of Spring Training in '89 and he inked a minor league deal with Texas one month later. He enjoyed his finest campaign with 9 wins, an ERA of 3.38 and a WHIP of 1.224 for the Tulsa Drillers (AA). The Rangers rewarded Hoover with a cup of coffee in May 1990. Making his big league debut on May 23, 1990 with Texas trailing Detroit 4-1 in the eighth inning, he yielded back-to-back singles to Mike Heath and pinch-hitter Matt Nokes. Jamie Moyer relieved Hoover and allowed Heath to score later in the frame on a sacrifice fly. His second and final big league appearance occurred on May 25, 1990 against his original organization, the Orioles. Kevin Brown was tagged for 7 runs (4 earned) in 4 ⅓ innings so manager Bobby Valentine summoned Hoover from the bullpen. Rene Gonzales greeted Hoover with a squeeze bunt to plate Randy Milligan. He retired five of the next six Baltimore batsmen before the floodgates opened in the top of the seventh. Four base hits and three walks resulted in five tallies as the O's extended their lead to 12-1. Hoover rebounded to retire 7 of the final 8 batters he faced.
Did You Know?
Topps included interesting facts about some of the players on the bottom section of the card backs.
Don Baylor (#70) – "Don once worked as salesman for Brooks Robinson's Sporting Goods Store."
Willie Upshaw (#75) – "His cousins, Gene & Marv Upshaw, played in NFL."
Rich Hebner (#124) – "Rich is employed as a grave digger in the off-season."
Al Oliver (#130) – "Has largest collection of men's cologne in baseball."
Ron Gardenhire (#144) – "During the season, Ron travels with a Baseball Encyclopedia to obtain autographs of players."
Steve Yeager (#148) – "Steve's uncle, Air Force Brigadier General Chuck Yeager, became the first man to break the sound barrier, October 14, 1947."
Reggie Jackson (#200) – "He owns a collection of rare and antique automobiles."
Art Howe (#204) – "Art was working as a computer programmer when a friend urged him to attend tryout camp in 1971."
Chili Davis (#245) – "Chili is big leagues' first Jamaican-born player."
Rod Carew (#300) – "Has photographic and dark room equipment in his home."
Dave Schmidt (#313) – "His confidence on the mound has been expressed on his license plates which read 'Tuf-2-Hit'."
Doug Sisk (#315) – "Was considered for the 1976 Olympic Rifle Team."
Britt Burns (#338) – "Had incredible high school career ERA of 0.12."
Steve Garvey (#450) – "Steve was once Dodgers' spring training batboy."
Pete Ladd (#471) – "Spent two years as a probation and parole officer at Cumberland County Jail, Portland, Maine."
Rick Dempsey (#521) – "Rick has performed his famous 'Baseball Soliloquy in Pantomime' act twice in Boston during rain delays."
Joe Lefebvre (#531) – "Joe is the owner and operator of a florist shop."
Bob Clark (#553) – "Bob works as an embalmer during the off-season."
Bill Madlock (#560) – "Bill has over 30 antique clocks in his collection which he began in 1978. He also collects antique furniture and automobiles."
Al Bumbry (#726) – "He served 11 months in Viet Nam as a platoon leader, earning a Bronze Star."
Errors
The 1985 Topps set does not contain any significant error variations.
Rookie Cards
Mark McGwire (Olympic card), Kirby Puckett, Roger Clemens, Dwight Gooden, Orel Hershiser, Eric Davis and Bret Saberhagen highlight the roster of players making their cardboard debuts in the '85 Topps set.
Price Guide (Then and Now)
The "Beckett Baseball Card Monthly Price Guide" (November 1985 edition) lists the 1985 Topps Baseball complete set for $22. Dwight Gooden (#620, $5) was the only individual card to list above one dollar. Mark McGwire's rookie card (#420, graded PSA 8) currently sells in the $25-$40 range while Kirby Puckett (#536) frequently sells for $25.
Please add a comment below if you would like to share any memories from collecting the 1985 Topps baseball card set or your experiences with card collecting in general!
Articles in the Series
References and Resources
Beckett, Dr. James, Rich Klein and Grant Sandground. Beckett Almanac of Baseball Cards and Collectibles. Dallas, TX: Beckett Publications, 1997. Print.
Beckett.com (requires subscription to view prices):
https://www.beckett.com/search/?term=1985+topps&year_start=1985
http://www.tuffstuff.com/priceguides
http://www.baseballerrors.com/
Trading Card Database – Photo Gallery
https://www.tcdb.com/ViewSet.cfm/sid/103/1985-Topps
About the Authors
Derek Bain is a New Jersey native with a passion for baseball, statistics, computers and video games who enjoys spending quality time with his family.
Tom Corby – Cousins with Derek, I am a history teacher at New Egypt High School. I have three kids, Addison, Jaclyn, and Mason and I'm happy that I get to coach them in their sports as well. In my spare time I enjoy reading, anything beach related, and fishing when time allows.
Derek's Books
"Hardball Architects – Volume 1 (American League Teams)", published in July 2020, is available in paperback and digital (Kindle) format at Amazon.com.
"Hardball Architects – Volume 2 (National League Teams)", published in April 2022, is available in paperback and digital (Kindle) format at Amazon.com.
"Hardball Architects – Volume 1 (American League)", published in July 2020, is available in paperback and digital (Kindle) format at Amazon.com. Hardball Architects examines the trades, free agent acquisitions, draft picks and other transactions for the 30 Major League Baseball franchises, divided into a 2-volume set (American League and National League). All key moves are scrutinized for every team and Sabermetric principles are applied to the roster construction throughout the lifetime of the organization to encapsulate the hits and misses by front office executives.
"Hardball Retroactive", published in June 2018, is available in paperback and digital (Kindle) format at Amazon.com. Hardball Retroactive is a modest collection of selected articles that I have written for Seamheads.com along with my Baseball Analytics blog since 2010. Exclusive content includes the chapter on "Minors vs. Majors" which assesses every franchise's minor league successes and failures in relation to their major league operations.
"Hardball Retrospective" is available in paperback and digital (Kindle) format at Amazon.com. Supplemental Statistics, Charts and Graphs along with a discussion forum are offered at TuataraSoftware.com. In Hardball Retrospective, I placed every ballplayer in the modern era (from 1901-present) on their original teams. Using a variety of advanced statistics and methods, I generated revised standings for each season based entirely on the performance of each team's "original" players. I discuss every team's "original" players and seasons at length along with organizational performance with respect to the Amateur Draft (or First-Year Player Draft), amateur free agent signings and other methods of player acquisition. Season standings, WAR and Win Shares totals for the "original" teams are compared against the real-time or "actual" team results to assess each franchise's scouting, development and general management skills.
Don Daglow (Intellivision World Series Major League Baseball, Earl Weaver Baseball, Tony LaRussa Baseball) contributed the foreword for Hardball Retrospective. The foreword and preview of my book are accessible here.
"Hardball Retrospective – Addendum 2014 to 2016" supplements my research for Hardball Retrospective, providing retroactive standings based on Wins Above Replacement (WAR) and Win Shares (WS) for each "original" team over the past three seasons (2014-2016). Team totals from 2010 – 2013 are included for reference purposes. "Addendum" is available in paperback and digital (Kindle) format at Amazon.com.