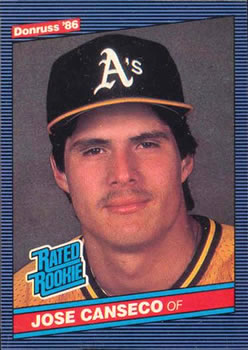 The 1986 Donruss Baseball Card Set
Derek's (Re)collections
Impressed with both the standard and subsets of Donruss products from the two previous years, I anxiously awaited the release of the 1986 cards. They did not disappoint! I rushed to my local card shop and other vendors to gobble up as much product as I could afford. When the dust settled I managed to hand-collate nearly 4 complete sets while placing one of my Jose Canseco rookie cards aside for safe keeping. I loved the angles, the blue-black borders, the crisp photos and of course, the Rated Rookies! Later that year, I scraped together some birthday money and picked up the inaugural Donruss "The Rookies" set. The card layout is similar to the regular set while substituting a green-black border on the front along with a light green background on the flip side.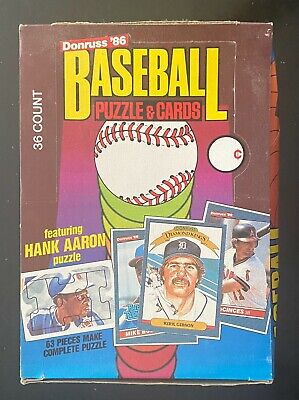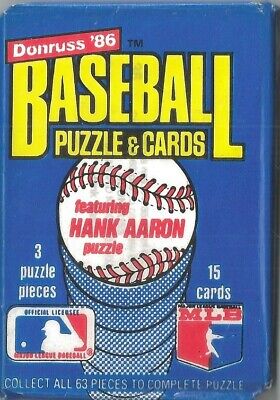 Corby Corner
After such a strong 1985 campaign from all companies, there was an eagerness to see the 1986 series. One of the companies that did not disappoint was Donruss. Their cards were designed in a modern way but without selling out completely to the New Wave 80's. The "big get" from this set was the Jose Canseco "Rated Rookie". Canseco's impact on the game with both speed and power forced many of us to re-examine which players we would want to collect. I moved into players like Eric Davis and Rickey Henderson, who had started combining power with his speed. Yet the card I most remember from this set was the Fred McGriff "Rated Rookie" which I bought at a show in Atlantic City. I admired McGriff's consistency and felt that this investment would be as safe as they get. Overall, I think that the 1986 Donruss set was by far the strongest this year and catapulted them into a level that 3 years ago seemed almost impossible.
Features
The '86 Donruss card front features sharp blue borders with a series of black lines, angled white text for the player names and position on a red background, team logo in the lower left corner of the photograph and the Donruss logo in the upper left corner. Following the tradition from prior releases, the Diamond Kings subset kicks off the 1986 edition with one player depicted from each of the 26 MLB teams, highlighted by the Dwight Gooden (#26) entry. The rookie card craze reached "next-level" status with the inclusion of Oakland outfielder Jose Canseco (#39) as a member of the "Rated Rookies". Fred McGriff, Andres Galarraga, Danny Tartabull, Paul O'Neill and Todd Worrell round out the stellar list of first-year players that added to the appeal of the '86 set. Hank Aaron puzzle pieces are included in every wax pack and card # 602 depicts the finished puzzle. Pete Rose makes three appearances – card # 62 as the Reds' first baseman / manager, card # 644 shows a split view of hits 4,191 and 4,192 in his quest to overtake Ty Cobb as the player with the most base hits in MLB history (hence the "Pete Rose Ty-Breaking" designation) and card # 653 is a Diamond Kings portrait entitled "King of Kings". The Niekro Brothers are featured on card # 645 ("Knuckle Brothers"). The Redbirds' swift outfielder tandem of Vince Coleman and Willie McGee are highlighted on the "Fleet Feet" card (#651). Seven checklist cards (one for the Diamond Kings series and six for the standard player cards) round out the set. With the exception of the light blue background, the card backs are nearly identical to the 1985 Donruss regular edition.
Donruss dropped the "Action" from the Action All-Stars set in '86 and retired the HOF Sluggers from their lineup. The company produced a new 56-card Rookies set which sparked immediate interest among collectors. The 1986 Rookies featured the first Donruss cards for future stars such as Barry Bonds, Bobby Bonilla, Will Clark, Bo Jackson, Wally Joyner and Ruben Sierra. Another inaugural offering was the 18-card Pop-Up series which portrayed the starting players from the '86 All-Star Game on oversized (2 ½" x 5") die-cut cards. Highlights and Super DK's returned with card counts similar to the previous editions.
The subset values according to the 1997 edition of the Beckett Almanac of Baseball Cards and Collectibles are as follows: Rookies $25, All-Stars $6, Highlights $3, Pop-Ups $5, Super DK's $12.50.
One-and-Dones
The players listed below made their lone appearance on a regular-issue baseball card in the 1986 Donruss set.
Johnny Abrego (#32) – Selected in the first round of the June 1981 Amateur Draft by Philadelphia with the 20th overall pick, Abrego started 12 games for the Rookie League affiliate in Helena, Montana where he posted a 4.70 ERA and issued 52 walks in 67 innings. An elbow injury forced him to miss the entire '82 campaign but he returned in the subsequent campaign where he delivered a 7-5 mark with a 3.97 ERA for the Bend Phillies of the Northwest League. The Cubs obtained Abrego in the December 1983 Rule 5 Draft. He enjoyed a breakthrough season with the Lodi Crushers in '84 as he yielded career-bests in ERA (2.10), WHIP (1.177) and strikeouts (139). The right-hander made 5 starts for the Iowa Cubs (AAA) at the tail end of the campaign. Resuming his climb up the organizational ladder in 1985 with Pittsfield (AA), Abrego continued to harness his stuff as he managed a 6-6 record with a 2.45 ERA and a WHIP of 1.222. He struggled in his second stint with Iowa (0-5, 7.92) but managed to receive a callup to the big leagues in September 1985. Cubs' skipper Jim Frey summoned Abrego from the 'pen on September 4, 1985 to commence the fifth inning against the Astros after removing southpaw Ray Fontenot for pinch-hitter Billy Hatcher in the previous frame. Chicago led 4-3 after Hatcher singled to drive in a run and Shawon Dunston scored on a wild pitch. Abrego retired the side in order and Ryne Sandberg padded the Cubs' lead with a two-run blast to deep center field off Mike Scott. In his second inning of work, Abrego got into trouble immediately when he issued consecutive walks to Glenn Davis and Phil Garner. One out later, Jerry Mumphrey doubled to drive in a pair of runs. Ron Meredith entered the contest and promptly gave up the lead when Tim Tolman hammered a three-run shot into the bleachers, leaving Abrego with a 20.25 ERA. Frey inserted Abrego into the starting rotation on September 11, 1985 as the visiting Cubs squared off against the Pirates. The contest remained scoreless into the fifth inning. Tony Pena led off with a double and advanced to third on a base hit off the bat of Denny Gonzalez. Abrego induced Sammy Khalifa to rap into a 4-3 double play but Pena scored easily. The Cubbies tied the game at 1-1 when Bob Dernier snuck home while Ryne Sandberg was caught in a rundown between first and second. Abrego was pulled from the contest after allowing a single to Joe Orsulak followed by an R.J. Reynolds' sacrifice bunt and an intentional walk to Johnny Ray. Reliever Ron Meredith got Jason Thompson to hit into a 4-6-3 double play and picked up the victory when Leon Durham belted a tie-breaking solo shot off Jose DeLeon in the seventh. After a mediocre outing against Montreal, Abrego fashioned his best effort as a big leaguer against Philadelphia on September 21, 1985. He went 6 innings and yielded 4 hits and 2 runs while striking out 5 Phillies to lower his ERA to 4.86. The Cubs rallied for 8 runs in the top of the fifth off Kevin Gross and two relievers en route to a 9-2 win with Abrego earning his lone victory in the Majors. He was tagged with the loss in his next start against the Mets and took a no-decision in his final start at home versus Pittsburgh. Abrego allowed 16 hits and 8 runs through 7 ⅓ innings in those outings as his ERA ballooned to 6.38. Back in Iowa (AAA) to begin the '86 season, Abrego compiled a 7.89 ERA along with a WHIP of 1.876 before walking away from professional baseball upon the conclusion of the 1987 campaign.
Rich Surhoff (#42) – Philadelphia picked Surhoff in the twentieth round of the January 1982 Amateur Draft. The older brother of B.J. Surhoff reported to Spartanburg (A) where he thrived in a relief role, posting an ERA of 2.55 along with 6 saves in 21 appearances. He split the following season between Peninsula (A) and Reading (AA), notching 8 wins and 10 saves to complement an ERA of 2.83 in 114 ⅓ innings. Surhoff returned to Reading in '84 and flummoxed opposing batters while registering 7 victories, 15 saves and a 3.09 ERA. The Phillies rewarded the righty with a call to the Majors in September 1985 following his successful campaign with the triple-A Portland Beavers in which he won 7 games, saved 16 and furnished a 3.17 ERA in 70 games. Surhoff earned a victory in relief of Steve "Lefty" Carlton in his big league debut against the Padres on September 8, 1985. The contest was tied at 5-5 in the fifth inning with runners on first and second. Surhoff retired Carmelo Martinez on a pop-up to second base but allowed the go-ahead run to score on a base hit off the bat of Kurt Bevacqua. He whiffed Bruce Bochy to end the frame and the Phils regained the lead when Luis Aguayo belted a two-run homer off San Diego reliever Ed Wojna. In his second outing with Philadelphia, Surhoff entered the game in relief of Shane Rawley with runners on the corners and two outs in the top of the sixth inning. Expos' center fielder Mitch Webster stole second and then Vance Law delivered an infield hit to third base. Fred Manrique scored and Webster attempted to streak home but first baseman Mike Schmidt alertly fired the ball to the plate and Daulton applied the tag for the final out. Phillies' GM Bill Giles dealt Surhoff to the Rangers on the following day (September 13, 1985) for Dave Stewart. He made his Texas' debut in Anaheim one night later and notched a two-inning save against the Halos. The Rangers scored twice in the top of the eighth against Jim Slaton and Doug Corbett to take a 6-4 lead. Surhoff whiffed the first batter he faced (Doug DeCinces) and retired the side in order. Al Holland allowed a pair of inherited runners to score on a Pete O'Brien single in the ninth as Texas increased the advantage to 8-4. Gary Pettis laced a one-out triple off Surhoff in the bottom of the ninth and jogged home on a Juan Beniquez two-base knock. Rod Carew drew a base on balls to bring the tying run to the plate but Surhoff recovered to induce successive groundouts by Daryl Sconiers and Brian Downing to close out the contest. Facing the Twins on September 24, 1985, the right-hander pitched two scoreless frames and yielded a lone safety off the bat of Gary Gaetti. Three days later at the Kingdome, Mike Mason and Frank Wills squared off in a pitcher's duel. Mason exited the game with runners on first and second, one out in the eighth and the Rangers trailing 2-0. Surhoff promptly gave up an RBI single to Jim Presley and a three-run bomb to Dave Henderson. Jose Guzman pitched into the ninth inning with a 4-1 lead against the A's on October 1, 1985. Jose Canseco and Dave Collins supplied back-to-back singles to commence the inning so Rangers' manager Bobby Valentine summoned Surhoff. He struck out Mike Davis and Dusty Baker and then gave up a base hit to Alfredo Griffin. Tony Phillips hit a harmless fly ball to right field for the final out as Surhoff tallied his second career save as a big leaguer. Surhoff took the loss in his last MLB game on October 6, 1985 at home against California. Entering the match with a 4-3 advantage in the top of the eighth, he permitted consecutive singles to Rob Wilfong and Devon White. He buckled down, striking out Sconiers and retiring Jack Howell on a fly ball to right field. Angels' designated hitter Rufino Linares walloped a three-run dinger to put the Halos on top for an eventual 6-5 victory. The outing bloated his ERA and WHIP to 6.75 and 1.821 respectively. Surhoff spent the next four seasons toiling in the minors for the Rangers, Cubs, Phillies and Indians prior to hanging up his spikes after the '89 season.
Dave Leeper (#461) – Not to be confused with lefty reliever Dave Leiper – this Leeper played the outfield and merited a first round selection (23rd pick overall) by the Royals in the June 1981 Amateur Draft. The University of Southern California graduate reported to the Jacksonville Suns (AA) for his pro debut where he hit .269 in 67 games. He returned to the Sunshine State and spent the entire 1982 campaign with the Suns, batting at a .293 clip and swiping 24 bases in 27 attempts. Leeper compiled a .281 BA and established career-highs in doubles (29), RBI (83) and runs (74) while competing for Jacksonville and Omaha (AAA) in '83. In the subsequent season Leeper set personal marks with 11 triples and 16 wallops to warrant a cup of coffee with Kansas City in September 1984. The parent club was battling for the Western Division title so playing time was scarce as the rookie only made it into four games. Dick Howser sent Leeper up to the dish to face Mike Smithson with two outs in the ninth inning with the Royals trailing the Twins 7-3 on September 10, 1984. The left-handed hitting Leeper popped the ball up towards third and Gary Gaetti settled under it to make the catch. Eight days later, he entered a contest as a pinch-runner for Jorge Orta in the ninth inning and notched his first run as a big leaguer when the next batter, Buddy Biancalana, swatted a big-fly in a 10-0 rout of the Angels. Leeper went hitless in five at-bats over the final two contests of the regular season after the Royals clinched the division, leaving him 0-for-6 as a Major Leaguer heading into the '85 campaign. Unable to crack the Opening Day roster, Leeper returned to Omaha and fared well against American Association hurlers to earn a pair of callups – one in mid-season with the other coming in early August. His hitless streak reached 20 at-bats before breaking through with a single against "The Terminator," Blue Jays' closer Tom Henke, on August 18, 1985. As the Royals were in the process of claiming another division title, Leeper's opportunities were few and far between. During the week of August 19th, he managed to drive in 4 baserunners despite logging only one hit in nine at-bats. Batting seventh and playing right field against the Rangers on August 26, 1985, Leeper strolled to the plate with the bases loaded in the third inning to face Jeff Russell. The match was knotted at 2-2 when Leeper stroked a two-run single for the go-ahead RBI's in an eventual 9-2 victory. Leading off in the final regular season game and the last MLB contest of his career, Leeper supplied a single to load the bases against Chris Codiroli and the Royals tallied twice in the inning. Behind 9-3 in the eighth, Leeper's final MLB at-bat ended in a ground ball back to the pitcher, Steve Mura. Reduced to part-time status in Triple-A over the next 3 seasons, Leeper produced a .262 BA with 27 two-base knocks. He concluded his journey in the professional baseball ranks during the Summer of '88.
Steve Engel (#510) – A southpaw chosen in the fifth round of the June 1983 Amateur Draft by the Cubbies, Engel commenced his career with 11 starts for Geneva of the New York-Penn League. He prevailed in 7 of 9 decisions while furnishing a 3.63 ERA, a 1.139 WHIP and 9.6 SO/9. Pitching for Lodi (A) in '84 he won 11 games and posted a 2.68 ERA through 27 starts. The portsider produced a 3.60 ERA between stops at Pittsfield (AA) and Iowa (AAA), prompting the Cubs to recall him at the end of July '85. Manager Jim Frey penciled Engel in as his starting pitcher against the division-leading Cardinals on July 30, 1985. St. Louis tallied 3 in the first frame on a Willie McGee solo homer and successive bases-loaded walks to Ozzie Smith and Tom Nieto. The Runnin' Redbirds pressed the pedal to the metal in the second as the eventual 1985 NL Rookie of the Year Vince Coleman coaxed a walk and advanced to second on a McGee single. The pair executed a double-steal and Coleman scored on a sacrifice fly off the bat of Jack Clark. Engel breezed through the third inning but yielded a double to opposing hurler Kurt Kepshire leading off the fourth. Coleman aka "Vincent Van Go" tripled to plate Kepshire and Frey summoned Warren Brusstar from the 'pen. McGee rapped a two-base hit to drive Coleman home and close the line on Engel's first start: 3 IP, 6 H, 5 BB, 6 ER. Engel returned to the rotation on August 15 and started 7 games for the Cubs over the next month, notching his lone MLB victory in a complete game against Houston on August 26. The score was knotted at 2-2 entering the sixth frame when Chicago loaded the bases on a couple of singles and an error by third-sacker Phil Garner. Jody Davis delivered the go-ahead run on a sacrifice fly to center field and Shawon Dunston extended the lead to 4-2 on a single. Bob Knepper remained in the game as Engel strolled to the dish with runners on first and third. Bam! – three run homer for the young hurler and second hit of the day. Through 8 big league starting assignments, Engel posted an ERA of 5.79 so Frey relegated him to the bullpen for the final three weeks of the '85 campaign. He coughed up a two-run blast to Sal Butera in a 17-15 loss to the Expos in his first relief outing on September 24. Two days later he delivered a scoreless frame against the Mets and in his final appearance versus the Pirates on October 3, he put up 3 goose eggs to register the save in a 13-5 victory to lower his Major League ERA to 5.57. Chicago GM Dallas Green dealt Engel to the Astros in July 1986 as the "player to be named later" in a transaction initiated the previous winter which sent Cubs outfield prospect Billy Hatcher to Houston for veteran center fielder Jerry Mumphrey. He bounced between starting and relief work while toiling for the Triple-A Iowa Cubs and Tucson Toros and the results were miserable: a record of 6-11 with an ERA of 6.89 and an unsightly WHIP of 1.840. Engel appeared in only 4 games (3 starts) for the Springfield Cardinals (A) in '87 and then twirled for three professional teams in '88 including 9 relief outings with the Mexico City Tigers. He issued 14 walks in 7 ⅔ innings to put the pin in his prospect balloon.
Tom Runnells (#569) – Middle infielder Runnells persevered through 8 minor league campaigns before making his Major League debut. Signed as an amateur free agent by San Francisco in June 1977, Runnells reported to Great Falls (Rookie) and proceeded to bat .290 in his first taste of pro ball. During his sophomore season with the Fresno Giants (A), he attained career-highs with 163 base hits, 32 stolen bases and 83 runs scored. Runnells played all over the diamond and earned a promotion to Phoenix (AAA) in 1980 where he compiled a .282 BA over the next 3+ seasons. He elected to become a free agent after spending six campaigns in the Giants organization without a call to the big leagues and inked a deal with the Reds in October 1983. Runnells clubbed 6 long balls as the second-sacker for the Wichita Lugnuts (AA) in '84, tying his career total through his first 7 seasons. The following year in his age-30 campaign, Runnells compiled a .290 BA and slugged a career-high .403 with the Denver Zephyrs to finally merit a promotion to the big leagues. He debuted as a pinch-hitter against Fernando Valenzuela in the seventh inning of a contest on August 10, 1985 with the Reds trailing the Dodgers, 2-1, and was retired on a pop-up to shortstop Mariano Duncan. Player/manager Pete Rose inserted Runnells into the starting lineup the next day as the second baseman, batting second. After grounding out to third base twice, Runnells registered his first MLB safety against Los Angeles' starting pitcher Jerry Reuss in the seventh frame. Reuss yielded consecutive hits to Gary Redus and Runnells with one out in the ninth but he induced Dave "Cobra" Parker to ground into a fielder's choice and whiffed Buddy Bell to preserve a 4-0 shutout. A combined 0-for-8 in the next two games versus the Padres convinced Rose to return Runnells to the bench for the foreseeable future and the utility infielder appeared as a pinch-hitter or defensive replacement 11 times through early September, going hitless in five at-bats. The Reds faced the Cubs on September 8, 1985 and Rose either tied or surpassed Ty Cobb for most career hits (due to an accounting error in the historical records). Runnells rapped his first base knock in nearly a month when he batted for the pitcher in the sixth inning of the match, which was suspended by darkness after 9 innings (Wrigley Field did not have lights installed yet). Two weeks later, Ted Power yielded a pair of unearned runs to Atlanta after third baseman Wade Rowdon committed errors on consecutive plays in the top of the eleventh inning. Runnells batted for Power in the bottom of the frame and ripped a double against Atlanta reliever Rick Camp for his first extra-base hit in the big leagues. He advanced to third on a fly ball to center off the bat of Ron Oester but got stranded there when Nick Esasky whiffed for the final out. Runnells delivered two safeties in nine October at-bats to finish the season with a .200 BA (7-for-35) with 3 runs scored. Starting the '86 back in the minors, Runnells received another cup of coffee when he spent nearly a month in the Majors from mid-May to early June. His lone knock in 11 at-bats and final hit as a big leaguer occurred on May 24, 1986 against Pittsburgh left-hander Pat Clements. Entering in the seventh inning as a defensive replacement for the second baseman (Oester), Runnells laced a double leading off the top of the ninth. In his final MLB plate appearance, the utilityman rapped into a double play with Giants' reliever Juan Berenguer on the mound. The final verdict on Runnells in the Majors – 8-for-46 (.174 BA) in 40 games. Defensively he did not commit any errors while spending the majority of his innings at shortstop. He posted a .228 BA with Denver (AAA) in '86 to close out his professional career. Runnells managed the Expos to a record of 68-81 (.456 WPCT) from 1991 to 1992.
Carlos Ponce (#595) – Signed by the Brewers as an amateur free agent from Puerto Rico in January 1980, Ponce immediately impressed his new employers when he produced a .347 BA and slugged .552 in 69 contests with the Butte Copper Kings (Rookie). Playing first base almost exclusively as a minor leaguer, he clubbed 15 long balls and swiped 23 bags in 29 attempts as a sophomore with the Burlington Bees (A) and then drilled 31 doubles along with 13 triples for the Stockton Ports (A) in '82. Ponce busted out in '83 with the El Paso Diablos (AA), pacing the circuit with 50 two-baggers and finishing third with a .348 BA while slugging .591 with 21 blasts, 111 RBI and 16 steals. He toiled in Vancouver (AAA) for two years waiting for an opportunity with the Brew Crew and managed to hit .320 in his second season as a member of the Canadians. Milwaukee finally called him up to the Majors in the middle of August 1985. Batting against ace reliever Willie Hernandez as a pinch-hitter in his first MLB action, Ponce flew out to right field with two outs in the ninth inning as the Brewers lost, 4-3, on August 14, 1985. He took an 0-for-4 in the next two games before scratching out a pair of singles against Gene Nelson and Dan Spillner in a 12-5 drubbing by the White Sox. Ponce pummeled his lone MLB long ball off southpaw Britt Burns the following afternoon. Trailing the Tribe 10-2 after five frames on August 23, 1985, Milwaukee manager George Bamberger inserted Ponce as a defensive replacement for first baseman Cecil Cooper and he responded with a two-run double off reliever Vern Ruhle to raise his BA to .250. The skipper rewarded him with 5 starting assignments over the next week but Ponce scuffled at the dish with only one safety in 18 at-bats, dropping his average nearly 100 points to .158. He sat for the next ten days before starting in left field against the eventual World Series champions on September 8, 1985, delivering two hits and a walk in a 13-11 loss to the Royals. Ponce saw action only twice in the next two and a half weeks before Bamberger penciled him into the lineup against Baltimore left-hander Mike Flanagan. Playing first base and batting fifth, he rapped a two-base knock in four trips to the plate as Jaime Cocanower shut out the Orioles, 3-0. Right below the "Mendoza Line" with two weeks remaining in the season, Ponce laced one base hit in his final 15 at-bats, a single against Yankees' ace Ron Guidry in a 3-0 defeat on October 3, 1985. He concluded his rookie year with 10 hits in 62 at-bats (.161 BA), one home run and 5 RBI. Ponce continued his baseball career overseas, spending the next half-decade with the Yokohama Taiyo Whales of the Japan Central League. He flourished at the dish, compiling a .299 BA and slugging .562 from 1986 to 1989 as he supplied 30 doubles, 30 dingers and 97 ribbies per year.
Did You Know?
Donruss included interesting facts about some of the players on the bottom section of the card backs.
"Oil Can" Boyd (#50) – "Picked up his unusual nickname in college where beer was called 'oil'."
Pete Rose (#62) – "Loves his Wheaties."
Dwight Gooden (#75) – "NL Cy Young winner last year.. Joined Herb Score as only 2 pitchers in history to achieve 200 strikeouts in each of 1st 2 major league seasons."
Pat Tabler (#129) – "Has phenomenal 22 for 35 (.659) career average in bases-loaded situations with 54 RBI."
Tim Raines (#177) – "Is first player in major league history to steal 70 or more bases 5 straight seasons."
Vince Coleman (#181) – "Stole 7 bases in 1 game at Johnson City in '82."
Marty Barrett (#294) – "A slick practitioner of the 'hidden ball' trick, he pulled it off twice last year vs. Angels."
Dale Berra (#295) – "Set major lg. record by reaching 1B via catcher's interference 7 times in '83."
Joel Skinner (#330) – "White Sox took him over 2,000 other players as the first selection ever in the free agent compensation pool."
Jackie Gutierrez (#335) – "His father competed for Colombia in 1936 Berlin Olympics as a javelin thrower."
Tom Browning (#384) – "Became 1st major league rookie to win 20 game ssince '54 last season."
Davey Lopes (#388) – "Became the oldest man in history to eclipse 40 stolen bases in a season last year."
Len Matuszek (#494) – "Made baseball history 6/1/84 when, vs. Cubs, became only 8th player ever to play entire major league game at 1B without making a putout."
Phil Niekro (#580) – "Oldest pitcher in history to win 15 games in a season."
Ray Knight (#597) – "Is married to pro golf star Nancy Lopez."
Mookie Wilson (#604) – "Nicknamed 'Mookie' by his grandmother."
Errors
The 1986 Donruss set does not contain any significant error variations.
Rookie Cards
In addition to the aforementioned Jose Canseco "Rated Rookie" card, Toronto teammates Cecil Fielder and Fred McGriff made their cardboard debuts in the '86 Donruss set along with Vince Coleman, Kal Daniels, Darren Daulton, Lenny Dykstra, Andrés Galarraga, Ozzie Guillen and Paul O'Neill.
Price Guide (Then and Now)
The "Beckett Baseball Card Monthly Price Guide" (November 1986 edition) lists the 1986 Donruss Baseball complete set for $30. Jose Canseco (#39, $7), Dwight Gooden (#75, $2.50) and Vince Coleman (#181, $2.50) held the highest individual values at the conclusion of the '86 season. Jose Canseco's rookie card (#39, graded PSA 8) currently sells in the $25-$35 price range while Barry Bonds (1986 Donruss The Rookies #11, graded PSA 8) fetches anywhere from $10 to $25.
Please add a comment below if you would like to share any memories from collecting the 1986 Donruss baseball card set or your experiences with card collecting in general!
Articles in the Series
References and Resources
Beckett, Dr. James, Rich Klein and Grant Sandground. Beckett Almanac of Baseball Cards and Collectibles. Dallas, TX: Beckett Publications, 1997. Print.
Beckett.com (requires subscription to view prices):
https://www.beckett.com/search/?term=1986+donruss&year_start=1986
http://www.tuffstuff.com/priceguides
http://www.baseballerrors.com/
Trading Card Database – Photo Gallery
https://www.tcdb.com/ViewSet.cfm/sid/105/1986-Donruss
About the Authors
Derek Bain is a New Jersey native with a passion for baseball, statistics, computers and video games who enjoys spending quality time with his family.
Tom Corby – Cousins with Derek, I am a history teacher at New Egypt High School. I have three kids, Addison, Jaclyn, and Mason and I'm happy that I get to coach them in their sports as well. In my spare time I enjoy reading, anything beach related, and fishing when time allows.
Derek's Books
"Hardball Architects – Volume 1 (American League Teams)", published in July 2020, is available in paperback and digital (Kindle) format at Amazon.com.
"Hardball Architects – Volume 2 (National League Teams)", published in April 2022, is available in paperback and digital (Kindle) format at Amazon.com.
"Hardball Architects" examines the trades, free agent acquisitions, draft picks and other transactions for the 30 Major League Baseball franchises, divided into a 2-volume set (American League and National League). All key moves are scrutinized for every team and Sabermetric principles are applied to the roster construction throughout the lifetime of the organization to encapsulate the hits and misses by front office executives.
"Hardball Retroactive", published in June 2018, is available in paperback and digital (Kindle) format at Amazon.com. A cross-section of essays that I penned for Seamheads.com along with my Baseball Analytics blog spanning nearly a decade touching on subjects including "Taking the Extra Base", "General Manager Scorecard", "Worst Trades", "BABIP By Location" and "Baseball Birthplaces and the Retro World Baseball Classic". Rediscover your favorite hardball arcade and simulations in "Play Retro Baseball Video Games In Your Browser" or take a deep dive into every franchise's minor league successes and failures in relation to their major league operations in "Minors vs. Majors".
"Hardball Retrospective" is available in paperback and digital (Kindle) format at Amazon.com. Supplemental Statistics, Charts and Graphs along with a discussion forum are offered at TuataraSoftware.com. In Hardball Retrospective, I placed every ballplayer in the modern era (from 1901-present) on their original teams. Using a variety of advanced statistics and methods, I generated revised standings for each season based entirely on the performance of each team's "original" players. I discuss every team's "original" players and seasons at length along with organizational performance with respect to the Amateur Draft (or First-Year Player Draft), amateur free agent signings and other methods of player acquisition. Season standings, WAR and Win Shares totals for the "original" teams are compared against the real-time or "actual" team results to assess each franchise's scouting, development and general management skills.
Don Daglow (Intellivision World Series Major League Baseball, Earl Weaver Baseball, Tony LaRussa Baseball) contributed the foreword for Hardball Retrospective. The foreword and preview of my book are accessible here.
"Hardball Retrospective – Addendum 2014 to 2016" supplements my research for Hardball Retrospective, providing retroactive standings based on Wins Above Replacement (WAR) and Win Shares (WS) for each "original" team over the past three seasons (2014-2016). Team totals from 2010 – 2013 are included for reference purposes. "Addendum" is available in paperback and digital (Kindle) format at Amazon.com.