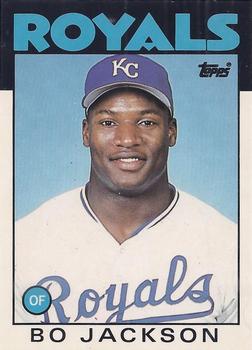 The 1986 Topps Baseball Card Set
Derek's (Re)collections
It's possible that the Topps' brass were in denial but their competition made significant strides in the first half of the Eighties while the "leader of the pack" seemed to stagnate in terms of design and innovation. Looking back at my allocation of funds towards the various offerings in 1986, Topps would end up a distant third in my collection due to an uninspiring layout and a lack of prospects. Although the company still held a major advantage with the standard 792-card set versus 660 for Donruss and Fleer, talented players on the cusp of big league greatness would have to wait until the Traded Sets were released after the regular season before debuting on a Topps card. Collectors seeking Jose Canseco, Fred McGriff and Andres Galarraga rookie cards were sorely disappointed.
Corby Corner
Coming off of what I believed to be their best set of the 80's up to that point, Topps hit 1986 with a loud thud. The design of the card itself was extremely lacking, especially when juxtaposed with that year's Donruss. The lettering was, I would guess, supposed to be new-age but it completely missed the mark. I have no idea why they made the team name so large as it drowned out the player's name which was hidden well below. In addition, the card itself featured a weak structure as I felt it was very difficult to keep cards in their best possible condition.
As for the players themselves, the second year player cards are what carried this set, if any actually did. Topps didn't include a rookie card for Jose Canseco within the '86 set and thus kids didn't buy packs in search of the one pearl in the rookie ocean.
Overall I grade this year as Topps' worst, and I believe Topps felt the same as their 1987 set veered towards their past successes rather than gamble again.
Features
A black border with large team nicknames consumes the header of each card. The remaining border is white and the player names are displayed along the bottom of the card. The player's primary position is enclosed in a colored circle towards the lower left corner while the Topps logo is posted in the upper right. The photography features a good balance of close-up portraits and action shots. Card backs are standard Topps layout with the '86 set utilizing black ink on a dark red background. Subsets include the "Pete Rose Years" (cards #2-7) which depict every regular-issue Pete Rose card from 1963 to 1985 along with Rose-related trivia for each season. There are 26 entries in the "Team Leader" series (one per team) with expanded white borders surrounding one of the team's best ballplayers. Seven "'85 Record Breaker" (cards #201-207) and five "Turn Back the Clock" (cards #401-405) were among the newly introduced subsets while the All-Star starting lineups from the previous campaign took their usual position in the lineup (cards #701-722). Topps debuted a sixteen-card subset of star players on the bottom of wax boxes depicting four cards per box. The 1986 traded set consisted of rookie sensations such as Barry Bonds, Jose Canseco, Will Clark, Andres Galarraga, Pete Incaviglia, Bo Jackson, Wally Joyner and Kevin Mitchell. Tiffany regular and traded sets were produced for the third consecutive year, boasting a glossy finish and easy-to-read card backs at a premium price tag. The 22-card Glossy All-Stars were available as rack pack inserts while the Glossy Send-Ins required the collector to redeem "special offer" cards from wax packs. The Topps/O-Pee-Chee Stickers returned with a reduction from 376 to 315 stickers along with the collector's album. Bronze, silver and aluminum editions of the 12-card Gallery of Champions entered their third year of production while the plastic, oversized 3-D cards were distributed one per pack for the second successive season. A set of 120 Pete Rose cards was also produced by Topps as the company also saturated the market with products including a set of 24 "Tattoos" printed on transfer sheets. Rounding out the portfolio for '86, the 60-card Super set featured replicas of cards from the standard series measuring nearly 5" x 7".
The subset values according to the 1997 edition of the Beckett Almanac of Baseball Cards and Collectibles are as follows: Traded $12, Glossy All-Stars $5, Glossy Send-Ins $12.50, 3-D $12, Gallery of Champions $75, Mini Leaders $4, Stickers $15, Rose $12.50, Super $14, Tattoos $15, Tiffany $150, Traded Tiffany $50.
One-and-Dones
The players listed below made their lone appearance on a regular-issue baseball card in the 1986 Topps set.
Brian Snyder (#174) – A seventh-round selection by Seattle in the June 1979 Amateur Draft, the left-hander crafted a 2.03 ERA through six starting assignments for the Alexandria Mariners (A). Snyder struggled mightily with his control as a starter for the San Jose Missions (A) in '80 as he furnished an ERA of 5.67 along with an unsightly WHIP of 1.819. Shifted into a relief role the following year, Snyder rebounded to post career-bests in ERA (1.48) and WHIP (1.060) albeit in only 27 outings. The portsider toiled for the Salt Lake City Gulls (AAA) for the next three years where he generated a composite 5.48 ERA and a hideous 1.811 WHIP! Seattle ended their affiliation with Salt Lake City at the end of '84 and Snyder was assigned to the Calgary Cannons at the end of Spring Training in the subsequent season. The minor league veteran acquitted himself well in both a starting and relief capacity, earning a call to the big leagues in May 1985. He squared off against the World Champs in his MLB debut on May 25, 1985, drawing a start against Detroit right-hander Walt Terrell. Snyder scattered seven hits, struck out seven and surprisingly did not yield a walk in 4 ⅔ innings while allowing only one earned run. He departed with the score knotted at 1-1, but the Tigers prevailed 3-2 on the strength of a two-run blast by Chet Lemon in the seventh frame off reliever Karl Best. He started five more contests over the next month but failed to escape the fifth inning in any of them as his ERA ballooned to 6.46. Snyder notched his lone MLB save when he retired the only batter he faced, Cecil Cooper, in a 5-3 victory over the Brew Crew on July 6, 1985. One week later, he collected his only win as a Major Leaguer in a wild 6-5 affair against the Red Sox. Down by three runs entering the top of the ninth, Boston rallied to tie the game as Roy Thomas, Ed Vande Berg and Edwin Nunez were unable to shut the door. Snyder finally got the Mariners out of the jam when he retired the lone batter that he faced, Steve Lyons, on a pop fly to shortstop. Ivan Calderon doubled to lead off the bottom of the ninth versus Bob Stanley. "Steamer" issued an intentional pass to Jim Presley, bringing Bob Kearney to the dish. The backstop dropped a bunt down the first base line towards Bill Buckner, whose errant throw allowed Calderon to trot home with the winning run. Snyder's final outing with the M's came on July 30, 1985, when he yielded one run in two innings of relief against Minnesota. Seattle released him in November 1985 and he inked a deal with San Diego one month later. Control issues continued to plague the lefty over the next two years with the Las Vegas Stars (AAA) as he carried a 1.589 WHIP while laboring in long relief. Snyder hooked up with Oakland as a minor league free agent in October 1987 and appeared in 54 contests for the Tacoma Tigers (AAA) in '88, posting a 2.63 ERA and lowering his WHIP to 1.350. Arguably his finest season in terms of statistics followed in 1989 when Snyder fashioned a 6-0 record along with a 2.13 ERA, 1.208 WHIP and 12 saves for Tacoma. This earned him another cup of coffee in mid-June. However he pitched poorly in a couple of relief outings with the Athletics. Snyder was summoned to the mound by Oakland skipper Tony La Russa to pitch in his first big league game in nearly four years in the thirteenth inning against Toronto on June 22, 1989. The southpaw served up a two-run bomb to Fred "Crime Dog" McGriff. He retired the next two hitters (Ernie Whitt and Manuel Lee) but the Blue Jays prevailed, 4-2. His final MLB appearance came five days later versus the Twins. Snyder poured gasoline on the fire. Minnesota already tallied four in the frame to take a 7-4 lead. Gene Larkin greeted the left-hander with the two-base hit to deep center field to plate a pair of baserunners. Kent Hrbek coaxed a walk to load the bases and then Wally Backman, batting for Jim Dwyer, drew a base on balls to force in another run. Snyder departed as La Russa signaled for the right-hander Jim Corsi. In his final professional season, Snyder latched on with the Richmond Braves where he provided veteran leadership and anchored the bullpen with 12 saves and a 2.48 ERA in 46 games.
Tim Tolman (#272) – A twelfth round draft pick by the Astros in June 1978, Tim Tolman played in parts of seven MLB seasons (five with Houston, two with Detroit) but never amassed more than 63 plate appearances in any given year. The first baseman and corner outfielder reported to the Astros' rookie league affiliate in the Gulf Coast League where he batted .344 in 39 games and earned a prompt promotion to Daytona Beach (A). During his first full season (1979) Tolman supplied a .289 BA and drew 74 walks. Assigned to Houston's double-A ball club in Columbus, Georgia and primarily playing first base, Tolman drilled a career-high 37 two-base hits. He set personal-bests with a slash line of .322/.426/.501 for the Tucson Toros (AAA) in 1981 to merit his first cup of coffee. Pinch-hitting for Houston reliever Bobby Sprowl with the 'Stros behind 9-0, Tolman strolled to the plate to face veteran knuckleballer Phil Niekro on September 9, 1981. Successive hits by Harry Spilman and Mike Ivie threatened "Knucksie's" potential for a shutout but he induced a force play at second on an Alan Ashby grounder. Craig Reynolds' shallow fly out to right field failed to advance Spilman so Tolman entered the batter's box with runners on first and third with two out in the ninth. He managed to make contact with the flutterball but Rafael Ramirez scooped it up and flipped to Glenn Hubbard covering second to force Ashby for the final out. Eight days later, Niekro's brother Joe was pitching a gem for Houston when skipper Bill Virdon summoned Tolman from the bench. Entering the contest as a defensive substitute for left fielder Jose Cruz in the seventh with his club ahead 9-0, he led off the eighth against Padres' reliever Mike Armstrong and lined out to Gene Richards in left field. Tolman rode the pine for two weeks before appearing in his next game on October 3, 1981. Two games remained in the regular season and a victory would clinch the second-half division title for Houston in the strike-shortened campaign. Bob Welch outdueled Joe Niekro in the early frames and the Dodgers tacked on four runs against Astros' reliever Gordie Pladson. With Los Angeles ahead 7-1 after six innings, Virdon began to empty his bench and Tolman was called upon to square off against Steve Howe. He lofted a fly ball to right where Derrel Thomas camped under it and made the catch. The 'Stros mounted a mini-rally later in the inning and scratched a run across on a sacrifice fly off the bat of Kiko Garcia. Dodgers' manager Tommy Lasorda left Howe in the game and Tolman's turn in the batting order came up in the eighth after Scott Loucks delivered a two-out infield hit. Tolman delivered a sharp single to right field and Loucks had to play it safe, stopping at second base. Alas, the pair were stranded when Harry Spilman popped up to second baseman Steve Sax to retire the side. Los Angeles won the game 7-2 but Houston clinched the National League West when Atlanta defeated Cincinnati. This allowed Virdon to bench his regulars for the final regular season matchup against the Dodgers and Tolman was one of the beneficiaries. Playing left field and batting sixth in his first MLB starting assignment, the rookie went hitless in four at-bats against Burt Hooton and a pair of relievers. Tolman earned a late August recall after posting a .302 BA with career-highs in home runs (15) and runs scored (93) for Tucson. He appeared in eight games off the bench before his name was penciled into the lineup against the Reds on September 25, 1982. Hitting third in the order and playing first base, Tolman capitalized on the opportunity with a pair of doubles, two runs scored and an RBI as the Astros prevailed 3-1. Nearly one week later with his club opposing the Reds at home, Tolman blasted a deep fly ball into the left field seats for his first big league home run off southpaw Bob Shirley. Utilized chiefly as a pinch-hitter in 1983, Tolman spent practically the entire campaign as a spare part for the 'Stros as he registered 63 plate appearances spread across 43 contests. Rusty from limited work, a 1-for-15 slump dropped his batting average from .286 at the end of May to .143 on September 21. Once Houston was eliminated from the playoff race, Tolman finally garnered some steady work and batted .286 (6-21) over the final week to raise his BA to .196. He hit a pair of pinch-hit home runs during the year. On May 1, 1983 he went deep for a two-run blast off Sid Monge in an 11-3 loss to the Phillies. Against the Cubs on May 31, 1983, Tolman connected on a solo shot off Craig Lefferts to tie the score at 9-9. Phil Garner plated three baserunners with a two-base knock several batters later as Houston topped Chicago 12-10. Back with the Toros for the majority of the '84 season, Tolman laced 27 doubles and hit .292. Despite spending two months with the Astros he tallied only three hits in 17 trips to the plate for a .176 BA. Relegated to the tail-end of the roster during his big league stints and unable to gain any momentum due to erratic playing time allotted by manager Bob Lillis, Tolman stumbled out of the gate again in '85 as he went hitless in his first 19 at-bats. However he briefly found his mojo in September, swatting a three-run pinch-hit blast off Cubs' reliever Ron Meredith on September 4, 1985 to give the 'Stros an 8-6 lead. Entering a contest two weeks later as part of a double switch in the eighth inning, Tolman crushed a John Franco offering for a three-run shot to break a 5-5 tie. The round-tripper was his last as a Major Leaguer. Released by Houston in the off-season, he signed on with Detroit in February 1986. He tallied typical Tolman totals for the Nashville Sounds (AAA), hitting .298 with 23 two-base knocks, 11 circuit clouts and 71 RBI to merit a September recall to Motown. He appeared in 16 games and batted .176 (6-for-34) as the Tigers dropped out of the pennant race and recorded his only successful MLB stolen base attempt against Jimmy Key and the Blue Jays on September 16, 1986. Detroit ended their Triple-A affiliation with Nashville in favor of the Toledo Mud Hens and Tolman set a career-high with a .522 SLG which earned him one last call to the big leagues in July 1987. He got into nine contests and displayed a keen batting eye, posting an OBP of .429 in spite of an .083 BA (1-12). His lone safety and final MLB base hit was a double against Ray Searage of the White Sox on August 12, 1987. Tolman entered his last MLB game four days later as the Tigers battled the Royals. The game was tied at 4-4 in the seventh inning when Alan Trammell laced a double to right, scoring Lou Whitaker with the go-ahead run and advancing Bill Madlock to third. Lefty Jerry Don Gleaton remained on the mound for Kansas City, so Tigers' skipper Sparky Anderson elected to send Tolman up to the plate, batting for Matt Nokes. Royals' manager Billy Gardner signaled to his catcher to issue an intentional walk to the .083 hitter, loading the bases to set up a potential double play. The move immediately backfired as Darrell Evans drew a walk to force in a run. Gardner called upon John Davis to limit the damage but he yielded three unearned runs (Madlock had reached base on an error by Gleaton). Two innings later in his final MLB plate appearance, Tolman coaxed a one-out walk against Steve Farr and increased Detroit's advantage to 10-5 on a single to center field off the bat of Jim Morrison. He played two more years with the Mets and Blue Jays' Triple-A affiliates (Tidewater and Syracuse, respectively) before hanging up his spikes at age 33.
Mark Brown (#451) – A right-hander chosen by Baltimore in the sixth round of the June 1980 Amateur Draft, Brown received cups of coffee with the Orioles and the Twins in the mid-Eighties. He split the summer of 1980 between Bluefield (Rookie) and Miami (A) where he compiled an ERA of 3.81 in 16 games (11 starts). Brown pitched almost exclusively in a long relief role for both of the Orioles' A-ball affiliates in '81, fashioning a 3.04 ERA in 27 outings. He earned a pair of promotions during the 1982 campaign, working his way up from Hagerstown (A) through Charlotte (AA) along with a brief stint with Rochester (AAA). Brown established personal-bests in wins (9), ERA (2.25) and innings pitched (100). Despite appearing in only 19 contests during the '83 season for the Rochester Red Wings, the righty prevailed in 6 of 7 decisions and tallied 5 saves with a 3.54 ERA and a WHIP of 1.144. Brown struggled to control the strike zone while pitching for the Orioles' triple-A squad again in '84 but nevertheless earned a promotion to Baltimore in early August. He made his big league debut in relief of Mike Flanagan in the fifth inning on August 9, 1984. Cleveland scored three in the previous frame to knot the score at 4-4. Julio Franco greeted Brown with a single and scampered home on a two-base knock off the bat of Andre Thornton for the go-ahead run. Brown settled in and got Pat Tabler on a fly ball to center field and Chris Bando on a fly to right, but Thornton tagged up and safely reached third. Cal Ripken Jr. booted Carmelo Castillo's grounder, giving an insurance run to the Indians. Brown was tagged with the loss as the Tribe triumphed, 7-5. Four scoreless frames spanning back-to-back outings on August 15 and 16 lowered his ERA from 9.00 to 1.80. Brown notched his first MLB strikeout when he whiffed Bill Almon in the ninth inning of the August 16 matchup. He sat idle for twelve days before O's skipper Joe Altobelli summoned him in the second inning on August 28, 1984 to replace Scott McGregor. The veteran left-hander suffered a broken ring finger when Angels' left fielder Brian Downing drilled a comebacker to the mound in the opening frame. The Halos scratched three runs off Brown in the next three innings. Mike C. Brown led off the second with a two-bagger and later scored on a fielder's choice. Juan Beniquez and Bobby Grich coaxed a couple of walks in the third inning. Fred Lynn plated Beniquez with a base hit and Grich added a tally on a 4-3 double play off the bat of Doug DeCinces. Brown retired the bottom of the order before yielding to Tom Underwood in the fifth as California held on for a 4-2 victory. In the doghouse for another two weeks before Altobelli called upon him again, Brown entered a contest on September 11, 1984 with the O's trailing the Tigers by four runs in the fifth. He was cruising along until the seventh inning when Darrell Evans and Larry Herndon delivered back-to-back jacks. The Yankees scored a pair of runs to break a 4-4 tie versus Brown and the Orioles on September 25, 1984 to tag him with his second MLB loss but he fashioned two scoreless frames in Baltimore's final matchup of the year and got credit for his first victory when Wayne Gross singled home John Shelby and Cal Ripken, Jr. to snap a 3-3 deadlock against Dennis "Oil Can" Boyd. Brown reported to Spring Training with the Orioles in February 1985 but he was flipped to the Twins in exchange for Brad Havens just before the teams broke camp. Assigned to the Toledo Mud Hens (AAA) he crafted a 2.94 ERA and notched 5 saves in 26 outings. Brown made six appearances for Minnesota in July and early August, allowing at least one run in all but one contest. In the second game of a doubleheader on July 7, 1985 at Yankee Stadium, Brown was summoned to pitch the middle innings after Rick Lysander and Pete Filson faltered to leave the Twins with a 7-2 deficit after four frames. Brown poured gasoline on the fire, yielding three singles along with a pair of walks as the Bronx Bombers extended their lead to 10-2 after five innings. New York continued their hit barrage with three more base knocks in the sixth. One run scored but Tom Brunansky ended the inning when he fired a bullet from right field to nail Dave Winfield at the plate. In the home half of the seventh, Andre Robertson delivered a one-out single and Billy Sample reached on a Greg Gagne error. Ken Griffey blasted his second home run of the game to put the icing on the cake as the Yankees went on to claim victory, 14-2. Brown redeemed himself with 2 ⅓ scoreless innings at home versus New York two weeks later. He matched his personal best with four innings pitched during a 12-3 loss to the Mariners on July 31, 1985 and permitted only one run to lower his ERA to 6.75. His final MLB outing came eleven days later at the Metrodome. The Angels had a comfortable 7-0 advantage when Twins' skipper Ray Miller strolled to the mound and signalled for Brown, his fourth pitcher of the day. Brian Downing greeted him with a bases-clearing triple. He got the final out of the frame and worked around a Rod Carew single to keep the Halos off the scoreboard in the eighth. Brown was still on the mound in the top of the ninth when Reggie Jackson drew a base on balls and Bobby Grich followed with a base knock. Dick Schofield plated both baserunners with a one-out triple. Brown retired speedster Gary Pettis on a grounder to shortstop to register his final MLB out. The beating he absorbed against the Yankees skewed his final 1985 MLB stats: 6.89 ERA, 1.787 WHIP. Excluding that outing yields a more respectable 4.26 ERA. Brown's career (MLB) totals include a 1-2 record in 15 games (all in relief) with a 5.12 ERA and a WHIP of 1.474. Returning to the Baltimore organization after starting twice and relieving once for Toledo in '86, Brown made 27 relief appearances for the Charlotte O's (AA) and fashioned an ERA of 3.97.
Glen Cook (#502) – Cook appeared on the Rangers' radar after crafting an ERA of 3.67 while striking out a batter per inning at three different levels during his third minor league campaign (1983). The right-hander, a 24th round draft pick in June 1981, failed to distinguish himself in a starting or relief capacity in his first two seasons on the farm. He spent the entire '84 campaign and the first half of '85 with the Oklahoma City 89ers (AAA) where he supplied 9 wins per year along with a 4.16 ERA and a 1.182 WHIP. Texas recalled Cook in late June 1985 to fill the fifth slot in the starting rotation. He scattered 5 hits across 6 ⅓ scoreless frames to prevail in his MLB debut against the Twins on June 23, 1985. Facing the Halos one week later he served up a three-run gopher ball to Ruppert Jones and yielded 5 runs on 10 hits through 6 innings yet emerged victorious in a 10-5 rout. Cook twirled 6 innings of 2-run ball in his third start but came away with a no-decision when Lance Parrish took former teammate Dave Rozema deep for a two-run blast in the seventh inning as Detroit triumphed, 4-3. Cook was absolutely roasted in his final half-dozen big league outings (5 starts) as his ERA rose from 3.44 to 9.45. The Yankees scorched him twice in July, combining for 5 round-trippers and 15 earned runs in 10 innings (13.50 ERA). Optioned to the minors after a loss to Toronto on August 2, 1985 left him with a 2-3 record along with an ERA of 7.68, Cook was among the organization's September call-ups. He rewarded the club with a disastrous relief outing against the Angels on September 15, 1985 in which he retired only one of the nine batters he faced (a 5-4-3 double play off the bat of backstop Bob Boone). Cook sat unused in the Rangers' bullpen for 17 days before manager Bobby Valentine summoned him to pitch the last 3 frames versus Oakland on October 2, 1985. The Athletics had a comfortable 8-1 and Cook, in his final MLB appearance, fanned the flames when he served up a two-run dinger to Mike Heath in the seventh. He hurled a scoreless eighth but the A's tagged him for 4 runs in the top of the ninth including Steve Kiefer's three-run wallop. Texas trailed 14-1 when Cook whiffed Rob Picciolo for his final MLB out. Back with the 89ers for the next two years, he fared poorly in a starting role during the '86 season as he posted a record of 8-9 with a 6.04 ERA and a 1.725 WHIP. Bullpen work yielded better results as Cook produced a pair of wins, four saves and a 4.53 ERA across 31 games. Per his Baseball-reference.com page, Cook resurfaced in 1990 with Acereros de Monclova (Mexican League) but there are no accompanying statistics.
Jeff Barkley (#567) – Barkley fared well in his professional debut with the Batavia Trojans (A-) after Cleveland chose him in the thirteenth round of the June 1982 Amateur Draft. Starting all but one of his fifteen outings, Barkley notched 5 wins and fashioned a 4.08 ERA along with a WHIP of 1.273. Moved to the bullpen in the subsequent campaign, he quickly ascended the organizational ladder and tallied 24 relief appearances apiece for the Waterloo Indians (A) and the Charleston Charlies (AAA) where he whiffed 11 batters per 9 innings while adding 8 wins and 12 saves to his resumé. The Tribe ended their agreement with Charleston after the '83 campaign and Barkley was assigned to the Maine Guides for the subsequent season where he continued to flourish, crafting an ERA of 2.85 and tallying 11 saves through 54 games. He was among the September call-ups for Cleveland and he made his MLB debut in relief against Oakland on September 16, 1984. The Indians led 5-4 in the seventh inning and the Athletics had runners on first and second with two outs. Barkley relieved Tom Waddell and struck out Mike Davis to end the threat. Chris Bando tagged a two-run dinger to extend the Indians' advantage to 7-4. Barkley got Mickey Tettleton on a pop-up to first base leading off the eighth but he yielded a double to Steve Kiefer and issued a free pass to Tony Phillips. Ernie Camacho pitched the final 1 ⅔ innings to secure the save. Five days later he was summoned in long relief during a 7-3 loss to the Twins. Don Schulze failed to retire a batter and yielded five runs in the opening frame so manager Pat Corrales called upon Steve Farr along with Barkley to hold down the fort. Farr pitched four innings of one-run ball and Barkley retired the first half-dozen hitters he faced before allowing back-to-back hits and a sacrifice fly off the bat of Kent Hrbek. He sat unused for a week before facing Minnesota again on September 28, 1984. Cleveland triumphed in a wild contest, 11-10 after trailing 10-0 after three innings! The Twins led 2-0 in the second when Barkley relieved Jerry Ujdur with no outs and the bases loaded. He whiffed Kirby Puckett but Ron Washington singled to drive home a pair of runners. Mickey Hatcher and Kent Hrbek delivered back-to-back two-base hits to plate three more Twins and put a swift end to Barkley's outing. The Indians farmed Barkley out to begin the '85 campaign but he earned a promotion towards the end of May as the team languished in last place with a 15-25 record. Summoned in long relief with the Tribe trailing the Jays 3-0 in the third inning on May 24, 1985, he immediately served up a three-run gopher ball to Ernie Whitt. Barkley recovered to hurl 6 ⅔ innings while striking out 5 batters in his longest MLB outing. His ERA dropped to 2.25 after retiring all four Brewers that he faced in his next appearance. California's Ron Romanick fashioned a four-hit shutout in Cleveland on June 20, 1985 but Barkley delivered his finest performance in the big leagues. Working in relief of Don Schulze and Jamie Easterly, the right-hander held the Halos hitless in 5 ⅓ innings, allowing only a base on balls to Rod Carew while posting five strikeouts. He suffered three losses and a pair of blown saves through his last four appearances in June, yielding 8 earned runs in 5 innings to bloat his ERA from a respectable 3.52 to 5.46. Barkley fared better as the calendar flipped to July, notching his first and only MLB save with 2 ⅔ innings of hitless ball in relief of Vern Ruhle in a 5-2 victory versus the Twins on July 1, 1985. Through his first four outings in the month, Barkley scattered a pair of hits over seven scoreless frames to lower his ERA by more than one run (5.46 to 4.37) before the pendulum swung in the other direction. Kansas City cuffed him around a bit on July 18, 1985 commencing a four game span in which he permitted 11 safeties and 7 earned runs in 6 innings. Barkley's last big league outing came on July 26, 1985 during another lopsided loss to the Royals. He relieved Ramon Romero with Kansas City leading by a score of 4-1 after Darryl Motley led off the sixth with a circuit clout. Steve Balboni greeted Barkley with a big fly of his own. In the subsequent frame Hal McRae went yard for a two-run blast. However Barkley extracted a bit of sweet revenge by striking out Motley and Balboni to end the inning. Unbeknownst to him at the time, they were the final outs of his MLB career. He returned to Maine to finish out the '85 season where his overall totals included 13 saves in 24 games with an ERA of 1.62. Cleveland released him at the end of Spring Training in 1986 and he spent the year as a journeyman reliever pitching at the Triple-A level for three organizations (Texas, San Diego and Philadelphia).
Did You Know?
Topps included one or more "firsts" about some of the players on the bottom section of the card backs. In addition, the majority of the card backs also contained trivia in a "Talkin' Baseball" box. The "Talkin' Baseball" facts in most cases pertained to a fun fact about the player's current team but was not specific to the player depicted on the card.
Errors
The 1986 Topps set does not contain any significant error variations.
Rookie Cards
Jose Canseco, Benito Santiago, Paul O'Neill, Cecil Fielder, Lenny Dykstra, Ozzie Guillen, Kal Daniels and Vince Coleman highlight the list of players making their cardboard debuts in the '86 Topps set.
Price Guide (Then and Now)
The "Beckett Baseball Card Monthly Price Guide" (November 1986 edition) lists the 1986 Topps Baseball complete set at $21. Dwight Gooden's regular issue card ranked as the highest individual value at $2.50 followed closely by Vince Coleman's first regular issue Topps card at $2.25.
Please add a comment below if you would like to share any memories from collecting the 1986 Topps baseball card set or your experiences with card collecting in general!
Articles in the Series
References and Resources
Beckett, Dr. James, Rich Klein and Grant Sandground. Beckett Almanac of Baseball Cards and Collectibles. Dallas, TX: Beckett Publications, 1997. Print.
Beckett.com (requires subscription to view prices):
https://www.beckett.com/search/?term=1986+topps&year_start=1986
http://www.tuffstuff.com/priceguides
http://www.baseballerrors.com/
Trading Card Database – Photo Gallery
https://www.tcdb.com/ViewSet.cfm/sid/110/1986-Topps
About the Authors
Derek Bain is a New Jersey native with a passion for baseball, statistics, computers and video games who enjoys spending quality time with his family.
Tom Corby – Cousins with Derek, I am a history teacher at New Egypt High School. I have three kids, Addison, Jaclyn, and Mason and I'm happy that I get to coach them in their sports as well. In my spare time I enjoy reading, anything beach related, and fishing when time allows.
Derek's Books
"Hardball Architects – Volume 1 (American League Teams)", published in July 2020, is available in paperback and digital (Kindle) format at Amazon.com.
"Hardball Architects – Volume 2 (National League Teams)", published in April 2022, is available in paperback and digital (Kindle) format at Amazon.com.
Hardball Architects examines the trades, free agent acquisitions, draft picks and other transactions for the 30 Major League Baseball franchises, divided into a 2-volume set (American League and National League). All key moves are scrutinized for every team and Sabermetric principles are applied to the roster construction throughout the lifetime of the organization to encapsulate the hits and misses by front office executives.
"Hardball Retroactive", published in June 2018, is available in paperback and digital (Kindle) format at Amazon.com. Hardball Retroactive is a modest collection of selected articles that I have written for Seamheads.com along with my Baseball Analytics blog since 2010. Exclusive content includes the chapter on "Minors vs. Majors" which assesses every franchise's minor league successes and failures in relation to their major league operations.
"Hardball Retrospective" is available in paperback and digital (Kindle) format at Amazon.com. Supplemental Statistics, Charts and Graphs along with a discussion forum are offered at TuataraSoftware.com. In Hardball Retrospective, I placed every ballplayer in the modern era (from 1901-present) on their original teams. Using a variety of advanced statistics and methods, I generated revised standings for each season based entirely on the performance of each team's "original" players. I discuss every team's "original" players and seasons at length along with organizational performance with respect to the Amateur Draft (or First-Year Player Draft), amateur free agent signings and other methods of player acquisition. Season standings, WAR and Win Shares totals for the "original" teams are compared against the real-time or "actual" team results to assess each franchise's scouting, development and general management skills.
Don Daglow (Intellivision World Series Major League Baseball, Earl Weaver Baseball, Tony LaRussa Baseball) contributed the foreword for Hardball Retrospective. The foreword and preview of my book are accessible here.
"Hardball Retrospective – Addendum 2014 to 2016" supplements my research for Hardball Retrospective, providing retroactive standings based on Wins Above Replacement (WAR) and Win Shares (WS) for each "original" team over the past three seasons (2014-2016). Team totals from 2010 – 2013 are included for reference purposes. "Addendum" is available in paperback and digital (Kindle) format at Amazon.com.