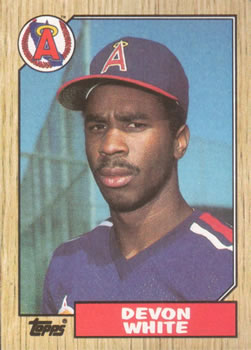 The 1987 Topps Baseball Card Set
Derek's (Re)collections
Topps incorporated a "retro" wood grain border design in '87 to celebrate the 25th anniversary of the 1962 Topps set. While I was not a big fan of this set at the time, I appreciated the concept. As Camden Yards proved in the subsequent decade, the old-time aesthetic combined with touches of modern flair sparked a series of copycat ballparks. In the realm of baseball cards, Topps' old rival Bowman returned to the mix in 1989 after a nearly 30 year absence. Other manufacturers introduced "retro"-looking cards and Topps issued a number of reprinted cards and sets over the years. Topps' designers ultimately decided to return to a more modern look-and-feel with the '88 series.
Corby Corner
Topps went back to the basics following the release of the 1986 set. The wooden background was reminiscent of the 1962 card and I think a collective effort was made to recapture their standing atop an ever-evolving baseball card world. Personally I liked the Topps card in 1987, collected them, but didn't love them like I did the Fleer and Donruss. If the '86 Topps set lacked star power, 1987 more than made up for it. I remember loving the "Future Stars" Bo Jackson card of him camped out on the warning track, as like many, I was wrapped up in the "Bo Knows" world. Jose Canseco, Will Clark and Barry Bonds rookies were in this set, yet, many did not view them as rookies since they all had traded cards in '86 as well. I feel this started to undercut the actual rookie card in complete sets. Just a few years back Mattingly, Ripken, Boggs, etc. all had their first cards in the actual set. Traded sets started to outplay the complete sets and that took some of the fun away from the hobby and putting sets together. Well, at least this Topps set got me and many others back on board. Sadly, I feel 1987 was the final legitimate year of collecting before greed took over and created a monster that stole the hobby aspect from young kids like myself.
Features
The first thing that one notices about the '87 Topps cards is the light-brown wood grain border surrounding the player photos. The Topps logo is situated in the bottom left corner while the player's name is listed in a box with background colors coordinated by team (such as orange for the Orioles, red for the Red Sox, etc..) The team logo hovers in the upper left corner and player positions are omitted from the card fronts. The card backs include the usual biographical and relevant statistics for each player with a color scheme of blue lettering, yellow background and gray borders. The first row lists the card number, player name and position (spelled out in most cases such as "first base", "center field" instead of the abbreviation. When there is ample space beneath the player's statistics, the card will denote career highlights, additional personal info, or a reference to a historical baseball fact ("On this date..")
The '87 Topps set commenced with Roger Clemens' 20-strikeout game, the first in a series of seven "Record Breakers". "Team Leaders" were interspersed throughout the checklist. The "Turn Back The Clock" subset (cards # 311-315) depict Topps' cards from previous seasons at five-year intervals: Rickey Henderson (1982), Reggie Jackson (1977), Roberto Clemente (1972), Carl Yastrzemski (1967) and Maury Wills (1962). All-Stars from the previous campaign are highlighted in cards #595 – 616.
Greg Maddux, Matt Williams and Fred McGriff make their Topps debuts in the 1987 Traded set. The upscale Tiffany regular and traded sets appeared in the Topps product line for the fourth successive season. The 22-card Glossy All-Stars appeared as inserts in rack packs while collectors had to redeem "special offer" cards from wax packs in order to acquire the "Send-Ins" series. A new offering in the "Glossy" line, Topps Rookies, were inserted into Jumbo packs. The subset included the best rookies from the 1986 season including Jose Canseco, Will Clark and Rafael Palmeiro. The Topps/O-Pee-Chee Stickers set tallied 300+ stickers and a collector's album. The miniature Gallery of Champions were only available in complete sets and featured 12 cards in bronze, silver or aluminum versions. The 3-D, Super and Tattoo series were discontinued.
The subset values according to the 1997 edition of the Beckett Almanac of Baseball Cards and Collectibles are as follows: Traded $8, Glossy All-Stars $5, Glossy Send-Ins $12.50, Gallery of Champions $100, Coins $8, Mini Leaders $5, Stickers $15, Rookies $10, Tiffany $25, Traded Tiffany $15.
One-and-Dones
The players listed below made their lone appearance on a regular-issue baseball card in the 1987 Topps set.
T.R. Bryden (# 387) – Thomas Ray "T.R." Bryden began his professional career in June 1981 as a member of the Idaho Falls Angels rookie league squad. Dividing his 14 appearances equally among starting and relief chores, he scuffled to a 4.91 ERA and a 1.652 WHIP. Control issues plagued Bryden throughout his eight seasons in pro ball as his overall 1.549 WHIP attests. In his sophomore season with the Danville Suns (A) he achieved personal-bests in victories (10), innings pitched (135 ⅔), strikeouts (101), starts (22) and complete games (6). Recast in a relief role for the Redwood Pioneers (A) in '83, Bryden notched 9 saves with an ERA of 3.36 despite walking more batters than he struck out (55/42). Splitting time between Redwood and Waterbury (AA) the subsequent season, he attained career-bests with a 2.95 ERA and 10 saves while whiffing nearly one batter per inning. Bryden continued to slowly ascend the ladder towards the big leagues as he registered 7 saves with a 5.04 ERA and a 1.500 WHIP with California's affiliates Midland (AA) and Edmonton (AAA) in '85. The Halos headed to the Pacific Northwest to square off with the Mariners for the opening series in 1986 with Bryden in tow. He relieved Don Sutton in his first Major League appearance on April 10, 1986 and hurled four frames of one-hit ball in a 5-2 loss to Matt Young. Bryden punched out Alvin Davis for his first strikeout but the slugging first baseman returned the favor with a run-scoring triple in the eighth inning. His second outing went south when he yielded five straight baserunners to open the sixth inning of an eventual 11-7 loss to Oakland. After the M's shelled Sutton for 8 runs in ⅔ of an inning on April 15, Bryden picked up the pieces with 3 strikeouts over 3 scoreless innings. A highlight of Bryden's career came on April 26-27 when he registered back-to-back victories over the Twins. On the 26th, Minnesota extended the lead to 6-1 on a sacrifice fly by Mickey Hatcher off Bryden in the eighth inning. California mounted an epic comeback against Frank "Sweet Music" Viola and Ron G. Davis. Brian Downing led off the top of the ninth with a double to left-center field and scored on a "Silent" George Hendrick blast to deep left field, knocking Viola from the contest. Rob Wilfong greeted Davis with a long single to right and he came around on Ruppert Jones' bomb into the right-field seats. Reggie Jackson, batting for Gary Pettis, coaxed a one-out walk. Bobby Grich fanned but Wally "World" Joyner capped the six-run uprising with a long-distance dedication to silence the Metrodome crowd. Donnie Moore set the Twins down in order to lock down the save and secure Bryden's first big-league "W". The following afternoon, Bryden was called upon in the third inning after Ron Romanick was unable to maintain the 5-0 lead that the Halos spotted him. The long reliever twirled five frames of four-hit ball, allowing two runs while striking out four. California tallied three runs in the fourth on an RBI-single by "Mr. October" and a two-run base hit off the bat of Rick "Rooster" Burleson. Bryden yielded a pair of runs in the fifth on ground ball outs but the Angels held on for an 8-7 triumph. Cecil Cooper swatted two big-flies (one off Bryden was the first he allowed as an Angel) as the "Brew Crew" bashed the Halos 16-5 on May 9, 1986. In his next appearance, he took the loss when Boston batsmen garnered a base on balls followed by four consecutive knocks in the ninth inning, turning a 5-5 contest into an 8-5 defeat. Bryden closed out the month of May with three straight scoreless outings. The Yankees tagged him for three runs and a blown save when Mike Pagliarulo's solo shot in the top of the ninth knotted the score at 6-6 on June 2, 1986. The Bronx Bombers took a 7-6 lead when Rickey Henderson rapped a two-bagger off Doug Corbett later in the frame. California battled back in the bottom of the ninth, loading the bases with no outs against Dave Righetti. Dick Schofield drew a base on balls, then Bob Boone reached on an error by Willie Randolph. Hendrick received a free pass and Burleson delivered a sacrifice fly to tie the game at 7-7. Joyner walked to reload the bases and Downing drilled a walk-off single to seize the victory! Bryden fared poorly over his last three outings (7 IP, 10 ER, 2.429 WHIP) and the Angels optioned him out to Edmonton (AAA) after his final appearance at Cleveland on June 8, 1986. He managed to strike out the last batter that he faced in the Majors – Brook Jacoby. Bryden crafted an ERA of 3.49 over 22 relief appearances with the Trappers in '86 and he somehow achieved a record of 9-1 during the following campaign in spite of his 6.35 ERA. The Halos released him in October 1987 and he inked a minor league pact with Minnesota. He started 13 of his 30 games with the Portland Beavers (AAA) and logged a record of 8-8 with a 4.99 ERA to conclude his time as a professional ballplayer.
Did You Know?
In addition to biographical and statistical records, Topps card backs incorporated fun facts about the players along with historical trivia ("On This Date") if there was ample space near the bottom of the card.
Cecil Cooper (#10) – "Cecil once had a column in Brewer club magazine."
Greg Brock (#26) – "Greg once earned himself the free use of a car for a year by recording a hole-in-one in golf match."
Danny Gladden (#46) – "Danny enjoys competition water skiing and motorcycle racing."
Thad Bosley (#58) – "Thad has recorded a gospel contemporary album, 'Pick Up the Pieces'."
Ron Romanick (#136) – "Ron once appeared on a television soap opera."
Mickey Brantley (#347) – "Mickey was childhood chum of boxer Mike Tyson."
Jeff Lahti (#367) – "Jeff is the owner of an apple orchard in Oregon. He is known by the nickname of 'Jam Man'."
Moose Haas (#413) – "Moose has a Black Belt in Tae Kwon Do. He is an amateur magician and a certified locksmith."
Floyd Rayford (#426) – "Floyd lists electric trains among his hobbies."
Jim Slaton (#432) – "Jim spends most of his time living on his boat."
Jim Traber (#484) – "Jim is an accomplished professional singer. He sang National Anthem at Memorial Stadium the night he made his major league debut, 9-21-84."
Don Mattingly (#500) – "Don's birth certificate states he was born in 1962, not 1961 as shown in most baseball records."
Terry Mulholland (#536) – "Terry works as a gas station attendant during the off-season. He's an avid baseball card collector."
Sid Fernandez (#570) – "Sid wears uniform #50 for two reasons: His native Hawaii was the 50th of the U.S. states and his favorite television show is 'Hawaii Five-0.'"
Ken Schrom (#635) – "Ken is employed as Assistant General Manager of Double-A El Paso Diablos during the off-season."
Errors
The 1987 Topps set does not contain any significant error variations.
Rookie Cards
Barry Bonds, Bo Jackson, Barry Larkin, Wally Joyner, Rafael Palmeiro, Will Clark, Dave Magadan, Devon White, B.J. Surhoff, Bobby Bonilla, Ruben Sierra, John Kruk, Mike Greenwell, Chuck Finley, Bobby Thigpen and Kevin Mitchell highlight the list of players making their cardboard debuts in the '87 Topps set.
Price Guide (Then and Now)
The "Beckett Baseball Card Monthly Price Guide" (December 1987 edition) cataloged the 1987 Topps Baseball complete set at $25. Currently the Barry Bonds (#320) graded PSA 9 can be acquired through auction sites in the $20-$40 range.
Please add a comment below if you would like to share any memories from collecting the 1987 Topps baseball card set or your experiences with card collecting in general!
Articles in the Series
References and Resources
Beckett, Dr. James, Rich Klein and Grant Sandground. Beckett Almanac of Baseball Cards and Collectibles. Dallas, TX: Beckett Publications, 1997. Print.
Beckett.com (requires subscription to view prices):
https://www.beckett.com/search/?term=1987+topps&year_start=1987
http://www.tuffstuff.com/priceguides
http://www.baseballerrors.com/
Miller, Sam. "Happy 59th! Or is it 58th? Cracking the mystery of Don Mattingly's birthday", ESPN.com. April 29, 2020. Accessed June 26, 2022. https://www.espn.com/mlb/story/_/id/29043681/cracking-birthday-mystery-don-mattingly-1987-topps-baseball-card
Trading Card Database – Photo Gallery
https://www.tcdb.com/Gallery.cfm/sid/117/1987-Topps
About the Authors
Derek Bain is a New Jersey native with a passion for baseball, statistics, computers and video games who enjoys spending quality time with his family.
Tom Corby – Cousins with Derek, I am a history teacher at New Egypt High School. I have three kids, Addison, Jaclyn, and Mason and I'm happy that I get to coach them in their sports as well. In my spare time I enjoy reading, anything beach related, and fishing when time allows.
Derek's Books
"Hardball Architects – Volume 1 (American League Teams)", published in July 2020, is available in paperback and digital (Kindle) format at Amazon.com.
"Hardball Architects – Volume 2 (National League Teams)", published in April 2022, is available in paperback and digital (Kindle) format at Amazon.com.
Hardball Architects examines the trades, free agent acquisitions, draft picks and other transactions for the 30 Major League Baseball franchises, divided into a 2-volume set (American League and National League). All key moves are scrutinized for every team and Sabermetric principles are applied to the roster construction throughout the lifetime of the organization to encapsulate the hits and misses by front office executives.
"Hardball Retroactive", published in June 2018, is available in paperback and digital (Kindle) format at Amazon.com. Hardball Retroactive is a modest collection of selected articles that I have written for Seamheads.com along with my Baseball Analytics blog since 2010. Exclusive content includes the chapter on "Minors vs. Majors" which assesses every franchise's minor league successes and failures in relation to their major league operations.
"Hardball Retrospective" is available in paperback and digital (Kindle) format at Amazon.com. Supplemental Statistics, Charts and Graphs along with a discussion forum are offered at TuataraSoftware.com. In Hardball Retrospective, I placed every ballplayer in the modern era (from 1901-present) on their original teams. Using a variety of advanced statistics and methods, I generated revised standings for each season based entirely on the performance of each team's "original" players. I discuss every team's "original" players and seasons at length along with organizational performance with respect to the Amateur Draft (or First-Year Player Draft), amateur free agent signings and other methods of player acquisition. Season standings, WAR and Win Shares totals for the "original" teams are compared against the real-time or "actual" team results to assess each franchise's scouting, development and general management skills.
Don Daglow (Intellivision World Series Major League Baseball, Earl Weaver Baseball, Tony LaRussa Baseball) contributed the foreword for Hardball Retrospective. The foreword and preview of my book are accessible here.
"Hardball Retrospective – Addendum 2014 to 2016" supplements my research for Hardball Retrospective, providing retroactive standings based on Wins Above Replacement (WAR) and Win Shares (WS) for each "original" team over the past three seasons (2014-2016). Team totals from 2010 – 2013 are included for reference purposes. "Addendum" is available in paperback and digital (Kindle) format at Amazon.com.