Twitch Livestreams and YouTube Playthroughs of Baseball Video Games
I will be live-streaming baseball video games on Twitch and uploading the content to my YouTube channel. Follow my HardballRetro account on both platforms!
The initial focus will be on the classic computer baseball simulations that I have reviewed here, but I will also play current games (arcade, console and computer).
The walkthroughs will generally include how to select the teams, lineups, starting pitcher and ballpark (if applicable). In-game options and menus will be discussed along with how to make substitutions. Post-game will focus on box scores, stat compiling statistics, and reviewing league leaders and standings.
Computer Baseball games
MicroLeague Baseball II – III – IV
Tony La Russa's Ultimate Baseball
Old Time Baseball
Star League Baseball
The World's Greatest Baseball Game
Console Baseball games
Baseball Simulator 1.000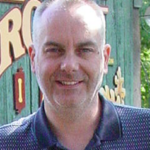 I am a New Jersey native with a passion for baseball, statistics, computers and video games who enjoys spending quality time with his family. Visit my Amazon author page to check out my books, promotional videos, and post a review if you're a Hardball Retro fan!
https://www.amazon.com/author/derekbain
My Books:

"Hardball Architects – Volume 1 (American League Teams)", published in July 2020, is available in paperback and digital (Kindle) format at Amazon.com.


"Hardball Architects – Volume 2 (National League Teams)", published in April 2022, is available in paperback and digital (Kindle) format at Amazon.com.

"Hardball Architects" examines the trades, free agent acquisitions, draft picks and other transactions for the 30 Major League Baseball franchises, divided into a 2-volume set (American League and National League). All key moves are scrutinized for every team and Sabermetric principles are applied to the roster construction throughout the lifetime of the organization to encapsulate the hits and misses by front office executives.


"Hardball Retroactive", published in June 2018, is available in paperback and digital (Kindle) format at Amazon.com. A cross-section of essays that I penned for Seamheads.com along with my Baseball Analytics blog spanning nearly a decade touching on subjects including "Taking the Extra Base", "General Manager Scorecard", "Worst Trades", "BABIP By Location" and "Baseball Birthplaces and the Retro World Baseball Classic". Rediscover your favorite hardball arcade and simulations in "Play Retro Baseball Video Games In Your Browser" or take a deep dive into every franchise's minor league successes and failures in relation to their major league operations in "Minors vs. Majors".


"Hardball Retrospective" is available in paperback and digital (Kindle) format at Amazon.com. Supplemental Statistics, Charts and Graphs along with a discussion forum are offered at TuataraSoftware.com. In Hardball Retrospective, I placed every ballplayer in the modern era (from 1901-present) on their original teams. Using a variety of advanced statistics and methods, I generated revised standings for each season based entirely on the performance of each team's "original" players. I discuss every team's "original" players and seasons at length along with organizational performance with respect to the Amateur Draft (or First-Year Player Draft), amateur free agent signings and other methods of player acquisition. Season standings, WAR and Win Shares totals for the "original" teams are compared against the real-time or "actual" team results to assess each franchise's scouting, development and general management skills.


Don Daglow (Intellivision World Series Major League Baseball, Earl Weaver Baseball, Tony LaRussa Baseball) contributed the foreword for Hardball Retrospective. The foreword and preview of my book are accessible here. 


"Hardball Retrospective - Addendum 2014 to 2016" supplements my research for Hardball Retrospective, providing retroactive standings based on Wins Above Replacement (WAR) and Win Shares (WS) for each "original" team over the past three seasons (2014-2016). Team totals from 2010 - 2013 are included for reference purposes. "Addendum" is available in paperback and digital (Kindle) format at Amazon.com.