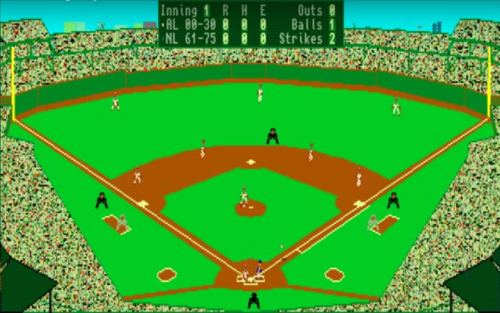 Play Retro Baseball Video Games In Your Browser!
The Internet Archive hosts nearly 50 classic baseball video games. Available through the magic of emulation, most of the games can be played via keyboard, mouse or joystick / gamepad controller through any current browser. Spanning the first 25 years of retro-gaming goodness on multiple platforms and featuring the gamut of text-based simulations, arcade/sim hybrids and pure arcade action, please enjoy the ensuing catalog of hardball hits and misses!!
If the Internet Archive does not host a particular game, I attempted to include details and a screenshot. In keeping with the retro theme I restricted the list to 1975 – 2000 in correlation with the first through fifth generation of video game consoles (Nintendo 64, Sega Saturn, Sony Playstation).
Personal Recollections
Our family's first console was the Mattel Intellivision, which we received as a Christmas gift in 1981. In comparison to the other baseball games available in the early Eighties, Major League Baseball outshined the competition in graphics and gameplay. Unfortunately we did not buy the Intellivoice or the Entertainment Computer System add-ons required for Eddie Dombrower and Don Daglow's innovative World Series Major League Baseball, which included various camera angles and actual player statistics.
My first personal computer, the Commodore 64, raised the bar in terms of graphics and sound along with the ability to edit team rosters and compile statistics. We often played Star League Baseball and Hardball! for strictly arcade action, yet I found myself gravitating towards the statistics-based games such as Computer Baseball and especially MicroLeague Baseball. My friends and I created a league using the "General Manager / Owners" and "Box Score / Stats Compiler" disks. I started to tinker with the existing rosters to create All-Time Teams for every franchise. But the absence of a quick-play option and the unreliability of the Commodore floppy drives, not to mention our short attention spans, thwarted my efforts to complete a full season of simulated contests.
I acquired an Apple ][e during the mid-80's and procured several ballgames: the old standbys along with Computer Statis Pro Baseball and APBA Major League Baseball. Visiting the homes of family, friends and classmates during this period, I experienced the diversity of personal computers covering Apple ][, Atari 400/800 and Commodore Vic-20 / 64 / 128. Our collective minds were stunned when we located a peer with an Amiga 500 and the next Daglow / Dombrower collaboration – Earl Weaver Baseball. Having recently purchased EWB for my Apple ][e, the Amiga version blew me away! Construct your own ballparks, edit the pronunciation of player names and receive in-game managerial advice from Earl?! All other games fell by the wayside that summer as we spent endless hours with Amiga EWB. In many ways, this gem of a game remains unsurpassed in terms of scope and gameplay even though it was released over thirty years ago.
The Nintendo Entertainment System (NES) and Sega Genesis provided our family and friends with tons of classic gaming amusement! The repetitive background tune from Baseball Simulator 1.000 remains forever embedded in my brain while the physics involved in launching a long ball in the "space" stadium boosted the replay factor. My brother and I competed for supremacy in Sports Talk Baseball – loved the digitized speech in that one!
In the early Nineties, I obtained the first of several IBM PC clones, occasionally re-visiting my Apple and Commodore systems but mainly focusing on a new series of baseball games developed by the two individuals who repeatedly strived to implement improvements in the hybrid arcade/sim baseball genre. Electronic Arts published Eddie Dombrower's Earl Weaver Baseball II, featuring enhanced physics modeling and a virtual camera that allowed the user to view the game from almost any perspective within the ballpark. Regrettably, EA released EWB II prematurely and compounded their mistake by failing to publish a patch to resolve several flaws in the code. Following successful stints as a director and producer with Mattel, Electronic Arts and Broderbund, Don Daglow founded his own company, Stormfront Studios in 1988. The Tony LaRussa Baseball series sustained the EWB tradition of working closely with the product's namesake to design the artificial intelligence behind the game engine. Further enhancements comprised of the "fly ball cursor" (to assist with tracking and catching balls hit in the air), Fantasy Draft mode, head-to-head statistics, and a quick-play option to let gamers simulate an entire season in minutes! Old Time Baseball repurposed the TLB engine, added historical statistics and ballparks, and featured the Baseball Time Machine which permitted gamers to simulate games in different eras by altering the context where each player's results were initially generated to align within the selected timeframe.
APBA Presents Baseball for Windows and the later editions of Broadcast Blast featured Ernie Harwell announcing the play-by-play accounts. (Mel Allen and Curt Gowdy highlighted the broadcasters in the Tony LaRussa games while Al Michaels' voice adorned the later Hardball releases.) Augmenting the APBA games with The Bill James Baseball Encyclopedia, I possessed a method to import players from any season from 1876 to 1994. I started collecting "classic" video games around 1996, culminating in the purchase of two upright arcade games: Galaga and World Series: The Season. I pumped tons of quarters into WS:TS as a teenager and jumped at the chance to play as many innings as I wanted on "free-play"! The game retains your statistics based on your initials and birthdate and the spring-loaded batting and pitching system provided pinpoint control in the batter's box and on the mound. Always a rush to crank a long ball in this blast from the past!
Wrapping up my baseball gaming experiences in the Twentieth Century, I found enjoyment in the arcade aspects of High Heat Baseball and the World Series Baseball games for the Sega Saturn. I dabbled in Diamond Mind Baseball for a while but found myself returning to APBA BBW. I presently run my sim seasons with Digital Diamond Baseball or Out of the Park Baseball. Both games are extremely flexible, provide accurate replay outcomes and contain all of the qualities that I have come to expect in a computer hardball simulator.
Your Memories
Please submit comments regarding your favorite baseball games (arcade, console, computer, handheld, tabletop) – whatever you play, share your memories with fellow gamers!
Poll
Vote on your favorite baseball video games here!
References
Classic Reload – Baseball Games
Kaneko, Gemma. "Here are the best baseball DOS games you can play online" mlb.com, January 22, 2015
List of Baseball Video Games. Wikipedia.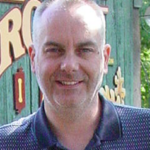 I am a New Jersey native with a passion for baseball, statistics, computers and video games who enjoys spending quality time with his family. Visit my Amazon author page to check out my books, promotional videos, and post a review if you're a Hardball Retro fan!
https://www.amazon.com/author/derekbain
My Books:

"Hardball Architects – Volume 1 (American League Teams)", published in July 2020, is available in paperback and digital (Kindle) format at Amazon.com.


"Hardball Architects – Volume 2 (National League Teams)", published in April 2022, is available in paperback and digital (Kindle) format at Amazon.com.

"Hardball Architects" examines the trades, free agent acquisitions, draft picks and other transactions for the 30 Major League Baseball franchises, divided into a 2-volume set (American League and National League). All key moves are scrutinized for every team and Sabermetric principles are applied to the roster construction throughout the lifetime of the organization to encapsulate the hits and misses by front office executives.


"Hardball Retroactive", published in June 2018, is available in paperback and digital (Kindle) format at Amazon.com. A cross-section of essays that I penned for Seamheads.com along with my Baseball Analytics blog spanning nearly a decade touching on subjects including "Taking the Extra Base", "General Manager Scorecard", "Worst Trades", "BABIP By Location" and "Baseball Birthplaces and the Retro World Baseball Classic". Rediscover your favorite hardball arcade and simulations in "Play Retro Baseball Video Games In Your Browser" or take a deep dive into every franchise's minor league successes and failures in relation to their major league operations in "Minors vs. Majors".


"Hardball Retrospective" is available in paperback and digital (Kindle) format at Amazon.com. Supplemental Statistics, Charts and Graphs along with a discussion forum are offered at TuataraSoftware.com. In Hardball Retrospective, I placed every ballplayer in the modern era (from 1901-present) on their original teams. Using a variety of advanced statistics and methods, I generated revised standings for each season based entirely on the performance of each team's "original" players. I discuss every team's "original" players and seasons at length along with organizational performance with respect to the Amateur Draft (or First-Year Player Draft), amateur free agent signings and other methods of player acquisition. Season standings, WAR and Win Shares totals for the "original" teams are compared against the real-time or "actual" team results to assess each franchise's scouting, development and general management skills.


Don Daglow (Intellivision World Series Major League Baseball, Earl Weaver Baseball, Tony LaRussa Baseball) contributed the foreword for Hardball Retrospective. The foreword and preview of my book are accessible here. 


"Hardball Retrospective - Addendum 2014 to 2016" supplements my research for Hardball Retrospective, providing retroactive standings based on Wins Above Replacement (WAR) and Win Shares (WS) for each "original" team over the past three seasons (2014-2016). Team totals from 2010 - 2013 are included for reference purposes. "Addendum" is available in paperback and digital (Kindle) format at Amazon.com.