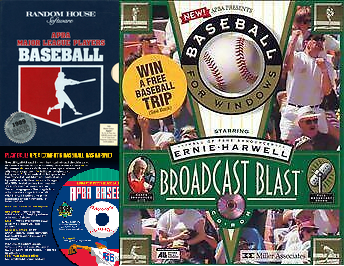 Retro Computer Baseball Game Review – APBA Baseball
This is the thirteenth entry in a series focusing on computer baseball simulations to supplement the chapter "Play Retro Baseball Video Games In Your Browser" from my Hardball Retroactive book along with the corresponding post at Baseball Analytics. The series focuses on baseball simulations – games in which the primary emphasis is on managerial strategy and the ability to replay entire seasons with a degree of realism. Baseball video games that are strictly arcade representations of baseball (based solely on reflex and hand-eye coordination) are excluded.
Apple ][ version:
IBM PC – DOS version:
IBM PC – Windows version: Baseball, Advanced Draft, League Manager, StatMaster
APBA Major League Players Baseball
Publisher – Miller Associates
Release Year – 1985
Platforms – Apple ][, IBM PC
APBA presents: Baseball for Windows (version 1.0 through 5.5)
Publisher – Miller Associates
Release Year – 1993
Platforms – IBM PC
APBA presents: Baseball for Windows (version 5.75)
Publisher – APBA Games
Release Year – 2012
Platforms – IBM PC
Credits
(through version 5.5)
Game Design /
Programming:
Kenneth Miller, Roswell Miller
Additional modules /
Programming:
Colby Duerk, Alan Pratt
Testing Captains:
William Schindel, Randy Leadbetter,
Alan Raylesberg, Doug Reese, Ed Rothschild
Support:
William Schindel
Announcer:
Ernie Harwell
(version 5.75)
| | |
| --- | --- |
| Development: | Stumpcat Software |
Review
APBA ("American Professional Baseball Association"), like several competing computer products produced in the final quarter of the 20th Century, has its origins in tabletop gaming. The original APBA dice and card game was designed by J. Richard Seitz and released in 1951. Tim Ponisciak penned an exceptional article entitled "How Would You Like to Manage in the Majors?: Baseball Board Games and Their Dedicated Players," which appeared in the Fall 2011 volume of the SABR Journal. Ponisciak reviews the origins of the APBA and Strat-O-Matic board games along with the key differences between them.
The initial computer version, "APBA Major League Players Baseball", appeared on the market in 1985. I purchased the Apple ][ edition and enjoyed the game immensely despite the fact that I had not played the dice/card game in my youth. The computerized APBA relied on text play-by-play descriptions and permitted standard input for game management along with coaching decisions that required prompt decision-making (such as base advancement, whether to throw to a particular base or cut off a throw, etc.)
APBA Major League Players Baseball was initially released for Apple and IBM PC in 1985. The IBM product was ported to Windows and released in a number of iterations throughout the 1990's. Play-by-play commentary by legendary Detroit Tigers announcer Ernie Harwell enhanced the "Broadcast Blast" version of the game in the mid-90's. The latest release (version 5.75) allows the game to be played on 32- and 64-bit Windows computers (Windows XP SP3/Vista/7/8/10). Once the Windows version is installed, the game is divided among four modules: Baseball, Advanced Draft, League Manager, and Statmaster.
Advanced Draft
The Advanced Draft application allows the user to create or modify data disks which, in turn, encompass one or more organizations, leagues, divisions and teams. Players can be imported and assigned to teams. "Farm" organizations can be created and affiliated with an existing organization to enhance roster flexibility. For example, I can establish a roster limit of 25 players per team and assign the "extra" players to the affiliated farm teams. The general manager can trade, sign and waive players, adjust their ratings while the manager can create multiple lineups. Scouts and General Managers can be created and various ratings assigned to facilitate a variety of draft types, or you can simply import players and assign them to teams if you wish.
League Manager
You can schedule a series of games or an entire season with the League Manager module. This is where you configure the rules for an organization or league and decide which teams will be managed manually or by a computer skipper. You may prepare lineups and starting rotations for every ball club and tweak those settings on a per-game basis. When you're ready to play ball, you can view the scores of games in progress, choose to have the computer automatically play matchups that will not be manually managed, and check the box scores when the games are completed. Additional features include Advanced Injury Management (A.I.M.) which allows you to regulate playing time for individuals, assign injured players to the disabled list and monitor usage. If you permit rain outs to occur, you have the ability to reschedule postponed contests by displaying the open dates between the opposing clubs. Highlights Search lets the user quickly locate box scores that meet specific individual or team criteria, such as players with 5+ hits or 3+ home runs in a game, pitchers with 14+ strikeouts or players that hit for the cycle. A full slate of games running in Background Mode (all games set to computer vs. computer) took approximately 6 seconds to complete. For testing purposes I simulated an entire 162-game schedule with no human intervention in 20 minutes.
Statmaster
You can view the accumulated standings and leader boards along with team and individual statistics using the Statmaster module. Standard and custom reports are available on an organization, league, division or team level. Reports can be printed or exported to HTML files.
Baseball
The Baseball module enables the user to manage individual contests or view matchups between the computer-controlled skippers. It can be started separately for exhibition games or launched automatically from League Manager. Pre-game adjustments consist of tweaking the lineups and selecting the starting pitchers. The ballpark background image, music and sound effects, announcer and play-by-play levels of detail can all be modified.
A multitude of add-on products were produced for the DOS and Windows editions. Wizard allowed the user to create players from scratch or modify existing players. The Bill James Baseball Encyclopedia, developed by Colby Duerk, gave users the ability to perform high-speed searches and compare players (before the advent of Baseball-Reference.com) and eventually integrated with Advanced Draft to permit the importing of any player from the dawn of professional baseball through the mid-1990's. MicroManager extended the game's capabilities by facilitating the creation and customization of computer managers. Ballparks, schedules, season and various all-time team disks round out the offerings in the APBA catalog. Here's a brochure from Miller Associates circa 1993 highlighting APBA Baseball for Windows and DOS versions along with the various add-on disks. http://apbagames.com/wp-content/uploads/baseball/Miller_Assoc_1993.pdf
I purchased APBA 5.75 in order to play the latest version of the game on my Windows 10 computer. However I wanted to create an organization using the Wizard and Bill James Baseball Encyclopedia utilities which have not been converted for use on 32-bit computers. I had to jump through a number of hoops to facilitate this task. First, I installed VirtualBox on my Windows 10 system and created a virtual machine running the Windows 98 operating system. Then I loaded APBA Baseball for Windows 5.5 (the last 16-bit release) along with Wizard and BJBE on the virtual host. I created the new organization using Advanced Draft. The league would utilize "Original" rosters filled with players who made their MLB debut between 1961 and 1990 (with a handful of exceptions) based on my research for Hardball Retrospective. I selected the best season for each player based on their highest WAR and/or Win Shares single-season totals in most instances. It was necessary to generate new players with the Wizard application for any player-seasons beyond 1994 (based on the last season available on my BJBE CD). After importing the players and placing them on the appropriate teams, I limited the active rosters to 25 and demoted 15 players per team to their corresponding farm clubs. Primary lineups for every ball club versus right and left-handed opposition pitchers were carefully chosen along with starting rotations. When the organization was ready for prime time, I transferred the file from my virtual Windows 98 machine to my Windows 10 system, then executed the Migration Tool that comes with APBA 5.75. From that point I utilized 5.75 exclusively, including the creation of American and National League schedules (162 games per team), rules configuration, etc. Duke Robinson Jr., one of the computer micro-managers, managed all of the in-game strategy for every team during the regular season. I intervened at the end of each day to replace injured players, reviewed the standings and statistics periodically and generated reports at the end of each month. After September 1 I recalled the reserves in groups of five players at a time over the period of one week in order to simulate September call-ups. Upon conclusion of the regular season, I followed the process outlined in the help file to copy the organization and schedule the Championship Series in League Manager. Subsequently I repeated those steps to play the World Series, where I opted to manage one of the clubs (St. Louis) against one of the computer micro-managers (Oakland). The Hardball Retro 1961-1990 rosters with lineups, reserves, starting rotations and schedule are available here for APBA 5.75 -> http://www.mediafire.com/folder/mbnr0ql6evjgj/APBA_BBW_575
A brief synopsis of the Hardball Retro 1961-1990 season is offered below along with standings, league leaders and team totals, followed by the team-by-team batting and pitching breakdowns. For the playoffs and World Series, I exported the box scores and play-by-play scripts from every contest.
HBretro 1961-1990 Regular Season
Boston sprinted out to a 4-game cushion by the end of April while Oakland trailed the Royals by one game. Montreal led the tightest divisional race by a single contest heading into May while the Reds and Giants battled to a dead-heat in the NL West. John Olerud set a blistering pace as he batted at a .400 clip. Cecil "Big Daddy" Fielder launched 14 long balls to top the Majors in the first month. The Red Sox maintained a 4.5 game advantage over the Orioles while the Twins edged in front of the A's to close out the month of May. The Redbirds raced to the front of the pack in the NL East as the "Big Red Machine" opened up a 6.5 game lead. Astros' third-sacker Ken Caminiti topped the charts with 25 round-trippers. Bob Gibson entered June with an 8-1 record while White Sox ace Gary Peters led all moundsmen with a 2.07 ERA. The American League reached the halfway point with the Red Sox maintaining an 8.5 game cushion over the Brewers while the Athletics outpaced the Twins by a 4-game margin. The Senior Circuit featured tightly contested divisional races with St. Louis holding a slim lead over Montreal as the Astros nearly pulled even with the Reds. The .400 mark was still within Olerud's grasp (.399 as of July 1). Bucs outfielder Barry Bonds belted his 35th home run. Dwight "Doc" Gooden maintained the MLB lead with 122 K's and the lowest ERA belonged to Don Sutton at 2.44. George Brett caught fire in August to pull within 15 points of Olerud (.361 to .346) in the batting race. Bonds retained a small lead over Fielder and Mark McGwire in the home run race (57 to 51). "Hoot" Gibson led all Cy Young candidates with 19 wins and a 2.44 ERA. Coming down the stretch, Boston stretched its' lead over Milwaukee to 15 games while St. Louis outdistanced the Metropolitans by an 11-game cushion. The A's were 5 games up on the Twins entering September but the NL West remained unsettled as Cincinnati and Houston were dead even at 76-55. When the dust settled, the Red Sox breezed to a division title with 107 victories, 26 games ahead of the runner-up Brew Crew. Oakland outlasted Minnesota to take the AL West by 2 games while the Redbirds fended off a late run by the Mets to take the NL East. The Big Red Machine emerged with the NL West pennant as the Astros faded down the stretch. George Brett claimed the AL batting title after missing most of September due to injury while John Olerud slumped to a second-place tie with Rod Carew at .338. Larry Walker paced the National League with a .332 BA to collect the batting crown ahead of Al Oliver's .319. Barry Bonds topped the leader boards in OBP (.456), SLG (.793), Runs Created (196.4), runs (144) in addition to notching the home run title with 70 blasts. Cecil Fielder clubbed 67 long balls to take the American League homer crown and led the Majors with 160 RBI. On the pitching ledger, John Tudor (Boston) and Bob Gibson (St. Louis) were the lone 20-game winners. Greg Maddux posted the lowest ERA among qualifiers with a 2.35 mark while Tudor paced the Junior Circuit at 2.61. Dwight Gooden struck out 229 opposition batsmen to lead the Major Leagues and Ron "Louisiana Lightning" Guidry whiffed 195 to edge Frank Tanana (191) in the American League. Individual game highlights include 5 no-hitters, 10 contests in which a batter belted 3+ homers, and 3 cycles.
American League Team-by-Team Batting and Pitching
National League Team-by-Team Batting and Pitching
HBretro 1961-1990 American League Championship Series
Boston claimed a 5-1 victory in the Game 1 of the ALCS when Carl "Yaz" Yastrzemski clubbed 3 hits including a first-inning long ball off Oakland ace Vida "True" Blue. "Rocket" Roger Clemens twirled 7 frames of 5-hit ball and yielded an unearned run. The Athletics evened the Series with a 6-2 triumph as John Tudor was roughed up for 6 tallies in 7 innings. Rickey Henderson led off the contest with a three-base hit over the head of center fielder Fred Lynn and he scored the game's first run on a double-play grounder. Mark McGwire crushed a four-base hit to straightaway center to put the A's ahead 2-0 in the opening frame. Darrell Evans launched a 2-run shot in the sixth. Tudor gave up gopher balls to Gene Tenace and "Big Mac" in the seventh. Jim "Catfish" Hunter went the distance for Oakland despite allowing solo blasts to Dwight "Dewey" Evans and Fred Lynn in the eighth inning.
The Series shifted to the West Coast where the Athletics tied the game in dramatic fashion and won it in extra innings to take a 2-1 advantage in the ALCS. The hometown A's were down 7-6 heading into the bottom of the ninth. Don Aase enters the contest for the Sox and promptly issues a base on balls to Gene Tenace. Darrell Evans laces a two-bagger into right-center field and the third-base coach wisely signals for Tenace to stop at third. Felix Millan squares around a bunts the ball foul for the first strike, then he lunges and misses in a failed attempt to squeeze the run home and "Steamboat" is a dead duck, tagged out by Carlton Fisk. Evans sneaks into third on the play. With one out and two strikes on Millan, the squeeze play is on again! This time, Millan gets the bunt down and Aase throws him out at first, but Evans crosses the plate with the tying run. Aase remained on the bump into the 12th frame when Evans and Millan reached on consecutive singles. Phil Garner sliced a double down the right field line to secure the walk-off win! Mark McGwire slammed a pair of circuit clouts in the contest while Jim Rice racked up four hits for the BoSox.
Mike Norris held the Sox to 2 runs over 7 innings and the Athletics launched 3 long balls (Jose Canseco, Mark McGwire, Gene Tenace) to take a commanding lead in the Series with a 6-4 victory in Game 4. Southpaw Bruce Hurst (7 IP, 5 ER) took the loss and Jim Rice provided a pair of RBI in the losing effort. Oakland annihilated their opponent with a convincing 10-2 victory in the fifth matchup. Vida Blue pitched 7 strong innings allowing 5 hits and 1 earned run. "Big Mac" crushed 3 round-trippers while Bert Campaneris and Mickey Tettleton added solo shots. McGwire collected the ALCS MVP Award as he hit .455 with 8 big-flies. The A's celebrated and waited in the Bay Area for their World Series opponent to be determined by the outcome of the NLCS.
HBretro 1961-1990 National League Championship Series
Mike Cuellar bested Bob Gibson in the initial matchup of the top teams in the Senior Circuit. Cuellar spun a 5-hit shutout against the Redbirds and a couple of two-run dingers off the bats of Johnny Bench and Lee May in the home half of the second inning provided all of the tallies in a 4-0 triumph. St. Louis turned the tables in Game 2 to even the Series at one game apiece. Trailing 3-0 entering the top of the eighth, Andy Van Slyke rocked a two-base hit off the wall in right-center and then advanced to third on a groundout by Ted Simmons. Willie Montanez drew a free pass from Joaquin Andujar. Jose Cruz slashed a bounding ball deep in the hole. Barry Larkin made a diving stop but had no run as Van Slyke notched the first run for the Cardinals. Jeff Russell relieved Andujar and got Garry Templeton to pop up to Larkin in foul territory for the second out. Lance Johnson ripped a line drive past Lee May and into the right field corner. "One Dog" ended up with a three-base hit and the contest was knotted at 3-3! Russell recovered with a strikeout of Tommy Herr to end the threat. In the ninth, Keith Hernandez beat out a slow roller towards second baseman Cookie Rojas for an infield hit. Terry Pendleton delivered a grounder deep in the hole at shortstop, and Larkin's only play was the long throw to first. Van Slyke coaxed a base on balls so St. Louis now had runners on first and second with one away. Tom Hume entered the game with Simmons due up. The switch-hitting "Simba", batting from the left side, hooked a fair ball into the right field corner, scoring "Mex" easily as Van Slyke strolled into third. Rojas fielded a hot grounder off the bat of Montanez and fired home to cut down a stunned Van Slyke at the dish! Nelson Briles hurled 2 2/3 hitless innings in relief of Steve "Lefty" Carlton to pick up the win.
The Big Red Machine prevailed in Game 3 behind a complete game by Charlie Leibrandt and a trio of four-base knocks by Barry Larkin, Tony Perez and Lee May. Terry Pendleton provided the lone tally for the Redbirds with a solo shot in the ninth. Jerry Reuss absorbed the loss as he yielded 5 earned runs over 6 2/3 innings. The Cardinals prevailed 4-3 in consecutive contests to send the Series back to Cincinnati while holding a 3-2 lead in the Series. Bob Forsch and Al Hrabosky combined on a 5-hitter in Game 4. Mario Soto gave up 8 hits and 4 runs in 4 2/3 innings including a 2-run shot by Pendleton while Eric Davis and Lee May swatted big-flies for the Reds. Bob Gibson and Mike Cuellar pitched wire-to-wire in Game 5. The scoreboard indicated a 3-3 tie entering the bottom of the ninth. Andy Van Slyke ripped a single to right, then swiped second to put himself in scoring position. Todd Zeile, who blasted a solo shot in the seventh to knot the score at 3-all, punched a two-base knock up the gap in left-center to drive home Van Slyke with the winning run!
Joaquin Andujar outdueled Steve Carlton with a solid performance in Game 6 to force a winner-take-all matchup on the following evening. Hal McRae contributed a two-run bomb in the second frame and Danny Tartabull broke out of a mini-slump with 3 safeties. St. Louis rallied in the ninth inning to send Game 7 into extra innings. Jeff Montgomery strolled to the hill for the Reds, replacing Jeff Russell and his 2 1/3 scoreless frames. He retired Ted Simmons on a harmless fly ball to right and Andy Van Slyke on a short pop fly to shallow center. Todd Zeile hit one up the gap in right field. Tartabull cut it off and made a strong throw to second as Zeile barely slid under the tag for a two-bagger. Jose Cruz singled down the line in right, scoring Zeile with the tying run. Cruz pilfered second and the skipper replaced Montgomery with Tom Hume. Garry Templeton struck out to end the inning, but Nelson Briles set down the Reds in order in the bottom of the ninth. Tom Herr worked a one-out walk against Hume and scooted over to third as Keith Hernandez executed a perfect hit-and-run single through the hole at shortstop when Barry Larkin went to cover second base. Terry Pendleton lined a hard smash over a drawn-in infield to plate Herr with the go-ahead run. Simmons drilled a base hit to right to load the bases. Van Slyke followed with a three-run triple over Pete Rose's outstretched glove in left field. Zeile's grounder to second failed to bring in Van Slyke, but he scored when Hume sailed a high fastball over Johnny Bench's head. The Reds scratched a run across in the bottom of the tenth against reliever Bill Caudill, but St. Louis claimed the 8-4 victory and advanced to the World Series!

Bob Gibson squared off against Vida Blue as the World Series got underway in Oakland. The Cards were dealt some bad news when catcher Ted Simmons suffered an injury when Darrell Evans barreled into him in the bottom of the first. "Simba" was expected to miss several games. Both aces matched goose-eggs on the scoreboard until the fifth inning when A's backstop Mickey Tettleton connected on a long blast to deep left-center off "Gibby" to plate the first run in the Series. Terry Pendleton silenced the crowd with a three-run jack in the top of the sixth. St. Louis extended the lead in the subsequent frame with a ribbie-single off the bat of Garry Templeton and a two-run double by Lance Johnson. Gibson held the mighty Athletics to 4 hits over 8 strong innings. Jim "Catfish" Hunter got roughed up for 6 earned runs in 4 1/3 innings and Terry Kennedy clubbed a three-run blast off reliever Paul Lindblad as the Cardinals opened up an 8-0 lead in Game 2. Oakland stormed back with 7 unanswered runs in the latter half of the contest, but Todd Worrell held the A's scoreless in the ninth inning to secure the 8-7 victory and a 2-0 lead as the Series headed to Missouri.
Jerry Reuss and Todd Worrell combined on a 5-hitter as the Cardinals defeated the A's 3-1, placing Oakland in a must-win situation for the remaining contests. Rickey Henderson tallied the lone run for the Athletics when he led off the game with a single, advanced to second on a walk to Jose Canseco, swiped third and strolled home on a sacrifice fly off the bat of Mark McGwire. St. Louis countered with 3 unearned runs in the bottom of the fifth against Mike Norris. With two outs and no one on base, Norris issued a free pass to Jose Cruz. Felix Millan booted a hard bouncer off the bat of Garry Templeton, putting runners at the corners. Lance Johnson followed with a single to right which plated Cruz. Templeton and Johnson each advanced one base when the ball bounded off Reggie Jackson's glove for another error. Tom Herr launched a long drive over Jackson and into the right-field corner for a two-run double, giving the Redbirds a 3-1 lead. In the ninth, Canseco greeted Worrell with a leadoff single but the Cardinals' closer retired the next three A's sluggers in order to lock down the game.
Oakland staved off elimination in Game 4 with a 2-1 victory. Bob Gibson left the game after recording 5 outs with a wrist injury. Bob Forsch replaced "Hoot" on the mound and pitched admirably under the circumstances, allowing 4 hits and a walk in 4 1/3 innings. St. Louis scratched out a run in the bottom of the second. Andy Van Slyke led off the frame with a bases on balls and Jose Cruz rocked a one-out double off Vida Blue to give the Cardinals runners at second and third. Tom Pagnozzi's hard bouncer to Phil Garner permitted Van Slyke to streak homeward for the first run of the game. Mark McGwire tied the match with a deep drive over the left-center field wall with two down in the fourth. Darrell Evans reached on a fielder's choice with two out in the sixth. Forsch plunked Jose Canseco, placing Evans in scoring position. "Big Mac" laced a solid safety to left… Evans steamed around third and plowed into Pagnozzi, knocking the ball loose and touching the dish as the A's took the lead! The Cardinals had an excellent opportunity to tie the game in the eighth with Lance Johnson on first and Garry Templeton on third, but Johnson was caught stealing and Templeton got caught too far off third and Mickey Tettleton picked him off! Rollie Fingers picked up the save with two scoreless innings.
Jim "Catfish" Hunter opposed Steve "Lefty" Carlton in Game 5 but it wasn't much of a pitcher's duel. The Redbirds teed off against Hunter as he retired only 7 batsmen before getting hooked in the third inning following a two-run bomb off the bat of Andy Van Slyke. Carlton managed to make it through six innings, allowing four runs (two earned) but Gene Tenace tagged him for a pair of round-trippers. Sal Bando and Chet Lemon launched solo homers off reliever Bill Caudill to bring the A's within one run (7-6). The Cards pushed a run across in the bottom of the eighth on a base hit by Tom Herr, a hit-and-run single by Garry Templeton, and a sac-fly by Lance Johnson. Todd Worrell whiffed Jose Canseco and Mark McGwire to clinch the World Series trophy for St. Louis as the Redbirds took Game 5 with a final tally of 8 to 6.
HBretro 1961-1990 World Series
Ratings
Graphics – [2] –APBA comes with several static stadium backgrounds and additional ballpark images are available as add-ons. By default the scoreboard appears in the top center of the right. It is possible to relocate the scoreboard along with the defensive player names. The decision panel which contains the action buttons for offense and defense is positioned in the lower-right corner. Defensive players are listed by last name along with their fielding rating. The throwing (arm) rating is added for outfielders and catchers. Baserunners are shown with their speed rating while the batter is accompanied by a platoon rating (indicating a tendency to pull the ball to the left / right or hit straightaway). The accumulated (simulated) statistics for the current batter and pitcher appear at the bottom of the screen. You can toggle the lineup display on the scoreboard on / off. The play-by-play account, which appears in the lower center of the scoreboard, is occasionally replaced by an animation (Charge! , home run animation, etc.) A dynamic decision panel (throw to a particular base, try to advance) appears in the lower-right corner while the play is occurring.
Sound – [5] – Upon completing team and lineup selection, the organist plays the National Anthem. The crowd noise amps up as Ernie Harwell announces the lineups. The user has complete control over the volume levels for the crowd, announcer and stadium sound effects. Tommy Walton, the famous singing hot dog vendor from the Cardinals' Spring Training ballpark (Al Lang Stadium in St. Petersburg, Florida), greatly enhances the ambient sound effects. Walton delivers "Take Me Out To The Ball Game" during the seventh-inning stretch along with a variety of hot dog sales pitches between at-bats. The crack of the bat is audible and the crowd volume ebbs and flows based on the action.
Strategy – [3] –The tactical options are a bit sparse as the offense is limited to swinging away, bunting, hit & run or attempting a stolen base. The defense can pitch, issue an intentional walk, play the infield in or at normal depth, and toggle whether the fielders should hold the baserunners. You do not have the ability to shift or adjust the depth of the defenders (with the exception of infield in vs. normal depth), guard the lines, or charge from first or third on a suspected bunt attempt. There is no mechanism to warm up relief pitchers – you simply replace a pitcher when you're ready to do so. This eliminates some strategy compared to other simulations where the reliever's ability can be affected by a lack of warm-up tosses or overuse. Substitutions are easily accomplished through the point-and-click interface and the manager is notified if their defensive lineup is incomplete. The lack of strategy options at the start of the at-bat is offset to some extent by the coaching options during the middle of a play. You decide whether to have the baserunner(s) advance, whether to throw to a specific base or cut off a throw. Three skill levels determine the amount of time for those decisions: Amateur = 20 seconds, Semi-Pro = 15 seconds, Pro = 10 seconds.
Artificial Intelligence – [4] – Version 5.75 comes with 4 MicroManagers. Cap Spalding, Jr. and Larry Pepper are specifically designed for use when Advanced Injury Management (A.I.M.) is NOT activated while Duke Robinson, Jr. and Johnny McCoy are familiar with the intricacies of A.I.M. Each manager has certain tendencies (outlined in the Help file) and additional "Fan Manager" bundles are available for purchase through the APBA website. A MicroManager add-on utility was available for the DOS edition of the game but I'm not aware of an equivalent program for the Windows product. I opted for Robinson Jr. to manage all of the teams in my Hardball Retro replay season. Player usage patterns and overall strategy were in line with my expectations, especially given the fact that each roster was essentially an All-Star team culled from 30 seasons of each franchise. Several of my roster choices (certain teams had only 4 active relievers) and rule selections (DH for every team) affected bullpen use and lack of pinch-hitting or player substitution in some instances.
Box Score – [5] – APBA offers a newspaper-style or extended box scores. In addition to the standard stats, both feature player fatigue status, starting pitchers' Game Scores, batters faced and inherited runners. The extended box adds fielding statistics for individual players. Substitutions are denoted with indented entries. The first initial and position of each player assists with identification.
Rosters – [5]– Each organization may carry up to 100 players per team. Farm organizations can be created and the farm team will be affiliated with its corresponding Major League counterpart. Players can be promoted or demoted via the Advanced Draft module. You can prevent a player from being used in a game with the BENCH option, in particular when you wish to prohibit the usage of a starting pitcher in relief or ensure that a player is rested. Other transaction types include add, drop and trade. MicroManagers do not manipulate rosters so you need to manually promote and demote reserves, place injured players on the disabled list, etc. Advanced Draft offers 3 types of drafts – formation drafts (used when all teams begin with no players), regular player drafts (teams are adding free agents and prospects) and waiver drafts (supplemental draft). You can manually draft players onto teams, automate the process or institute a combination of manual and auto-draft.
Statistics – [5] – Batting, pitching and fielding statistics along with player ratings and "card" numbers can be edited in Advanced Draft. Ratings encompass offense (Type, Platoon, Speed, Steal Allowance, Steal Success), general (Injury), defense (Fielding by Position, Arm) and pitching (Starting Grade, Relief Grade, Durability, Strikeout, Control, Home Run, Move to First, Wild Pitch, Hit Batsmen, Balk). Type indicates whether the batter has a tendency to pull the ball or hit straightaway. Intentional Base on Balls, Sacrifice Flies and Grounded into Double Plays may be entered with a value of -1 if those stats were not officially recorded during a particular year. Historical split stats are not incorporated into the player cards and they are not tracked in StatMaster. As mentioned above, canned and custom league and team reports can be viewed, printed or exported to HTML files via Statmaster. The Wizard utility (sold separately for the DOS and Windows versions prior to 5.75) facilitates the creation of new players but it is not compatible with APBA 5.75.
Usage/Injuries/Ejections – [5]– The Advanced Injury Management (A.I.M.) feature can be enabled or disabled and comes with a variety of settings to simulate fatigue and injuries during a season. If you don't want players to become fatigued or injured, simply turn off A.I.M. You can choose "Fatigue Only" or "Reduced Injuries and Fatigue" if you desire some realism without the potential for long-term disabled list stints. Significant interaction and intervention is required when you opt for "All Injuries Enabled" as you may wish to frequently consult the Team Status Report and the Injured-DL Players. You have full control over the fatigue and injury status of individual players. In the replay that I just completed, I tweaked the availability for several players whose best single-season efforts occurred during strike-shortened campaigns in 1981 or 1994. Automatic substitution allows the computer manager to replace players in the current lineup or rotation. If you have this feature enabled and an injured or highly fatigued (tired/bushed/worn out) player is in the lineup, the skipper can replace him without human intervention and juggle the lineup accordingly. Umpires can eject a player during a game and the manager will need to make the appropriate substitution. There are no long-term repercussions for an ejection (i.e. fines or suspensions).
Ballparks / Park Factors – [2] – Several ballparks come with the Windows versions of the game. APBA 5.75 includes Wrigley Field (Chicago), Old Yankee Stadium (1976-2008), Forbes Field, Tiger Stadium, Riverfront Stadium and the Humphrey Metrodome (Minnesota). Additional ballpark disks are offered as add-on purchases. Outdoor venues offer daytime and nighttime images. Field effects can be modified via an .ini file – the years in which the park was in use along with seasonal parameters encompassing wind strength, how often the wind is blowing in or out of the park, and the ballpark rating (whether the park was pitcher-friendly or not). Domed stadiums are designated as such in the Wind Strength option. Ballparks can be assigned to teams. The Ballpark Effects option was introduced in version 5.0 but it did not function properly. This has been addressed in 5.75.
Commentary – [5] – The user may choose from three levels of commentary in the Baseball module: Play-by-Play, Light Commentary, or Full Broadcast. Another neat feature is the option for the announcer to be affiliated with the visiting team, home team or to have no affiliation. In all of the Broadcast Blast versions of the game (3.5 and above), the in-game audio is enhanced by the legendary voice of the Detroit Tigers – Ernie Harwell! This is one of my favorite features in the game as I love listening to Ernie's play-by-play regardless of whether I'm managing a game or have a game playing in the background while I'm performing other tasks. Commentary for the 5.75 edition has been updated and tweaked on a number of occasions.
Scale: Ratings from 1 (worst) to 5 (best)
Total Score: 41 out of 50
Observations
As a whole-hearted fan of the APBA game for the Apple ][ and the early Windows-based versions, I advocated this product to my fellow gamers back in the day. My enthusiasm increased exponentially when Ernie Harwell lent his voice to the Broadcast Blast editions. Coupled with the breadth and depth of the integrated game modules along with the range of supplementary options both past and present, I unequivocally recommend APBA 5.75!
Please add a comment below if you spent a significant amount of time and/or have any recollections of APBA Baseball for Windows / Broadcast Blast.
Screenshots
Articles in the Series
Additional Links
APBA Games (version 5.75) – information and link to purchase –
http://apbagames.com/apbabaseball/baseball-5-75
https://apba.stores.yahoo.net/apcobaga.html
APBA Go (online version) – https://baseball.apbago.com/baseball/index
Download Derek's Hardball Retro Rosters for APBA Baseball 5.75 – http://www.mediafire.com/folder/jhfkfloqwkfo4/EarlWeaverBaseball2
Baseball Sim Auctions – In Search of the Perfect Team Using the APBA BBW Computer Game – http://baseballsimauctions.com.user.s457.sureserver.com
Computer Chronicles – "Baseball Software" (includes a segment on APBA Baseball for Windows with Stewart Chiefet and Kenneth Miller) – https://archive.org/details/Baseball
Ginden, Jim. "Baseball: Diamonds Are A Fan's Best Friend". Computer Gaming World. May 1995. p54, 62. http://www.cgwmuseum.org/galleries/issues/cgw_130.pdf
Gindin, Jim. "The Old Ballgame: Baseball for Windows Boasts a New Sound, But the Same Old Gameplay". Computer Gaming World. November 1995. p206. http://www.cgwmuseum.org/galleries/issues/cgw_136.pdf
McCauley, Dennis. "Atop the Mound: Baseball Slides Head-First Into Your PC". Computer Gaming World. July 1996. p78. http://www.cgwmuseum.org/galleries/issues/cgw_144.pdf
Murray, Rink. "386 Down the Power Alleys: Baseball Simulations Emerge From Spring Training." PC Magazine. April 28, 1992, p493. https://books.google.com/books?id=HERlo0BgpGYC&pg=PT475&dq=pc+magazine+386+apba+baseball+simulation&hl=en&sa=X&ved=2ahUKEwiZipuBgZjoAhUCc98KHcOkDqoQ6AEwAHoECAEQAg#v=onepage&q=pc%20magazine%20386%20apba%20baseball%20simulation&f=false
Ponisciak, Tim. "How Would You Like to Manage in the Majors?: Baseball Board Games and Their Dedicated Players." SABR Journal, Fall 2011. https://sabr.org/journal/article/how-would-you-like-to-manage-in-the-majors-baseball-board-games-and-their-dedicated-players/
Poulter, Wallace. "A 3.1-Run Homer". Computer Gaming World. November 1993. p134, 136. http://www.cgwmuseum.org/galleries/issues/cgw_112.pdf
Rogers, Win. "Miller Associates' APBA Major League Players Baseball 1.5". Computer Gaming World. August 1992. p72–74. http://www.cgwmuseum.org/galleries/issues/cgw_97.pdf
https://www.mobygames.com/game/apba-major-league-players-baseball
https://www.mobygames.com/game/win3x/apba-presents-baseball-for-windows
https://www.youtube.com/watch?v=GNmBLdboK7A APBA Baseball for Windows 5.75, video by Beatles Eternally
About the Author
I am a New Jersey native with a passion for baseball, statistics, computers and video games who enjoys spending quality time with his family.
"Hardball Architects – Volume 1 (American League)", published in July 2020, is available in paperback and digital (Kindle) format at Amazon.com. Hardball Architects examines the trades, free agent acquisitions, draft picks and other transactions for the 30 Major League Baseball franchises, divided into a 2-volume set (American League and National League). All key moves are scrutinized for every team and Sabermetric principles are applied to the roster construction throughout the lifetime of the organization to encapsulate the hits and misses by front office executives.
"Hardball Retroactive", published in June 2018, is available in paperback and digital (Kindle) format at Amazon.com. Hardball Retroactive is a modest collection of selected articles that I have written for Seamheads.com along with my Baseball Analytics blog since 2010. Exclusive content includes the chapter on "Minors vs. Majors" which assesses every franchise's minor league successes and failures in relation to their major league operations.
"Hardball Retrospective" is available in paperback and digital (Kindle) format at Amazon.com. Supplemental Statistics, Charts and Graphs along with a discussion forum are offered at TuataraSoftware.com. In Hardball Retrospective, I placed every ballplayer in the modern era (from 1901-present) on their original teams. Using a variety of advanced statistics and methods, I generated revised standings for each season based entirely on the performance of each team's "original" players. I discuss every team's "original" players and seasons at length along with organizational performance with respect to the Amateur Draft (or First-Year Player Draft), amateur free agent signings and other methods of player acquisition. Season standings, WAR and Win Shares totals for the "original" teams are compared against the real-time or "actual" team results to assess each franchise's scouting, development and general management skills.
Don Daglow (Intellivision World Series Major League Baseball, Earl Weaver Baseball, Tony LaRussa Baseball) contributed the foreword for Hardball Retrospective. The foreword and preview of my book are accessible here.
"Hardball Retrospective – Addendum 2014 to 2016" supplements my research for Hardball Retrospective, providing retroactive standings based on Wins Above Replacement (WAR) and Win Shares (WS) for each "original" team over the past three seasons (2014-2016). Team totals from 2010 – 2013 are included for reference purposes. "Addendum" is available in paperback and digital (Kindle) format at Amazon.com.
What's New
The Help files included in the Baseball for Windows 5.5 modules outline the new features implemented in each version.
Baseball for Windows Version 5.0
New features added to Baseball for Windows (BBW) version 5.0 include:
· Ballpark Effects – Ballpark Effects are a user option in the new Windows 95 version that make play more realistic. Ballpark Effects allow the game to adjust for wind conditions and size and altitude of the ballpark.
· Ballpark Report – The report menu now contains a Ballpark Report which lists the wind condition, ballpark rating and wind probabilities for the ballpark being used. The ballpark factors are set at the beginning of the game and any changes to the park after the game starts will not change the ballpark effects the game uses.
· New Color Commentary – Ernie now comments on ballpark effects, standings, streaks, leader board positions, series play and other colorful events before, during and after the games. This new commentary also appears in the text box during the game.
· Print to File – All reports printable in Baseball can also be printed to an HTML file.
· End of Game options and Series and End of Game Options (from the Options menu) include Print to File Boxscore and Print to File Script options. The files created are HTML files
· The boxscores have been updated to indicate who hit a grand slam home during the game. The boxscore also indicates the ballpark effect settings in force during a game (if ballpark effects are enabled).
· Multi-purpose key – the M key on the keyboard can be used for both the Pitch and Hit Away allowing the user a single key to perform both tasks.
· Micromanagers – The micromanager topic has been updated to list all managers released as of this publishing. It also provides a link to our website, FanPark, where new managers may be downloaded. Downloading new fanmanagers is a benefit of FanPark membership.
Baseball for Windows Version 4.0
New features added to Baseball for Windows (BBW) version 4.0 include:
· Bunt for a Hit – Now you have the option of bunting for a hit with any batter by clicking the Lay It Down button on the decision panel. This option is available regardless of the on base situation.
· Infield in at the corners – This defense setting has been added to the game to guard against batters bunting. It greatly deters successful bunts for hits, but it can backfire if the batter swings away and hits it along the first base or third base line.
· Reports – the following reports have been added or updated in BBW:
· League Standings
· Team AIM Status reports (for both the home and visiting teams)
· Boxscore – the box scores has been updated to include batting averages, pitchers win/loss/save/hold/blown save/game score and era.
· Ballpark Customization – the ballpark layout can now be customized to allow the user to detach and move all sections of the scoreboard to any location on the display. The decision panel can now be located anywhere. The fonts for each section on the display can be set independently of each other and the colors of each text element can be user defined.
· Special Sound Effects – BBW allows the user to add new sounds and animations to events.
· Mouse Controls – Baseball for Windows now offers users more mouse options using both the left and right buttons.
· Play outcomes have been updated.
League Manager Power Tool Version 5.5
League Manager 5.5 adds the following features to League Manager:
· Reports –
· Boxscores –
1. The boxscore report has been revised to provide the player statistics for any box score during the season (not just the last game played). This feature applies to box scores for any games played
after this version of League Manager was installed.
2. The box score can now be displayed in either the "traditional Baseball for Windows" format or a "Newspaper" format. To set one form or the other as the default, use the Options menu. The newspaper box score provides year to date totals for most offensive and defensive stats as well as many pitching stats. It is also designed to printout on one page. If your printout doesn't fit on one page, you can adjust the printer font by selecting Preferences from the Options menu (experiment with a 9 point printer font for best results.)

· Standings – The Standings report can now be displayed for any day on the schedule by choosing the Standings On Day option from the Report menu. This will display standings for whatever day is highlighted on your schedule. To display the current schedule for the league, click Standings Current from the Report menu.
· Injured/DL Players – This report has been modified to separate the Injured players from the players in a DL status. The DL status players appear at the bottom portion of the list.
· Year-to-date/DL Players – This report provides a cumulative list of players who are injured throughout the season. The top portion of the list displays every injury received during the year that was for 1 or more games. It also indicates if the injury was received as a game injury (G) or an A.I.M. injury. The second portion of the list displays all players who were placed on the DL during the season. In addition, this report has various sort options.
· Schedule Generator – the Generate New Schedule dialog now allows you to create schedule without double headers. The schedule generator algorithms were also adjusted.
· League Play Setup – League Play setup has been modified to allow for use of the Farm Team Affiliation that is a function of Advanced Draft (3.5 or higher). This feature allows all the organization files from both the Parent and Farm organization to be included in the same Commissioner file. The option will also include the roster files from both the parent club and farm club in just one franchise file. This feature requires that all league members be using League Manager 5.X or higher and Advanced Draft 3.5 or higher.
· Reduced Injury and Fatigue Option – This option has been added to the AIM options. It provides for a setting that tracks all fatigue, all game injuries and AIM injuries. However, this option reduces the severity of AIM injuries. This option is set on the Set Schedule Options dialog.
· Platoon Lineups – The auto-substitution lineup generator can now be set to build platoon lineups. This is an optional feature and is set on the Set Schedule Options dialog. This option evaluates the specific players available on each roster to determine if a platoon situation exists, and if so, it places the appropriate batter (lefty or righty) versus the opposite side pitcher.
League Manager Power Tool Version 5.0
League Manager 5.0 adds the following features to League Manager:
· Reports – The following reports have been added or modified:
· Day-By-Day Schedule – this report lists the day by day schedule for the entire organization in a list format. It can be set to display the whole season or a range of dates. The report can also be
printed.
· Team Schedule – this report lists the day by day schedule for a selected team. It can be set to display the whole season or a range of dates. The report can also be printed.
· Day Starting Pitchers – this report provides a listing of the starting pitchers for the selected days games. It provides their current W-L record, innings pitched and era for the season, their last three starts and how they have fared against the current opponent.
· Game Starting Pitchers – this report was added in version 4.1 and has been renamed from Starting Pitchers Report. This report provides a statistical review of the starts to date for the scheduled pitchers for the game.
· Rules
· Rules dialogs for Organization, League, Division and Game have been updated to include the setting to Enable Ballpark Effects (valid only when using Baseball for Windows 5.0 or higher).
· Team Home Fields – this option from the Rules menu was formerly labled Home Field. It allows you to assign a ballpark for the selected team.
· Home Fields – this option from the Rules menu allows you to globally assign home fields to the teams in the organization. You can also display a Ballpark report for each stadium from the Assign Fields to Team dialog. This report displays the current ballpark rating and wind conditions and probabilities for the park.
· Set Schedule Options (Schedule or AIM menu)
· Bench Pitching Rotation – this option causes League Manager to review the scheduled starters assigned via the rotation column in the Select Manager, Rotation and Lineup dialog and automatically bench the starters for the next several days. The number of days of benched starters is based on the pitcher durability and recovery setting chosen.
· Boxscores Not Saved – this option will turn off the automatic saving of boxscores when playing games from League Manager. This is a useful option when you have limited disk space or you are doing a quick replay where the boxscores are not important.
· Lineup Assignment – The lineup assignment done in the Select Manager, Rotation and Lineup dialog has been modified so that the lineup assigned to position 1 is always the lineup that will be used in the next game (still subject to the pitching hand of the opposing team's pitcher). Lineup 2 would be used in the 2nd game, etc. It simplifies assigning lineups.
· Reschedule Rainouts dialog has been modified to include a team or date sort for the display of the rained out games.
· Disabled List Fatigue Status – Two new fatigue status categories have been added to AIM, 15-day DL and 60-day DL. To place a player in one of these categories use the Edit Current Player Status or Edit Current Team Status from the AIM menu. Players placed in either of these categories will have their injury duration adjusted upward from the date of injury to correspond to the DL list chosen (if necessary) and they will remain on the roster but ineligible for use in a game.
· Export CSV Schedule File – This feature found on the Schedule menu allows you to generate a CSV text file of the current organization's schedule. This is useful if you find just the right schedule and you would like to use it in another organization or if you like the current schedule but just want to modify it a bit and reload it.
· Boxscore – the box scores have been updated to include the name of a player who has hit a grand slam homerun.
League Manager Power Tool (Version 4.1)
League Manager 4.1 adds the following features to League Manager:
· Starting Pitcher Report – Highlight a game box for a game not yet played and click Report, Starting Pitchers and see a statistical review of their starts to date.
· Play Rating 930 Control – The PR 930 was designed for "innocuous players (SLG + OBP < .600) and is automatically assigned to all players fitting this category regardless of actual playing time. Now, you can choose not to have the PR 930 assigned and these players will receive a PR based on their actual number of games and plate appearances.
· Play Rating Bonus – The PR bonuses given to players were refined to increase the accuracy in playing time for all players. The PR bonuses were changed for regulars (from 5% to 2%), utility players (from 20% to 15%) and platoon players (from 40% to 20%).
· Edit Team Initial Status and Edit Team Current Status – These two new commands have been added to the AIM Menu. These options allow you to quickly focus on and edit the AIM values for players on a selected team.
· Rules options have been changed to allow settings for Bunt for a Hit and Allow Infield IN when 3rd base is empty. (Applicable to Baseball for Windows Version 4.0 and up.)
· Additional items updated or changed:
· The Highlights search output dialog now displays the number of innings for each game.
· The box score for the last game played by each team now displays the current batting averages, pitchers Won/Loss records, and Save/Blown Save/Hold stats.
· Wild Card Standings have been shortened to show only the top three contenders or those within 5 games of the lead.
· Standings report has been updated to show the current Won/Loss streak for each team.
· Select Manager, Rotation and Lineups dialog has been updated. The available lineups now show all lineups for a team, both DH (designated hitter) lineups and non-DH lineups. This makes assigning lineups in interleague play (where rules DH rules are different) easier.
· Maximum Batters Faced (MBF ) calculation for split grade pitchers has been modified to give these pitchers the MBF when starting based on their starting durability instead of the former bonus batters added to their reliever workable batters.
· The Help topic for Micromanager was updated to reflect all managers published by Miller Associates (either developed by Miller Associates or developed by Baseball for Windows fans and released as part of the Fan Manager collections). The topic included brief descriptions on the managers' tendencies and designed eras of use.
· League Manager was updated to track and accumulate data for streaks, this data is used in StatMaster (Version 4.0 and higher).
League Manager Power Tool (Version 4.0)
League Manager 4.0 adds the following features to League Manager:
· League Play – Powerful new League Manager Tool to make it easy to play in leagues with other players located throughout the world. Also contains features useful for the Solo Replayer.
· Highlights – Highlight your league boxscores for meaningful statistical events so they can easily be reviewed at any time.
· Rescheduling Rainouts – Now League Manager makes it easy to reschedule rainouts with a couple of quick clicks.
· Backup and Restoring Organizations – Backing up organizations is now a built in feature on the Select menu. It allows for complete backups with box scores, or just the essential files (no box scores).
Restoration of a backed up organization is now just a simple click from the Select menu.
· Wild-Card Standings – Adds Wild-Card Standings to your league standings if your organization allows for Wild-Card teams to qualify for post-season play.
· Magic Number – The Standings report has been updated to include a Magic Number feature. When 80% of the schedule is completed, the standings report will display the magic number needed to clinch the title (division, league or wild-card).
· Import CSV Schedule – Makes it easy to import, match and build a schedule from a CSV schedule file.
· Additional items updated or changed:
· Pitcher Durability and Recovery Settings: If you change these settings during a season, the Maximum Readiness Rating for starting pitchers is automatically adjusted to the new durability amounts. These changes stay with an organization if it is copied or reset.
· Pitchers whose Injury Ratings have been modified either through Advanced Draft or Baseball Wizard will have their daily workable batters recovery rate adjusted to the level of their modified Injury Rating.
· Team Status Report has been updated to reflect more information about all the players.
· Select Manager, Rotation and Lineups dialog has been updated. The Available Pitchers window now displays the number of starts the pitchers had during their actual season.
· The Lineup Edit screen accessed from the Select Manager, Rotation and Lineups dialog has been modified to reflect the players' current fatigue status. If the player or pitcher is in a fatigue condition other than Ready or Rested, the letters I, A, T, B or W will appear to the left of the player's name indicating Itchy, Available, Tired, Bushed or Wornout.
· AIM pitcher roles are automatically updated if a player is modified in Advanced Draft or Wizard from a Starter to a reliever or reliever to a starter. This change applies when the pitcher no longer has a Starting Grade to support a starting role or a relief grade to support a relief role.
· Auto Lineup Generator has received the following modifications:
1. The lead off position has been modified to check the selected players runs batted in totals. If he is one of the top 3 producers in the lineup he will be placed in one of the power slots in the lineup.
2. The pitchers for both teams are filled first. They are filled either from the Rotation List or automatically selected. If the rotation pitcher is replaced due to fatigue it is done before a lineup is selected. This insures that the selected lineup, if chosen from preassigned lineups set for vs RPH or vs LHP, will be the appropriate lineup based on the game's chosen pitcher.
3. A preassigned lineup will not be readjusted if the pitcher was not saved in the lineup, or the pitcher was the only player replaced due to fatigue. Prior to this change, the entire lineup was reorganized based on the League Auto Substitution lineup criteria. However, if the missing pitcher, or the fatigued pitcher, was in the lineup in a batting position other than 9th or as the pitcher in a DH lineup, the lineup will still be readjusted to reflect the new pitcher and the other players in the lineup.
· Boxscores were updated to indicate the players involved in triple plays. If a triple play occurs in a game, an extra column appears on the boxscore to indicate which players were involved.
· A Schedule Generation Suggested Settings help dialog has been added to help. The dialog provides possible settings based on popular league structures.
· The Help topic for Micromanager was updated to reflect all managers published by Miller Associates (either developed by Miller Associates or developed by Baseball for Windows fans and released as part of the Fan Manager collections). The topic included brief descriptions on the managers' tendencies and designed eras of use.
· Internet Access – The Technical Support help topic now gives you the ability to directly access FanPark(TM), the Miller Associates World Wide Web site. This feature is available if you have Internet access and supports Netscape, Microsoft Internet Explorer and Mosaic browsers.
League Manager 3.5
League Manager 3.5 added the following features to League Manager:
· Schedule Generator – Quickly build a full season schedule for any organization.
· Pregame A.I.M. Autosubstitution – Let League Manager generate lineups and rotations and handle pregame substitutions.
· New level of Pitcher Recovery and Durability – A mid-20th Century A.I.M. level recovery and durability level has been added.
· New automatic game shut-down options – Now set League Manager to stop automatic games on a specific date.
· The ability to delete box scores for an organization – Now deleting box scores from an organization is as easy as a click of the mouse directly in League Manager.
· Delete unplayed games from a schedule – With a quick click you can delete all the unplayed games from an organization.
· Assign a Micro-Manager to all teams at one time – Assigning or removing a Micro-Manager to all the teams in an organization is now a two click operation.
Advanced Draft 5.5
The following lists the new features added to Advanced Draft Version 5.5.
· The ability to Edit Draft Results was added to the drafting features of Auto-Draft. If during a draft the wrong player is inadvertently added to a team, the Edit Draft Results features allows you to go back and correct the player. Making the change will update the roster and player list to put the players in the correct places and it also updates the Draft Report.
· The ability to trade previous draft picks has been added to the Trade Draft Picks option. This is basically an editing function for use in situations where a draft pick was traded but inadvertently not recorded by the time the pick was made. As a result the wrong team gets the player. This feature allows you to go back to the pick and effect the trade. It will also put the players on the correct rosters and update the Draft Report.
Advanced Draft Version 5.0
The following lists the new features added to Advanced Draft Version 5.0.
· Player Drafting has been added to Advanced Draft. This feature allows the user to conduct player drafts to populate team rosters for new organizations or to conduct rookie/free agent drafts for existing leagues. Auto-drafting even encompasses the ability to conduct waiver drafts within organizations. The new drafting features allow for:
1. Manual or automatic drafting for teams (any combination can be set within an organization).
2. Assigning Scouts to evaluate the available players. Scouting criteria is user definable.
3. Assigning General Managers to each team. The GMs evaluate team needs and available players and pick players (or make recommendations for manually picking teams) for the assigned team. General Manager tendencies are user definable. GMs can be assigned different competency levels to provide a random value to a draft.
4. Establishing a straight or serpentine draft.
5. Setting the length of draft (e.g. number of rounds, set roster size or until all players are drafted).
6. Draft allows the trading of draft picks and records that within the draft report. Trading can be done while a draft is in progress.
7. GMs and Scouts can be exported/imported to other computers to be used in league drafts or what-ifs with friends.
8. Draft allows selecting players who are not on the data disk (i.e. future prospects ).
9. Rate players – this feature ranks the available players in the player pool (in accordance with the current scout criteria) and can be sorted by best overall or best overall at each position.
10. Draft reports for both regular drafts and waiver draft. Reports can be sorted by overall pick or team picks and can display only the players drafted or the entire draft (for those not completed yet).
11. Waiver draft setup that includes both roster cuts and waiver claims. The waiver claims can be restricted to just the players cut during the initial waiver process or to all available players.
12. Time limits can be set for each pick (optional).
13. Drafts can be paused and saved for later resumption.
See Help on Setting Up a Draft for further information on the auto-drafting features.
· The ability to unaffiliate all players from the team rosters has been added. This option removes all the players from all the rosters in an organization. This command is available from the organization edit window.
· A New Roster command has been added that drops all the players for the highlighted or open (and active) roster. This command is available from the organization edit window and an active roster edit window.
· The List command now contains SO/9 and BB/9 as sortable statistics for player list sorts.
Advanced Draft Version 4.0
Advanced Draft 4.0 was primarily a numerical release issued with Baseball for Windows version 4.0. The only changes between version 3.5 and 4.0 were minor adjustments to the import algorithms.
Advanced Draft Version 3.5
The following lists the new features added to Advanced Draft Version 3.5.
· Farm Team Organizations: You can now manage large rosters in a parent-farm relationship. You can demote and promote players, track fatigue status for players on both rosters from a single team status report and even trade players from farm teams of one team to active rosters of another team, and more.
1. You can Create a Farm Organization to add to an existing organization. This is useful for imported organization's which have more than 25 players on each team.
2. You can Affiliate a Farm Organization with an existing organization. This is useful for data disk where you have a parent organization that has limited rosters and also has a Farm Team organization (for example: official APBA/MA data disks which contain more than 26 players per team).
3. See the Notes On Using Farm Teams for more things you can do with farm rosters.
· New Import Options
1. Import a League in one command. This option allows you to set up a league in one step. If you import the first league for a particular season the resulting league is set up to work with an actual season schedule from a schedule disk . If you only desire to play the second league for a season, and want to use it with a season schedule from a schedule disk, use the Import an Organization option (described below) and then delete the first league.
2. Import Missing Players to rosters – This feature, combined with the Encyclopedia, allows you to import missing players to rosters for season disks that didn't come with every player.
3. Import an Organization in one command. This option lets you set up an entire organization (leagues, divisions and players) in one step. The resulting organization is setup to work with an actual season schedule from a schedule disk .
· Drafting/Analyzing of players is easier with the addition of new sorts, new data available on the Roster edit screens and player lists including AIM data.
· The Roster Edit Screens have been updated to include:
1. The Arm Rating for players rated as outfielders, the Play Rating (PR), and Season Factor (SF) for the players.
2. The Home Run Allowance (HR), Games Started (GS), Maximum Readiness Rating (MRR), Recovery Factor (RF), and Maximum Batters Faced (MBF) for pitchers.
3. The AIM terms only appear when AIM is turned on for the organization.
· The Player list has been updated to:
1. Print the team affiliations when printing a player list.
2. Include the Play Rating (PR), and Season Factor (SF) for the players and Maximum Readiness Rating (MRR), Recovery Factor (RF), and Maximum Batters Faced (MBF) for pitchers.
3. The AIM terms only appear when AIM is turned on for the organization.
4. This feature is set by the Show Status choice from the List menu.
· The Team Status Report (for AIM organizations) has been updated to include:
1. The Season Factor (SF) for players and Maximum Readiness Rating (MRR), Recovery Factor (RF), and Maximum Batters Faced (MBF) for pitchers.
· New Sorts added to the List function include: Team Sort (and the team affiliations now print with the player lists), Total Average, Home Runs, Games Started for pitchers and Walks per 9 Innings.
· Additional items that have been upgraded or improved:
1. The injury factor for imported players is now calculated for the whole season even when importing just one of their segments (applies to players who played for more than one team in a season).
2. The import algorithm for the defensive rating for outfielders has been improved.
3. The pitching grade import algorithm for pitchers who appeared as both starters and relievers has been modified to reflect their predominant roles.
4. The Import function now imports all the defensive positions and statistics, grounded into double plays, intentional walks, and complete games and uses these values in rating the players. The age of the player is also imported but as of now this value is not used in the game.
5. The Player Report now displays all actual defensive statistics for each position the player actually played (imported players) and the player's age (when the player is imported from the encyclopedia or if the age is entered in Baseball Wizard).
6. The Team Roster Report has added the fields Injury Factor, Maximum Readiness Rating, Recovery Factor and Maximum Batters Faced to the pitching section. The AIM ratings only appear when AIM is being used.
StatMaster 5.5
StatMaster 5.5 adds the following features to StatMaster:
· This is primarily a numerical update to stay in sequence with League Manager with no changes from the previous release.
StatMaster 5.0
StatMaster 5.0 adds the following features to StatMaster:
· Team Roster Reports – The team roster reports for Player batting, Pitching, Relief Pitching and Fielding have added the field of Player Name to the available sort fields.
· Club Report – The club Scoring, Batting Pitching and Fielding report can now be sorted by Team Name.
· Game Summary Report – The Game Summary report (at the Team Level Only) now has the following sort options available:
By Opponent (review the game summaries verses a particular team)
By Opponent Runs (review for shutouts)
By Opponent Hits (review for low, or high hit pitching performances)
By Opponent Errors (see if you're converting your opportunities)
By Opponent Starting Pitcher (see who you tee off on and who kills your team)
StatMaster 4.0
StatMaster 4.0 adds the following features to StatMaster:
· Streak tracking has been added to Statmaster. SM now tracks batting, pitching, defensive and team streaks. The following streak tracking have been added:
For team streaks on the leader boards, by division, league, or organization, you get consecutive:
wins (current ) wins (season longest)
losses (current) losses (season longest)
errorless games (current) errorless games (season longest)
innings shut out (current) innings shut out (season longest)
quality starts (current) quality starts (season longest)
unscored upon innings (current) unscored upon innings (season longest)
· Added to the Standings report are the current Win or Loss streak, magic number needed to clinch the pennant and Wild Card standings if the Wild Card option is chosen in League Manager.
For player streaks on the leader boards, for players on any team or multiple teams, if he was traded, you get consecutive:
games with a hit games with a hit (season longest)
games with a double games with a double (season longest)
games with a triple games with a triple (season longest)
games with a home run games with a home run (season longest)
games with an extra base hit games with an extra base hit (season longest)
games with a walk games with a walk (season longest)
games on base games on base (season longest)
games without a hit games without a hit (season longest)
games without a home run games without a home run (season longest)
games without a strikeout games without a strikeout (season longest)
consecutive stolen bases consecutive stolen bases (season longest)
Wins wins (season longest)
Losses losses (season longest)
starts without a win starts without a win (season longest)
Saves saves (season longest)
quality starts quality starts (season longest)
shutout innings – starter shutout innings – starter (season longest)
games without an error games without an error (season longest)
games with an error games with an error (season longest)
· In addition to streaks, there are three new stats on the Batting Leader Board Report – hitting streaks (current and season), multi-hit games, and stolen bases (season).
· Added to the custom leader board section are the stats: plate appearances per home run and plate appearances per walk, plate appearances per strikeout.
· Streaks Leader Report – A streaks leader board has been added to the Standard Reports dialog under the Leaders in Players section. This Standard Reports highlights the top five in various batting, pitching and fielding streak categories.
· Multi display and printing of selected team and player reports. The main menu in Statmaster now has a Multi menu choice that allows you to select various types of team and player reports and have all of those reports for an organization, league, or division either displayed or printed without choosing each report individually.
· Dynamic Report Sorting – Most reports in StatMaster now contain a sorting capability. Click the control menu icon in the upper-left corner of the report to open the Control Menu. Then click sort and choose the field on which to sort the report.
APBA Baseball 5.75 FAQ –
http://apbagames.com/wp-content/uploads/baseball/APBABaseball_575_FAQ.pdf
I am a New Jersey native with a passion for baseball, statistics, computers and video games who enjoys spending quality time with his family. Visit my Amazon author page to check out my books, promotional videos, and post a review if you're a Hardball Retro fan!
https://www.amazon.com/author/derekbain
https://play.google.com/store/books/author?id=Derek+Bain